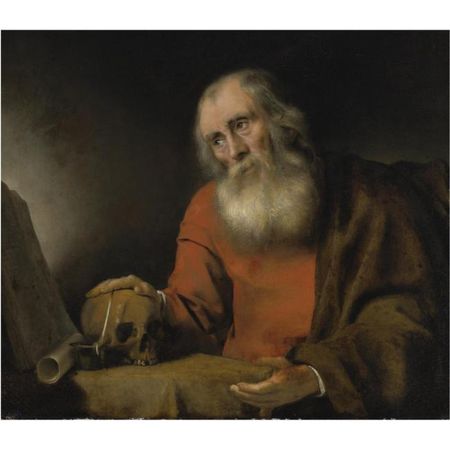 Abraham van Dijck (Amsterdam 1635/6 - 1672), St. Jerome
oil on canvas. 28 3/4 by 33 1/8 in.; 73 by 84 cm. Estimate 30,000—40,000 USD
PROVENANCE: The Earl of Derby, Knowsley Hall (as Rembrandt);
His sale, London, Christie's, October 8, 1954, lot 123 (as Salomon Koninck);
With Alfred Brod, London, 1957 (as "A Hermit" by Jan Lievens);
Private Collection, United States.
EXHIBITED: London, Alfred Brod Gallery, Pictures for the Collector, February-March 1957, no. 13 (as Jan Lievens).
LITERATURE AND REFERENCES: J. Smith, A Catalogue raisonné of the Works of the Most Eminent Dutch, Flemish and French Painters, London 1842, vol. VII, p. 68, cat. no. 159 (as Rembrandt, called "A Venerable Man Meditating on Mortality");
C. Hofstede de Groot, Werkverzeichnisse Rembrandy und Nicolaes Maes. Beschreibendes und kritisches Verzeichnis der Werke der hervorragendsten hollandischen Maler des XVII. Jahrhunderts, Esslingen-Paris 1915, vol. VI, p. 451, Anmerkungen 56 (as School of Rembrandt);
Alfred Brod Gallery, Pictures for the Collector, exhibition catalogue, London 1957, cat. no. 13, reproduced (as Jan Lievens);
W. Sumowski, Gemälde der Rembrandt-Schüler, 1983, vol. I, p. 673, cat. no. 380, illustrated, p. 701.
NOTE: Van Dijk's most succesful paintings are his depictions of old men and women, usually in contemplation or prayer. The present composition is one such highly accomplished example and further, demonstrates van Dijk's "Rembrandtesque" painterly style. The representation of old men and women are typically meant to remind the viewer of the transience of life, thus serving as a didactic image and a reminder for one to lead their lives in a virtuous manner.
In this picture van Dijck utilizes aspects of Rembrandt's late painting style, most recognizably his use of thick, impasto paint application and extremely loose, painterly brushwork throughout, making it apparent that van Dijck studied either directly under Rembradnt, or with the direct knowledge of his style. In van Dijck's earliest dated painting, Presentation in the Temple (1655, ex-private collection Sidney van den Bergh, see W. Sunmowski, Gemälde der Rembrandt-Schüleri, 1983, p.678, cat. no. 357), we see clear iconographic and stylistic influences taken directly from Rembrandt.
While this picture is meant to depict St. Jerome, its iconographic roots come from the tronie tradition, first made popular by Rembrandt, in which the purpose may not have been to represent an actual person, but rather to elicit the idea of the subject represented, or a figure-type, such as an "old man". Rembrandt developed the use of the tronie during his late style, which certainly influenced van Dijk in his careful and subtle psychological representation of our St. Jerome. Despite this, van Dijck shows here his ability to create a unique and successful composition all his own. A comparable composition by van Dijk, now in the Hermitage, St. Petersburg, showing an old man in prayer is illusutrated in Sunmowski (p. 700, cat. 379).
Sotheby's. Important Old Master Paintings, Including European Works of Art. 29 Jan 09. New York www.sothebys.com photo courtesy Sotheby's