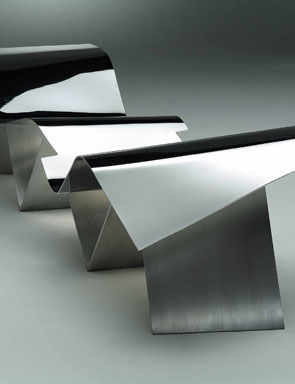 Frank Gehry, "Tuyomyo" Bench, will be sold to benefit the Hereditary Disease Foundation (Est. 250 000/350 000 USD). Photo: Sotheby's
NEW YORK, NY.- On June 12, 2009 Sotheby's will offer a unique work by renowned architect Frank Gehry. The bench, named Tuyomyo (yours and mine in Spanish), was created in collaboration with Emeco, the premier manufacturer of contemporary aluminum furniture. Gehry's mandate was simple: "The form has to be free and light. It must be structural and at the same time poetic. And a little dangerous." Standing three meters long but weighing only 122 pounds, the Tuyomyo bench was crafted using 80% recycled aluminum components and aircraft manufacturing technology. Proceeds from the sale of the work, which is estimated at $250/350,000, will benefit the Hereditary Disease Foundation research fund established in 2008 in honor of Gehry's late daughter - The Leslie Gehry Brenner Award for Innovation in Science.

"In Tuyomyo, Frank Gehry has returned to the attenuated and undulating lines of his first furniture project, the Easy Edges Series of 1969-1973," said James Zemaitis, Senior Vice President and Director of Sotheby's 20th Century Design Department. "The culmination of his five-year experiment in aluminum with Emeco, which includes the iconic mass-produced Superlight chair, Tuyomyo is one of-a- kind. This bench for two will not be produced again. It is a remarkable opportunity for collectors."

Tuyomyo was presented at the Emeco booth during the Salone del Mobile in Milan, April 22-27, 2009. This is the second time Emeco and Gehry have collaborated on a project, the first being the creation of the all-aluminum Superlight chair launched at the Salone in 2004 and recently accepted into the Museum of Modern Art's permanent design collection. Tuyomyo, a bench designed for two, began as a sketch during the first collaboration and developed into this unique work which is being sold to raise funds and awareness for the Hereditary Disease Foundation. The Gehrys are founding trustees of the HDF, and are deeply passionate about and committed to the cure of brain diseases.
Other highlightd of the sale :
Tiffany Studio, an important and rare "Trumpet Creeper" Table Lamp. Est. 300 000/500 000 USD. Photo: Sotheby's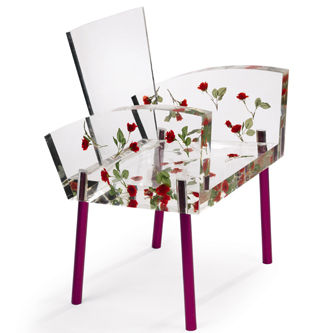 Shiro Kuramata, "Miss Blanche". Est.150 000/250 000 USD. Photo: Sotheby's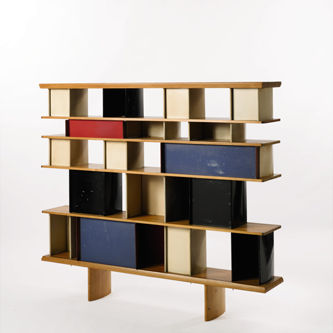 Charlotte Perriand et Jean Prouvé, Bookcase from La Maison du Mexique, Cité Universitaire, Paris. Est. 60 000/80 000 USD. Photo: Sotheby's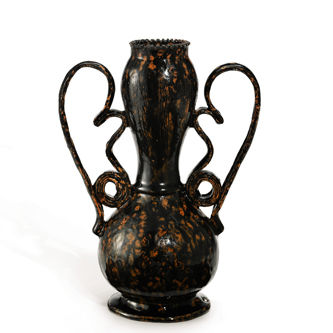 George Ohr, Two- handedvase. Est. 25 000/35 000 USD. Photo: Sotheby's