Oscar Bluemner, (American, born Germany, 1867 – 1938), Composition for Color Themes, 1932. Watercolor on paper, Sheet: 7 3/4 x 10 1/2 inches. Collection of C.K. Williams, II. Image courtesy of Will Brown.
PHILADELPHIA, PA.- The Philadelphia Museum of Art this summer will present Adventures in Modern Art: The Charles K. Williams II Collection, an exhibition of approximately 100 paintings, sculptures, watercolors, and drawings from the early decades of the 20th century. It is drawn from the collection of Charles K. Williams II, a distinguished archeologist and Director Emeritus of the Corinth Excavations of the American School of Classical Studies in Athens, who has amassed in under two decades an important and personal collection representing most of the major American artists and movements of the modern period, as well as several European masters. The collection is marked by a passion for color, strong compositional designs, and occasionally eccentric images, with an emphasis upon several favorite artists, among them Joseph Stella, Oscar Bluemner, Charles Demuth, and Arthur Dove, each of whom is represented by several examples. Organized by Innis Howe Shoemaker, The Audrey and William H. Helfand Senior Curator of Prints, Drawings, and Photographs, the exhibition will be on view in the Dorrance Galleries (July 12 - September 13, 2009).

"The remarkable caliber of the works of art in the Williams Collection reflects both his distinctive spirit of inquiry and his keen eye for excellence," the Museum's Interim Chief of Curatorial Affairs Alice Beamesderfer said. "The Museum is honored to present these works together, and we are delighted that the Williams Collection will eventually join and greatly enhance the Museum's fine representation of strong currents in American and European modernism." All of the works in the exhibition are gifts or promised gifts or have been bequeathed to the Museum.

Williams began collecting 19th- and 20th-century American and European prints in the 1980s. In 1990 he began seriously to acquire paintings, sculptures, watercolors, and drawings by modern American artists. In his collector's statement in the catalogue Williams describes how growing up during the Great Depression allowed him to appreciate the populist messages in the work of Thomas Hart Benton (1889-1975), Ben Shahn (1898-1969), Isabel Bishop (1902-1988) and Käthe Kollwitz (1867 –1945). He traces the evolution of his collecting sensibilities from an instinctive reaction to the pure beauty of an object to a search for something more essential, or less immediately perceived.

"Charles Williams is one of the most devoted and observant visitors to the Philadelphia Museum of Art, keeping up with every change in the galleries," Shoemaker added. "From a curator's point of view, he's the ideal collector to work with, not just because of his generosity to the Museum but even more because of his fantastic eye for unusual and important works of art and his intense way of thinking about the direction of his collecting. I've had such fun working with him and his collection because there's never a dull moment as it develops—one can always expect surprise and delight when Charles calls to report that he's made another 'find'!"

In his approach to collecting Williams balances focus and discipline with flexibility and experimentation. He explains the unlikely inclusion of Giorgio de Chirico's Portrait of Carlo Cirelli in a collection that otherwise primarily consists of early 20th-century American artists: "it has a strong presence that I could not ignore." In the work of Stella and Demuth, Williams admires what he describes as the "radically different" aesthetic approach these artists displayed at various stages in their careers. "What, exactly, was Stella not capable of?" Williams asks.

The Williams Collection includes American painters of the Stieglitz Circle such as Georgia O'Keeffe, John Marin, Marsden Hartley, and Arthur Dove. Precisionists Charles Demuth, Ralston Crawford, George Ault, and Charles Sheeler are represented, as are the Philadelphia modernists Arthur B. Carles, Hugh H. Breckenridge, Earl Horter, and Morton Schamberg. Sculptures include the work of Elie Nadelman, John Storrs, Alberto Giacometti, and Louise Nevelson. Of special note is a large and well-known painting by Thomas Hart Benton, The Apple of Discord, and a rare landscape drawing by American Regionalist Grant Wood, which are among a group of promised gifts from Dr. Williams to the Philadelphia Museum of Art. The earliest work in the collection is the spectacular landscape painting A Waterfall, c. 1910, by John Singer Sargent, a recent partial and promised gift to the Museum, and the most recent is a Nevelson sculpture, "Column," dated 1964.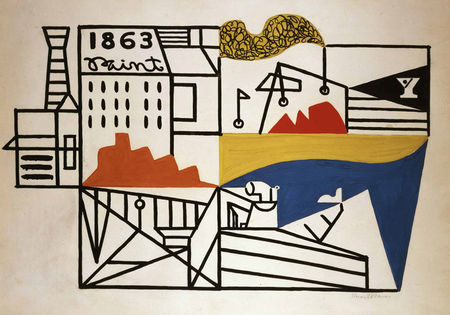 Stuart Davis (American, 1892-1964), Composition 1863 (Factory by the Sea), 1932. Gouache on paper, 22 ¼ x 30 inches. Collection of C.K. Williams, II. Image courtesy of Martha Parrish & James Reinish, Inc.