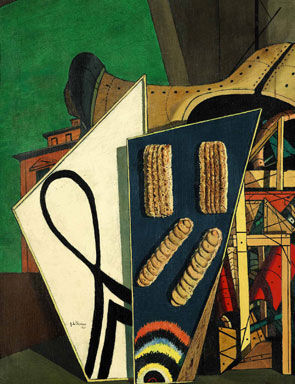 Interno metafisico (Natura morta metafisica) by Giorgio de Chirico. Estimate: £1.6-2.5 million. Photo: Sotheby's
LONDON.- On Friday, October 15, 2010 Sotheby's annual 20th Century Italian Art Sale will showcase the work of many of Italy's foremost Modern, Post-War and Contemporary artists, including Marino Marini, Giorgio de Chirico, Lucio Fontana, Piero Manzoni and Alberto Burri. Sotheby's, the only auction house to have staged a dedicated sale in this category each year since pioneering auctions in this collecting field in 1999, has achieved sell-through rates by lot of 88.5% and 90.9% respectively for its 2008 and 2009 auctions in this category, and the forthcoming auction is estimated to realise in excess of £12million, more than double the pre-sale estimate of last year's 20th Century Italian Art Sale.

The highlight of the forthcoming sale is without doubt Concetto Spaziale, Attese, a splendid and rare example of Lucio Fontana's (1899-1968) widely celebrated Tagli series. Monumental in scale (125 by 165cm) and resplendent in the use of gold paint, Concetto Spaziale, Attese, dating from 1959, is one of the most convincing early manifestations of the artist's experimentations with cuts, which would then become Fontana's most illustrious series. The painting was exhibited in the break-through exhibition dedicated to Lucio Fontana and Alberto Burri at the Museum of Modern Art in New York in 1966. On a green and gold painted canvas, tense and luminous, five slashes, as dark shadows, create a rhythmic alternation between volume and emptiness, between presence and absence. Gold was similarly used by contemporaries such as Yves Klein in his Monogold paintings and Robert Rauschenberg in his Gold Paintings. The use of gold in Concetto Spaziale, Attese is a stunning prelude to Fontana's gold oil paintings and his infamous Venezia cycle, the artist's dreamy interpretation of the Venetian baroque. The present work, which has remained off the market for over forty years, presents collectors with an extraordinary opportunity to acquire one of the artist's most significant works. The work, which is illustrated above, is estimated £2-2.5 million.

Estimated at £1.5-2 million is Lucio Fontana's stunning Concetto Spaziale, Attese, which comes from a private Italian collection and dates from 1965 is also an impressive example from the artist's Tagli series, in scale, presence and sharp contrast of the silken white surface with the blackness of the eight diagonally curving black slashes. The white monochrome field of the canvas, which measures 80 by 100cm., is an expanse of serenity, harnessing enduring and powerful connotations of innocence and purity. The alluring white arena of Concetto Spaziale, Attese, inscribed on the reverse 'Con questa pioggia e' impossibile lavorare – W il sole', is ablaze with energy, acting as an appropriate parallel to Fontana's idea of the artist as the source of creative energy, and provides the perfect setting for his conception of pure space. Created one year before Fontana was awarded the International Grand Prize for Painting at the XXXIII Venice Biennale, this major work encapsulates the artist's wide-ranging ambitions as a pioneer of what art could achieve.

The auction is also set to feature Lucio Fontana's lyrical and elegant Concetto Spaziale, Attese from 1965, one of the exceptionally rare examples of 10 Tagli from his eponymous series to appear at auction. The work, which measures 50 by 121cm., is one of only two red 10 Tagli recorded in Enrico Crispolti's Catalogo Ragionato. The imposing presence of this work is remarked upon by Fontana himself in the inscription on the reverse (How long is this painting - Come é lungo questo quadro). The sharp contrast of the dramatic red surface with the blackness of the ten black slashes that seem to rhythmically dance across the picture plane immediately transport the viewer into an almost hypnotic state. Compositionally dynamic, mesmerising in its beauty and striking in colour, Concetto Spaziale, Attese embodies the artist's revolutionary spatial theories while engendering a unique dialogue with the symbolic value of colour and form. The painting carries an estimate of £1.6-2.2 million.

Interno metafisico (Natura morta metafisica) by Giorgio de Chirico (1888-1978) is a stunning, enigmatic composition painted at the height of De Chirico's Metaphysical period, in 1916, and is estimated at £1.6-2.5 million. The artist's best metaphysical compositions, such as this one, are oddly devoid of any life, exposing the evocative and melancholic power of inanimate objects. The present work was executed during De Chirico's stay in Ferrara during the First World War, where he settled after his return from Paris, and displays specific iconography relating to this period including biscuits, mannequins, semi-abstract and architectural elements. De Chirico also took his inspiration from the spatial distortions of the Cubists in the early years of the 20th century and emphasised the deep recesses and angularity of Renaissance and Neo-Classical buildings; influences which are visible in the present work in the overlapping geometric forms and intersecting lines of perspective. The importance of De Chirico's mysterious and melancholic compositions to the development of Surrealism is reflected in the provenance of this work: Interno metafisico was acquired by the Surrealist poet Paul Eluard and later passed into the hands of his wife Gala, who subsequently married Salvador Dalí.

Alberto Burri's (1915-1995) burned plastic, acrylic and vinavil on canvas, Bianco Plastica L.A., is another fine work to be offered for sale and is expected to realise £350,000-500,000. Before the Second World War, Burri, a student of medicine, did not envisage any artistic career, but after being captured in Tunisia and interned in a prisoner of war camp, Burri returned to Italy with a need to explore the possibilities of painting and abandoned a potentially secure career as a doctor. Painting represented for Burri a moment of catharsis; a response to his desire to overcome memories of the war by escaping into a creative dimension. Together with Lucio Fontana, Alberto Burri is widely celebrated as the leading pioneer and most influential Post-War Italian artist and his impact on European art movements, such as Arte Povera, and American artists, such as Robert Rauschenberg, is immense.

Highlighting the works by Piero Manzoni (1933-1963) in the sale is his 1962-3 polystyrene beads and kaolin on canvas, Achrome. This outstanding example, from Piero Manzoni's groundbreaking eponymous series, sees the artist turn his attention to an innovative material, expanded polystyrene. With its snow-like quality and undefined composure there is an overwhelming impression of methodical chaos and the crowded picture plane invites the viewer to see it as an unquantifiable expanse. Vast in scale, measuring 147 by 114 cm., the present Achrome is the largest work from this very small and extraordinarily rare body of works created in this medium. In 1974 the work was exhibited in an important retrospective on the artist at the Tate Gallery in London at the same time as an exhibition devoted to Yves Klein - these two break-through shows created huge scandal at the time and the two artists became famously known as the enfants terribles of the post-war era. This piece is a notably mature materialisation of the Achrome concept – one that Manzoni invented in 1957, in his search for a physical outlet for painting. The stress was on bringing primary materials to the fore, eliminating hue, line, form, or any signifying mark. Crowded with expanded polystyrene balls, this piece shows Manzoni directing his energies towards the elimination of psychological and expressive intent. Achrome, which comes from a distinguished Italian private collection, carries an estimate of £300,000-400,000.

Headlining the works in the sale by Marino Marini (1901-1980) is his Cavaliere. The subject of horse and rider was a dominating theme of Marini's art and this particular work was executed in 1947, after returning to Milan the year before, having lived in Switzerland during the second half of the war. With its solid forms, the pronounced vertical and horizontal lines, and the figure of the rider firmly seated on the horse's back, Cavaliere recalls the calmer, more harmonious renderings of the theme. The present sculpture comes from the private collection of a Swiss family, in whose possession it has remained for many decades. The parents of the present owners met Marino Marini and his wife Marina in the 1940s, and their friendship lasted for many years, resulting in a number of works in their collection that were acquired directly from the artist. Several other casts of this work are in important public collections, including Museo Marino Marini in Florence, Wadsworth Atheneum in Hartford, Connecticut, Portland Art Museum in Portland, Oregon and Yamagata Broadcasting Company in Yamagata, Japan. This cast is estimated at £700,000-900,000.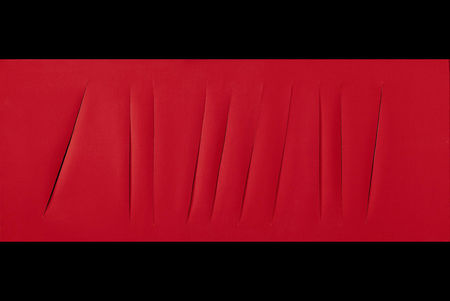 Concetto Spaziale, Attese by Lucio Fontana, waterpaint on canvas, Measuring 50 by 121cm., executed in 1965. Est. £1.6-2.2 million. Photo: Sotheby's.