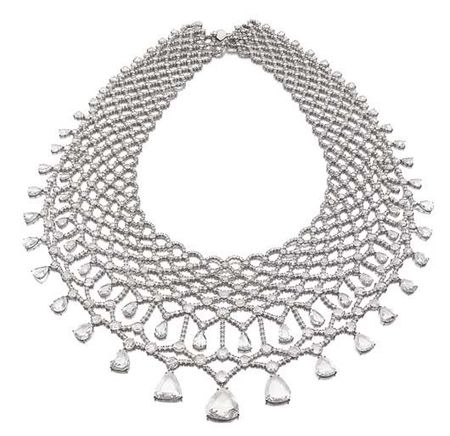 A Unique Diamond 'Organdie' Necklace MICHELLE ONG for CARNET, 2001. photo Philips de Pury & Co
Designed as a subtle and luxuriant bib, the fabric flexible, composed of graduating circular and rose-cut diamonds, delicately woven into a latticework girandole bib, suspending two sections of teardrop and cushion-shaped rose-cut pendants, mounted in platinum, length 18 inches Total diamond weight is approximately 110.69 carats. ESTIMATE $250,000-350,000 - UNSOLD
EXHIBITED "Exquisite Jewels: The Art of Carnet by Michelle Ong", The Burrell Collection, Pollock Country Park, Glasgow Scotland, UK 27th of October - 10th of December 2006, no. 77 he Nature of Diamonds, Houston Museum of Natural Science, Houston, Texas, May 8 - September 7, 2009
Only an artful designer can imitate the suppleness of fabric when creating a piece of jewelry. Michelle Ong is one of a rare few to achieve this capriciousness. She has transformed the bib necklace, a traditional style from the turn of the twentieth century, into a masterpiece of design and craftsmanship that simulates lace. In place of thread on this necklace, diamondseplatinum sections are "woven" into a latticework pattern with the crossing highlighted by a diamond. Teardrop and cushionshapedrose-cut pendant diamonds provide contrast to the design with each gemstone decreasing in size to the clasp. This subtle but clever arrangement draws the eye, demanding to be noticed. When worn, this necklace drapes around the neck and feels like the fabric it is imitating. When a woman such as Michelle Ong designs jewelry, she understands the medium in a different way than a man. She knows how a piece should be worn, how it should feel to the touch and, most importantly, that it should not be too heavy; otherwise, it will be uncomfortable to wear. This necklace fulfills all of the above.Michelle Ong works out of Hong Kong. In 1985, she and her partner, Avi Nagar, started as importers and wholesalers of fine diamonds under the name of Dorera but the firm soon developed a reputation for its custom designed jewelry. In 1999, thefirm's name became Carnet and it was at this time that their design focus became more western with piece made to an exacting standard. MICHELLE ONG FOR CARNET.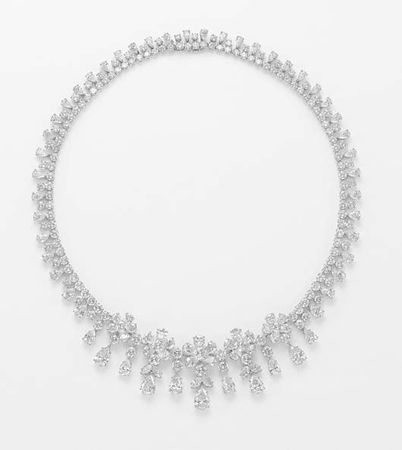 Graff. An Important Diamond Neckalce. photo Philips de Pury & Co
Centering upon a series of graduated pear, circular and marquise-cut diamond florets, suspending larger pear-shaped diamonds, to the circular-cut diamond back chain, extending a pear and circular-cut diamond fringe, mounted in 18K white gold, length 15 7/8 inches. Signed 'Graff' no. 3368 With report no. 8651234 dated 31 August 1995, stating that the pear-shaped diamond weighing 1.00 carat is D color, VS1 clarity. With report no. 10093254 dated 11 March 1997, stating that the pear-shaped diamond weighing 1.01 carats is E color, VS1 clarity. With report no. 1007553 dated 18 March 1997, stating that the pear-shaped diamond weighing 1.11 carats is E color, VVS2 clarity. With report no. 10093228 dated 11 March 1997, stating that the pear-shaped diamond weighing 1.18 carats is E color, VS2 clarity. With report no. 10099688 dated 21 March 1997, stating that the pear-shaped diamond weighing 1.53 carats is D color, VS1 clarity. ESTIMATE $180,000-220,000 - UNSOLD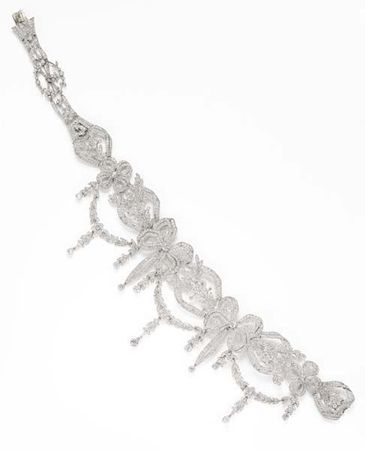 An Exceptional Edwardian Diamond Choker Necklace, 1910. photo Philips de Pury & Co
Designed as a series of pavé-set diamond ribbon links, accented by old European-cut diamond florets and winding pavé-set diamond foliate motifs, suspending a pavé-set diamond garland, to the old European-cut diamond fringes, mounted in platinum, with a detachable sizing attachment of similar design, length 10 inches, with attachment 13 1/4 inches. ESTIMATE $150,000-200,000 - UNSOLD
LITERATURE The Edwardian period officially began in 1901. Fashion of the period, although inspired bythe French courts of the eighteenth century, is characterized by an ethereal lightness and elegance. Layers of luxurious lace and feathers decorated garments in soft pale colors. Edwardian jewelry was designed to complement this aesthetic and predominantly featured diamonds in order to look as light and delicate as possible, reflecting the femininity of the Edwardian lady. This was the first time jewelry was made to be worn at night, now illuminated by electricity rather than candles, thus creating a dazzling effect. Edwardian jewelry craftsmanship and design is intricate with pierced openwork set with diamonds in platinum, garlands as the primary motif, and further enhanced with bows and ribbons. Thismagnificent choker is an exceptional example of the period.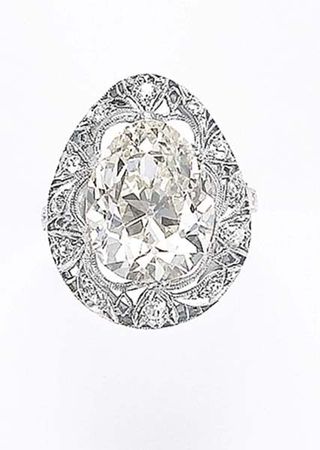 An Edwardian Diamond Ring. photo Philips de Pury & Co
Set with an old-cut pear-shaped diamond, weighing approximately 7.29 carats, within a pierced openwork surround, accented by old European-cut diamonds, to the engraved halfhoop, mounted in platinum, size 5 1/2. ESTIMATE $60,000-80,000 - UNSOLD
Boucheron. An Important Diamond Necklace , 1950. photo Philips de Pury & Co
The front designed as a series of graduated circular and baguettecut diamond scrolling links, each centering upon a larger circularcut diamond, to the circular and baguette-cut diamond back chain, mounted in platinum and 18K white gold, length 14 inches. Signed 'Boucheron Paris', no. 58 318, with French assay marks and maker's marks. ESTIMATE $85,000-100,000. SOLD $92,500
Sterlé. Diamond Flower Brooch , 1960. photo Philips de Pury & Co
Designed as a baguette-cut diamond spray, extending pear, marquise and circular-cut diamonds, gathered by a circular-cut diamond ribbon, mounted in platinum and white gold, length 1 1/2 inches. Signed 'Sterlé Paris', with French assay mark, no 61018. ESTIMATE $15,000-20,000 - UNSOLD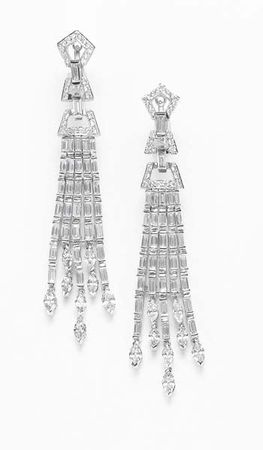 A Pair of Diamond Ear Pendants. photo Philips de Pury & Co
Each designed as a series of circular-cut diamond geometric links, accented by baguette-cut diamonds, suspending a baguette and marquise cut diamond cascade, mounted in 18K white gold, length 3 inches. ESTIMATE $12,000-15,000 . SOLD $15,000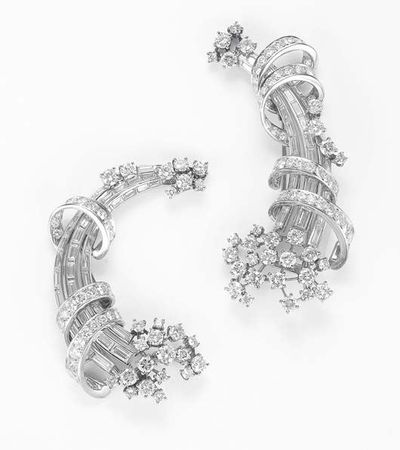 A Pair of Diamond Double Clip Brooches. photo Philips de Pury & Co
Each designed as a baguette and circular-cut diamond spray, accented by wrapped circular-cut diamond ribbon, mounted in platinum and white gold, length 2 and 2 1/2 inches. ESTIMATE $11,000-15,000 . SOLD $13,750
A Pair of Diamond Ear Pendants. photo Philips de Pury & Co
Each designed as a two-tiered circular-cut diamond crescent-shaped double hoop, from a circular-cut diamond floret link, to the circularcut diamond line surmount, mounted in 18K white gold, length 1 1/2 inches.. ESTIMATE $8,000-10,000. SOLD $12,500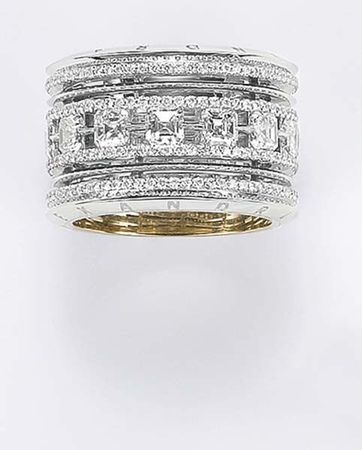 Alexandra Mor. A Diamond Band. photo Philips de Pury & Co
Designed as an openwork wide band, centering upon a row of asscher-cut diamonds within a pavé-set diamond border to the outer similarlyset diamond border, mounted in white and yellow gold, size 7 1/2. Signed 'Alexandra Mor', with an Alexandra Mor box ESTIMATE $10,000-12,000 - UNSOLD
Philips de Pury & Co. Jewels. 8 december 2010. 450 Park Avenue New York. www.phillipsdepury.com