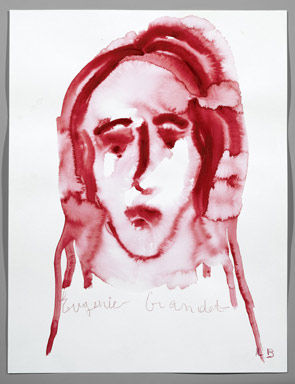 Louise Bourgeois, Eugénie Grandet, 2009. Gouache on paper, 59.6 x 45.7 cm. Courtesy Cheim & Read, Hauser & Wirth and Galerie Karsten Greve. Photo: Christopher Burke © Louise Bourgeois Trust / Adagp, Paris 2010.
PARIS.- The preeminent contemporary artist, Louise Bourgeois wished to present an exhibit in the intimacy of the Musee Balzac. This original work especially created for the museum is not a confrontation with one of Balzac's most famous novels but rather according to the artist an identification with Eugenie Grandet, a woman who was never given the chance to grow up. The exhibition is on view until February 6th 2011 at the Maison de Balzac.

Based on memory and childhood longings, the work of Louise Bourgeois is entirely autobiographical. Her cathartic work delves into the unconscious and the mother-child and/or father-child relationship.

"I'm working on a show about Eugénie Grandet for the Maison de Balzac in Paris, opening next November. I love that story. It could be the story of my life." Louise Bourgeois for The Guardian Newspaper, London, September 19th 2009

Eugenie Grandet, famous since it's publication in 1833 tells the story of the avaricious Grandet, a wine-grower, his wife who falls victim to his callousness and his daughter Eugenie, a kind, good and loving girl who disappointed with life isolates herself becoming a charitable but bitter spinster.

Balzac's novel portrays different themes: family – adolescence, pain and solitude – all subjects equally present in Louise Bourgeois' paintings as early as the end of the 1930s. While she does not proclaim herself to be a feminist she does have a keen interest in women's issues.

It's therefore not at all surprising that Eugenie Grandet is a central character in the origin of Louise Bourgeois' work that sees her as the prototype of the woman who has not been allowed to develop and ultimately finds her unfulfilled. Balzac's character is a prisoner of her father who treats her like a servant. Eugenie's destiny is that of a woman who never had the opportunity to become one…

Embroidery is one of the quintessential feminine arts and one practiced professionally by Louise Bourgeois' mother. The artist presents a series of works, which evokes the passage of time - useless occupations – withering states and solitude. Bourgeois who works exclusively in isolation displays a keen sense of poetry with touches of humor in her intimate and secretive art.

This exhibit marks the meeting of two great artists who separated by time and space come together in their powerful analysis, lucidity and efforts to identify the most profound secrets of the human soul.
Louise Bourgeois, 2008. Photo: Dimitris Yeros © Louise Bourgeois Trust / Adagp, Paris 2010.