Dante Gabriel Rossetti, Joan of Arc, 1882 . Oil on canvas 52,7 x 45,7 cm. Loan from Syndics of the Fitzwilliam Museum, Cambridge © Fitzwilliam Museum, Cambridge.
This March, the Museo Thyssen-Bornemisza anci Fundaciân Caja Madrid are presenting Heroines, a comprehensive survey cf the depîction of women as the protagonists of key roles and as manifestations of the gender identity crisis in western art. The exhibition focuses on strong women: active, independent, defiant, inspired, creative, dominating and triumphant. These female figures are notably different to the seductive, complacent, defeated or enslaved ones that acted out the submissive and passive models traditionally associated with two prevailing and associated stereotypes: motherhood and the erotic object. To employ a key term in feminist discourse from the last two decades, this exhibition focuses on images that have the potential to be sources of empowerment for women themse Ives.
From Greek mythology to the subversive images of contemporary feminist artists, from the great figures of the Christian tradition to anonymous modem women reading the papers, Heroines presents around 120 works that constitute a complete catalogue of female figures of the widest variety of types and from different eras: Penelope and Iphigenia, Artemis and Athena, intoxicated bacchantes and furious maenads, Atalanta, the fastest woman on earth, hunters and athietes, archers and nudists, Joan of Arc and other virgin warriors, Amazons and Vaikyries, the sorceresses Circe and Medea, Saint Catherine of Alexandria who converted fifty pagan philosophers, Saint Eulalia, crucified in the manner of Christ, Sappho of Lesbos, Mary Magdalen reading, Saint Theresa levitating, Artemisia Gentileschi, Frida Kahic and other great women painters.
The exhibition also presents a type of "city of women" that focuses in particular on the period of modem art from the l9th century to the present, although examples are included form the Renaissance onwards. Following a thematic rather than chronological order, it explores the contexts and vocations cf these heroines, the iconography of solitude, work, war, magic, intoxication, sport, religion, reading and painting.
Each chapter of the exhibition juxtaposes works from different periods and in different artistic idioms and media with the aim of encouraging the visitor to reflect on change and permanence through these differences. In each section the voices of one or more great women artists respond to the images created by their illustrious male colleagues: Caravaggio, Rubens, Rembrandt, Goya, Delacroix, Pissarro, Degas, Munch, Nolde, Malevich, Hopper; living female artists (Marina Abramovic, Kiki Smith, Mona Hatoum, Julia Fullerton-Batten, Rineke Dijkstra), and women artists of other periods (including Mary Cassat, Lee Krasner, Nancy Spero, Angelica Kauffmann, Berthe Morisot).
GALLERIES 0F THE MUSEO THYSSEN-BORNEMISZA
1. Solitude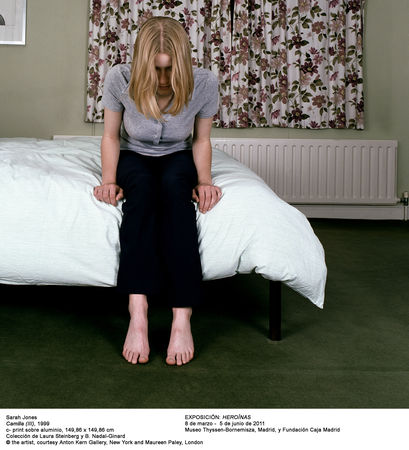 Sarah Jones. Camilla III, 1999. Collection of Laura Steinberg anct B. Nadal-Ginard. © The artist, courtesy Anton Kern Gallery, New York and Maureen Palay, London.
The exhibition opens in the exhibition space cf the Museo Thyssen-Bornemisza with a section on the original condition of the heroine: that of solitude. Presented here are lone women, starting with modem images of classical heroines such as Penelope and Iphigenia. Their act of waiting and longing - seemingly passive activities - contains a germ of independence and even of resistance. Modem heroines of solitude, however, no longer identify themselves with Penelope but with Ulysses. Rather than waiting for the absent hero, they become travellers themselves.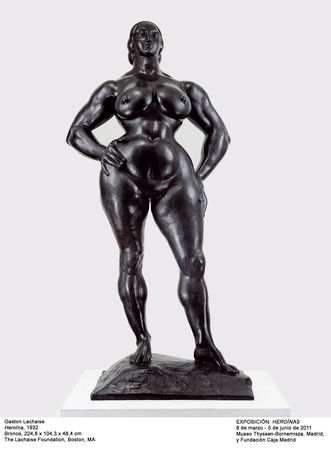 Gaston Lachaise, Heroína, 1932 . Bronce 224,8 x 104,3 x 48,4 cm. The Lachaise Foundation, Boston, MA © The Lachaise Foundation
2. Peasant Women, Caryatids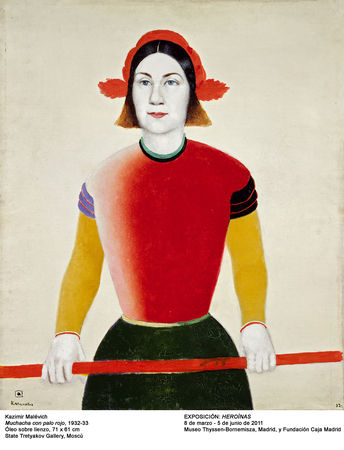 Kazimir Malévich, Muchacha con palo rojo, 1932‐1933. Óleo sobre lienzo 71 x 61 cms. State Tretyakov Gallery, Moscú
On occasions the bacchante appears in painting as an erotic-decorative toy created for the delight of the voyeur. Behind this role, however, stalks the terrifying violence of the mythological maenads, endowed with supernatural powers and capable of pulling up a tree with their bare hands or tearing apart a buli (or a man). The enraged maenad, destroyer of men and rebel against patriarchal order, who fascinated a number of l9th-century artists, is a typical example cf an image that has been revived by contemporary women artists as a source of empowerment.
4. Huriters and Athletes
Like Artemis and her nymphs, the mortai Atalanta rejected the cuit of Aphrodite and was outstanding in supposedly male activities such as hunting, wrestiing and running races. Her figure invoives a potentiai threat to gender roles that has been repeatediy deactivated, from Ovid to pictorial representations of the myth. In Victorian painting, however, the iconography of female hunters and athietes from antiquity was revived as an image of the emancipation of the female body and 0f the right to engage in physical exercise as a forerunner of the conquest of other social and political rights.
5 & 6. Virgins in Armour and The Return of the Amazons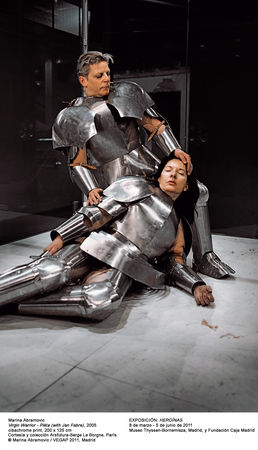 Marina Abramovic. Virgin Warrior 1. Pietà (with Jan Fabre), 2005. Courtesy & collection Arsfutura-Serge Le Borgne, Paris (Francia) © Marina Abramovic / VEGAP 2011, Madrid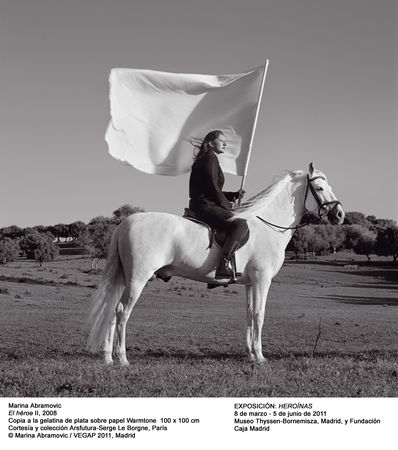 Marina Abramovic. The Hero 11, 2001. Courtesy & collection Arsfutura-Serge Le Borgne, Paris (Francia) © Marina Abramovic / VEGAP 2011, Mad rid.
The first part of the exhibition concludes with the image of the female warrior, firstiy in the form of virgin warriors or maidens in armour, following the paradigm of Joan of Arc. Armour allowed women to dress as men in order to engage in a typicaliy male activity, but it s simultaneously an effective metaphor of virginity. In addition, in late l9th-century art by painters as diverse as Degas and Franz von Stuck, female warriors shed their armour and return to the original image of classicai Amazons. At the same time they are associated with the daims for women's rights that first made their appearance during this period.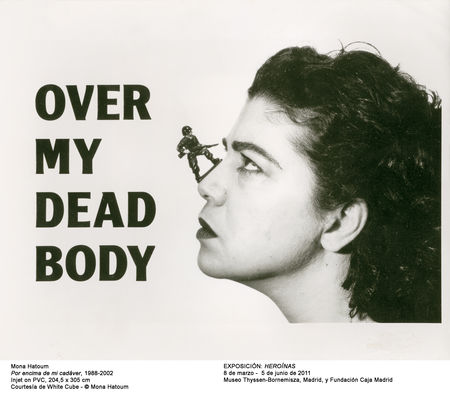 Mona Hatoum, Por encima de mi cadáver, 1988‐2002. Injet on PVC 204,5 x 305 cm. Cortesía de White Cube ‐ ©Mona Hatoum © The artist, Courtesy White Cube
EXHIBITION SPACE 0F FUNDACIÔN CAJA MADRID
7, 8 & 9. Sorceresses, Martyrs and Mystics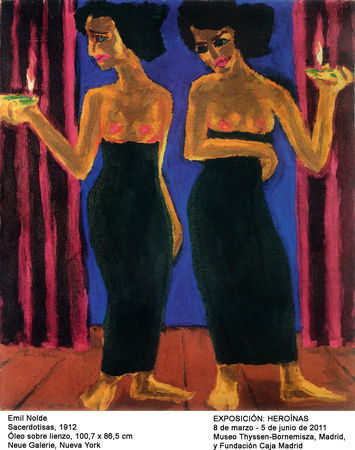 Emil Nolde, Sacerdotisas, 1912. Óleo sobre lienzo 100,7 x 86,5 cm. Neue Galerie, Nueva York © Nolde Stiftung
Caravaggio. Santa Catalina de Alejandria, c.1597. © Museo Thyssen-Bornemjsza, Madrid,
In the first part of the exhibition, on display at the Museo ThyssenBornemisza, the physical power of heroines prevails. The second part, presented in the galleries of Fundaci6n Caja Madrid, explores the spiritual power of sorceresses, martyrs and mystics, who were frequentiy stigmatised as witches, mad women or hysterics. Depictions of sorceresses in paintings often reduced these figures to the role of femme fatale, defined in relation to male desire and ignoring their facet of orphic figures that humanise and civilise beasts and men. Rather than mere victims, martyr saints are heroines who triumph over their persecutors and torturers. In addition, the supernatural faculty of levitation characteristic of some mystic saints and possessed women may be an image of women's experience in transitional periods such as adolescence.
Andrea Gastaldi, Safo, 1872. Óleo sobre lienzo 217 x 155 cm. Galleria Civica Torino ‐GAM, Turín. Fondazione Guido ed Ettore de Fornaris. Galleria d'Arte Moderna e Contemporanea di Torino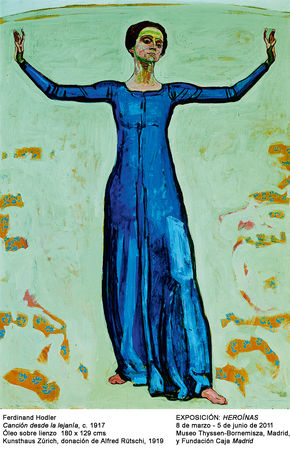 Ferdinand Hodler, Canción desde la lejanía, c. 1917. Óleo sobre lienzo 180 x 129 cms. Kunsthaus Zúrich, donación de Alfred Rütschi, 1919
10. Readers
Anni Leppälä, Leyendo, 2010. C‐print sobre aluminio 32 x 42,5 cm © Anni Leppälä, en posesión de la artista
A vestige of the spiritual, magical and mystical powers habitually attributed to women in traditional iconography survives in the figure of the female reader. Reading created a bubble in which women can live out their ives through other lives; it is an interior activity that escapes pictorial representation. Given that we cannot read the text, we can "read" the body of the reader, who acts out or somatises what she reads. One example is the typology of the Mary Magdalen figure that accompanies her reading with tears of repentance. Others include the pious reader, the curious or daydreaming reader and the modem woman reading the paper.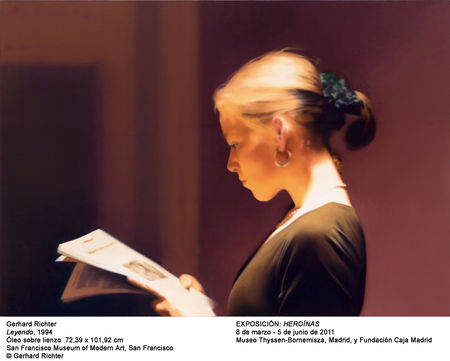 Gerhard Richter, Leyendo, 1994. Óleo sobre lienzo 72,39 x 101,92 cm. San Francisco Museum of Modern Art,San Francisco © Gerhard Richter
11. Before the Mirror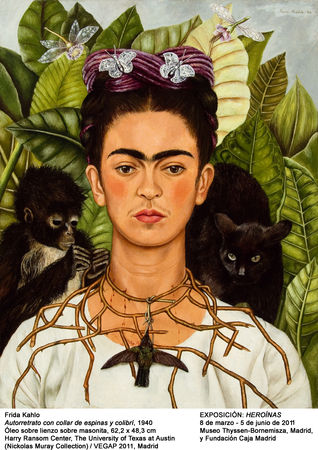 Frida Kahlo. Self‐Portrait with Thorn Necklace & Hummingbird, 1940. Harry Ransom Center, The University of Texas, Austin (Nickolas Muray Collection) / VEGAP 2011, Madrid
Following this survey of numerous female figures created by men, the final section of the exhibition is devoted to images that women have created before the mirror. It analyses the development of self- portraits by female artists from Sophonisba Anguissola to Frida Kahlo. Self-portraits allowed women to be author or creator (a role traditionally considered a masculine one) while continuing to be the model (the conventional female role). This judicious combination of the active and the passive and this act of becoming the subject without abandoning the role of beautiful object, was the key to the success of the female self-portrait in a patriarchal society and one that, furthermore, personified Vanity as a woman looking in the mirror. Within the history of the self-portrait, women artists at times emphasised their gender identity and depicted themselves accompanied by other women, children or objects that functioned as conventional, feminine accessories. On numerous otheroccasions, however, they depicted themselves in a way comparable to a male painter, wearing artist's clothes, holding a palette and brushes and looking out at the viewer, perhaps due to their even greater need to daim their status as professional painters. Self-Portrait with Thom Necklace & Hummingbird.
5 March to 5 june 2011. Curator: Gullermo Solana. Museo Thyssen-Bornemisza, Paseo del Prado 8, 28014 Madrid, España