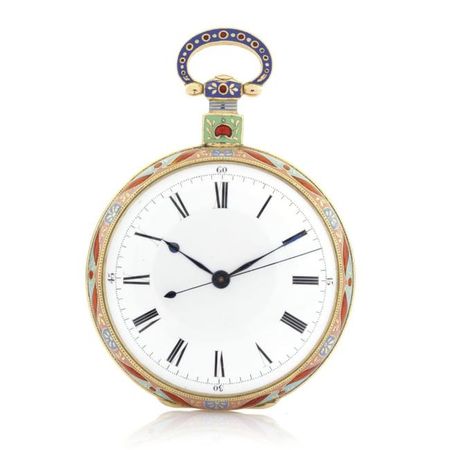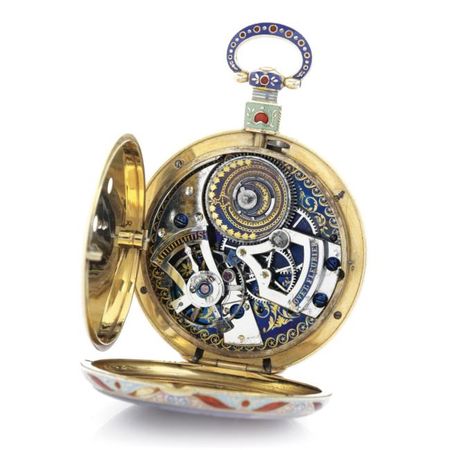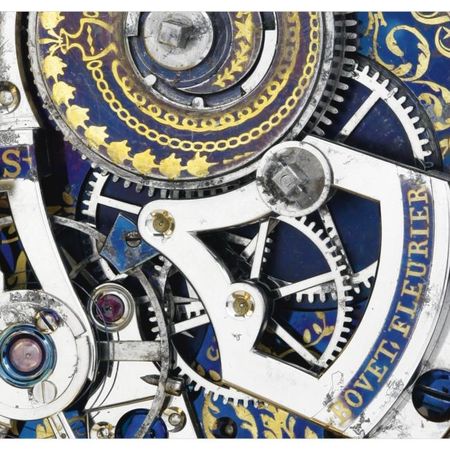 Bovet, Fleurier. A rare gold and enamel open faced centre seconds duplex watch made for the Chinese market . Circa 1835, no 523. Photo Sotheby's
• duplex movement with engraved and damascened with blued steel and gilt foliate decoration, Chinese calibre with mirror polished wheel train and bridges, standing barrel, three-arm balance with wedge shaped blued steel weights, flat balance spring and index regulator, signed Bovet, Fleurier • white enamel dial, Roman numerals, outer track minutes/seconds divisions, Arabic quarter hour numerals • gold case fully decorated with painted enamel, bezels, pendant and bow decorated with pink, red, blue and green champlevé enamel, the back panel painted with a fine composition of summer flowers on a light purple background, hinged gold cuvette with engraved foliate decoration • signed on the movement; diameter 58 mm. Estimate 70,000—100,000 CHF. Lot Sold 110,500 CHF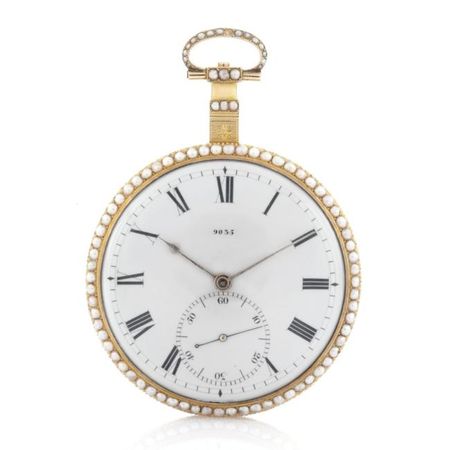 Barraud's, Cornhill, London. A rare gold and enamel pearl-set watch made for the Chinese market, circa 1815, no 9035. Photo Sotheby's
• gilt full plate cylinder movement, pierced and engraved balance cock, the endstone in screwed chaton, four arm balance, regulator index, signed Barraud's Cornhill • white enamel dial, outer track for the minute indication, subsidiary seconds • gold case with reeded band, split-pearl set bezels pendant and bow, back panel with fine summer flowers painted over yellow sunburst engine-turning with turquoise enamel borders • movement signed, dial numbered; diameter 62 mm. Estimate 30,000—50,000 CHF. Lot Sold 92,500 CHF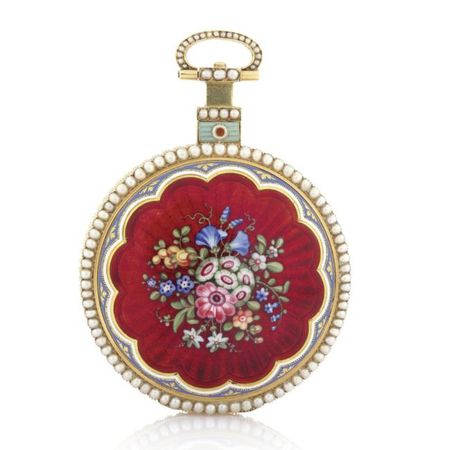 Barraud's, Cornhill, London. A rare gold and enamel pearl-set watch made for the Chinese market, circa 1818, no 9591. Photo Sotheby's
• gilt full plate cylinder movement, pierced and engraved balance cock, the endstone in screwed chaton, four arm balance, regulator index, signed Barraud's Cornhill • white enamel dial, outer track for the minute indication, subsidiary seconds • gold case with reeded band, split-pearl set bezels pendant and bow, back panel with fine summer flowers painted over red sunburst engine-turning with turquoise enamel borders • signed on the movement and numbered on the dial, London hallmarks; diameter 60 mm. Estimate 30,000—50,000 CHF. Lot Sold 92,500 CHF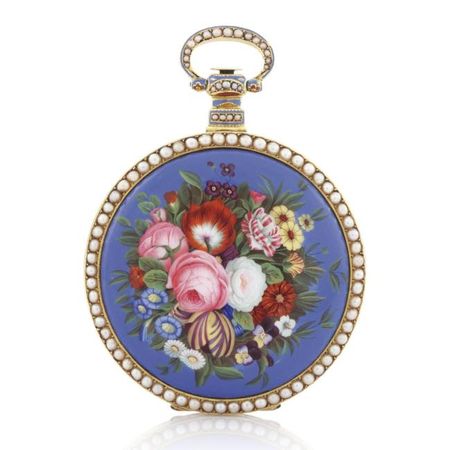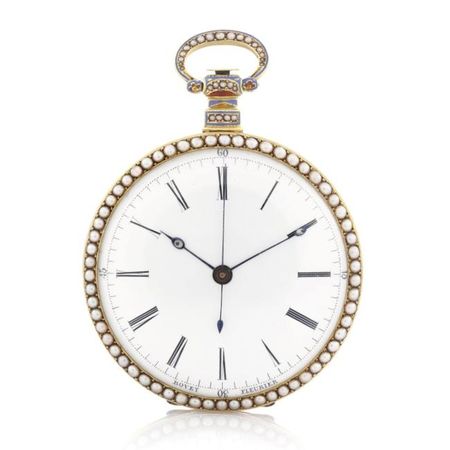 Bovet, Fleurier. A fine gold and enamel, pearl-set centre seconds watch made for the Chinese market, circa 1800. Photo Sotheby's
• Chinese calibre, mirror finished steel duplex movement, three arm balance with blued steel weights, standing barrel, index regulator, signedBovet Fleurier, transparent cuvette • white enamel, Roman and Arabic numerals, outer minute track, centre-seconds • gold and enamel case, polychrome band with foliage decoration, bezels and bow with split pearls, the back panel with bouquet of flowers against a royal blue background • signed on the dial and movement, case numbered; diameter 55 mm. Estimate 20,000—30,000 CHF. Lot sold 86,500 CHF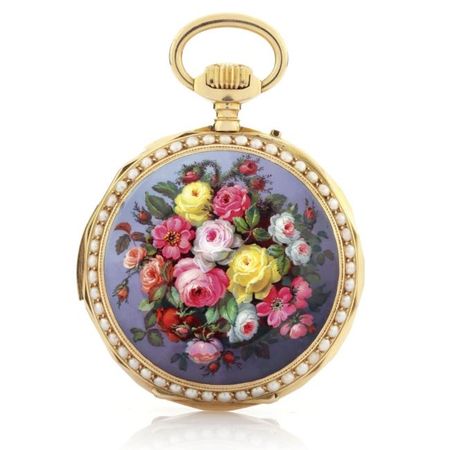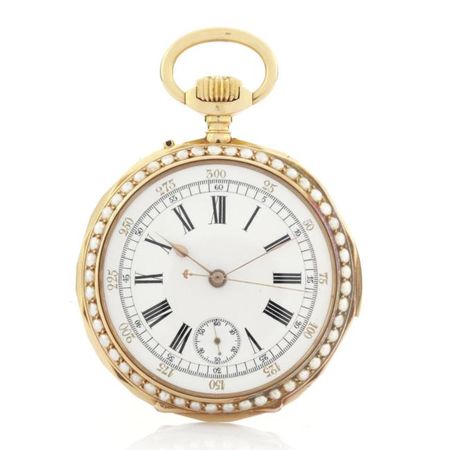 Swiss. A rare gold, enamel and pearl-set keyless lever minute repeating centre seconds watch made for the Chinese market, circa 1890. Photo Sotheby's
• nickel damascened lever movement, cut bi-metallic balance, index regulator, two hammers striking on gongs for repeating mechanism • white enamel dial, Roman and Arabic numerals, centre seconds indication, outer track for the minute graduation, 1/5th second and calibrated to 300 units • gold case decorated on both bezels with split pearls, back with a painted enamel bouquet of summer flowers on blue background, sliding device to the band for the minute repeating meachnism •stamped BHJ Co inside the case and numbered. diameter 50 mm. Estimate 20,000—30,000 CHF. Lot sold 86,500 CHF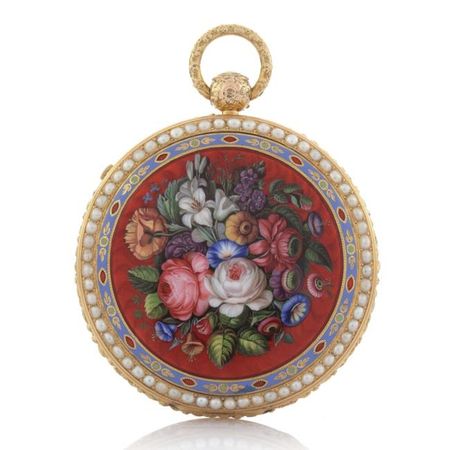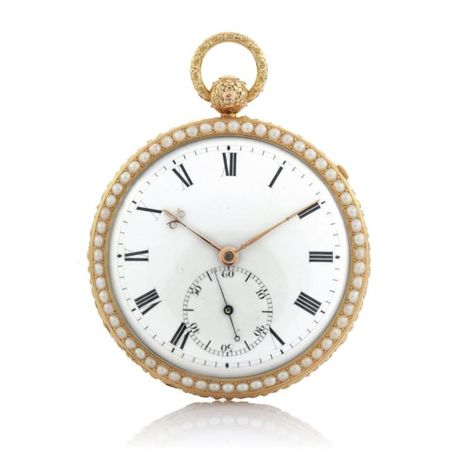 Charman, London. A rare gold and enamel pearl-set watch made for the Chinese market, circa 1840, no 9079. Photo Sotheby's
• full plate cylinder associated movement, pierced and engraved balance cock, the endstone in screwed chaton, three arm balance, regulator index, signed Charman, London • white enamel dial, Roman numerals, outer track for minute indication, subsidiary seconds • gold case with repoussé band, split-pearl set bezels, pendant and bow, back panel with fine polychrome enamelled summer flowers over red sunburst engine-turning with turquoise enamel borders • movement signed; diameter 62 mm. Estimate 20,000—30,000 CHF. Lot sold 80,500 CHF.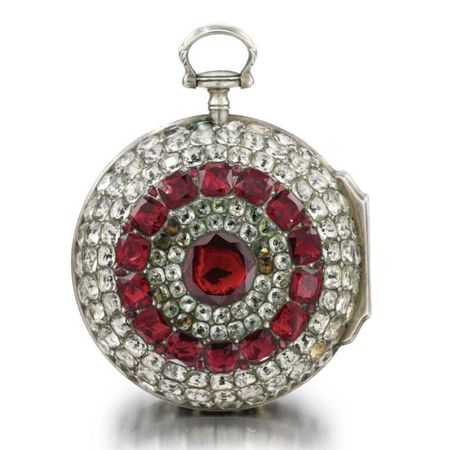 Williamson. A silver and paste-set verge watch made for the Chinese market, circa 1780. Photo Sotheby's
• gilt full plate verge movement with applied pierced and engraved silver decoration signed Williamson, glazed balance bridge, steel three-arm balance, ruby endstone • white enamel dial, Roman numerals, Arabic outer • silver case pave-set with spiral design of red and clear paste; diameter 47 mm. Estimate 6,000—8,000 CHF. Lot Sold 20,000 CHF
NOTE: For a similar example, by Williamson, see Les Montres du Musée du Louvre, Tome I, La Collection Olivier, Catherine Cardinale, described and illustrated (Inv. 0A 8364). cat. no. 168, p. 151. The case of the watch in the Louvre collection differs from the present lot by being set with yellow and white stones rather than the red and white stones found on this lot.
Timothy Williamson, is recorded as a London watch and clockmaker active between 1769 and 1790. He specialized in the production of automata and decorative watches and clocks for the Chinese Market and is known to have made pieces for the Emperor Qianlong.
For a listing of his work for China, see Catherine Pagani, Eastern Magnificence & European Ingenuity, Clocks of Late Imperial China, pp. 202-203.
Sotheby's. Important Watches, 15 May 11, Geneva www.sothebys.com