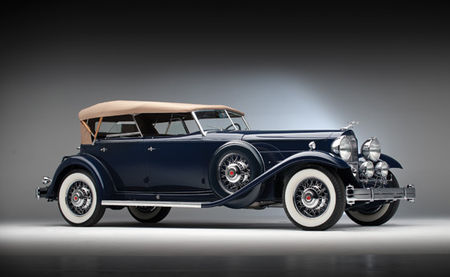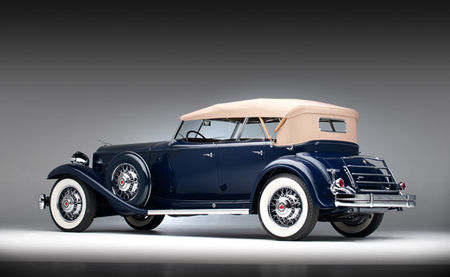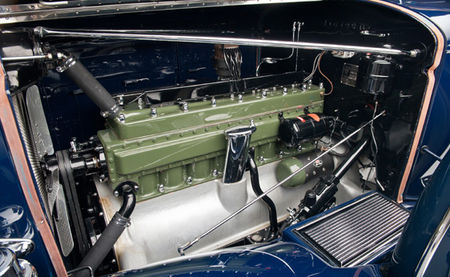 1932 Packard 904 Individual Custom Dietrich Dual Cowl Sport Phaeton ©2011 Courtesy of RM Auctions
Chassis No. 193514. Estimate: $1,000,000-$1,400,000 US.
120 bhp, 385 cu. in. L-head eight, four-speed manual transmission, solid front axle with leaf springs, live rear axle with leaf springs and four-wheel mechanically-actuated drum brakes. Wheelbase 147.5"

- From the Lyon Family Collection
- Highly desirable custom body by Dietrich, Inc.
- One of only two examples known on the 904 chassis
- Exceptional concours restoration and meticulous maintenance
- Ex-Otis Chandler Collection

For years Alvan Macauley had been pushing the envelope with earlier and earlier introductions of Packard's new models. He justified it, if any justification was needed for a marque of Packard's stature, by noting that Packard operated in individual series, not model years. New series were announced when they were ready, on Packard's schedule, not according to anything as mundane as the calendar. It came as no surprise, then, that Packard announced the Ninth Series on June 20, 1931 at a meeting of some 600 dealers and distributors. The most notable visual change came from the now iconic vee-shaped radiator, complemented by a new bumper with stabilizers at the ends to damp chassis harmonics. Internally a double drop frame lowered the frame and body height, while second and third gears were synchronized, and the Deluxe Eight engine's power increased to 135 horsepower at 3,200 rpm.

The Ninth Series Packards were quality, quiet, sophisticated automobiles, offered in a variety of engines, wheelbases and bodies, both production and Individual Custom. The problem was that the Depression had continued to deepen. In the face of uncertainty even Packard's well-off clientele was looking carefully at purchasing new cars. The situation was made worse by Packard's superior quality: Packards took a long time to wear out in normal use, and it was hard to justify paying three or four thousand dollars for a new model when the old one was perfectly serviceable.

One of the strategies quickly employed by Packard to deal with the Depression was to consolidate as much as possible of its body construction and trimming in its own facilities, now rapidly becoming under-used as production dropped. Its custom coachbuilding relationship with Murray Corporation's affiliate Dietrich, Inc. was preserved as long as possible, however. The Dietrich designs were important sources of fresh ideas and concepts for Packard's own coachwork, and Dietrich and its founder, Raymond Dietrich, had a reputation which enhanced Packard's appeal.

Although Ray Dietrich had been forced out of his namesake firm in early 1931, his talent was manifest in the many custom and semi-custom bodies that continued to bear the Dietrich name and to grace Packards for years to come. A master of subtle detail and handsome balance, Ray Dietrich's work was expensive but imparted elegance to the designs which he created for execution in the Packard shops and particularly in the custom bodies which Dietrich built in its own shops.

Chassis 193514 is one of what historians believe are approximately 12 Dietrich Sport Phaetons built between 1932 and 1933 with just seven believed to remain. The example offered here is one of two surviving Individual Custom Eights; the other five are comprised of two on the 1932 Twin Six chassis and three on the 1933 Twelve chassis.

The verified history of this example begins in the 1970s when it was purchased by Mr. Otis Chandler. For some time it had been sitting in a hangar in the Santa Monica airport. When chassis 193514 was placed in the hangar, it was in original condition but had suffered damage from an accident that involved rolling into a ditch. The damage sustained was light considering the weight of the car and involved the driver's side cowl, door and windshield post. At the time of his acquisition, Mr. Chandler intended to have the rare Dietrich Packard restored and sent it to the shop of Harry Andrews. While at Andrews' shop the phaeton was disassembled, but restoration did not continue much farther.

Ultimately the 904 ended up in the ownership of Ralph Englestad of the Imperial Palace. Mr. Englestad commissioned Scott Veazie to perform the restoration which took place in earnest in the late 1980s or early 1990s. According to Mr. Veazie, his shop fully restored the rolling chassis and braking system and also repaired the bodywork and applied the paint; well known restorer Bob Mosier rebuilt the engine and transmission.

The product of the restoration is magnificent. The Dietrich body is finished in Dark Blue with Dark Blue leather upholstery, Tan cloth top and Light Grey carpeting. Options include chrome wire wheels with wide whitewalls, dual side-mounted spares with metal enclosures, a trunk rack and Pilot Ray lights.

General Lyon acquired the completed, concours-ready 1932 Packard in 1998, and it joined his extraordinary, world-class selection of cars in California. Aside from being one of the very rare, low production Individual Customs, it has a very interesting, seldom-seen detail. The rear windshield has two beautiful arched side wings which can be affixed to the doors and swing in and out when the rear door is opened via a hidden track. For storage, the wings can be easily detached from the doors and fold down with the whole windshield assembly. When stowed, the track is concealed underneath a sprung chrome latch so that the top of the door looks sharp and complete. This is just one example of the design talent employed by Dietrich, Inc.

The chassis, engine and vehicle numbers have been verified as authentic by RM staff, but the wooden frame piece containing the original Dietrich body tag was replaced. Today, this gorgeous 1932 Packard 904 Dietrich Dual Cowl Phaeton displays magnificently, indicative of the quality and craftsmanship employed during its refurbishment. For over a dozen years it has been maintained to the highest standards by General Lyon's curators and is a readily running, driving car. Chassis 193514 would be welcomed to the field of any major concours event and would be competition ready with the lightest freshening.

The most sophisticated collectors treasure the highly desirable 1932-1934 Packards and their custom-bodied counterparts even more so. Close inspection and a ready paddle are advised as the competition for this gem will be fierce.
RM Auctions, Monterey. Saturday, August 20, 2011 www.rmauctions.com