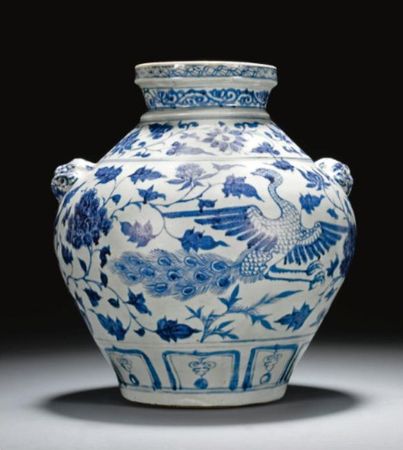 A rare blue and white 'Peacock' jar. Yuan dynasty. Photo Sotheby's
the robustly potted baluster body with tapering sides rising from a slightly recessed base to a rounded shoulder with flaring neck and everted waisted rim, freely painted in cobalt-blue tones around the exterior with a standing peacock and a peahen in flight amidst leafy peony, lotus and hibiscus sprays issuing from rockwork and divided by two high relief moulded lion mask handles, all between a lotus lappet band at the base and a lotus scroll collar, the neck encircled with a classic scroll below a cash diaper band; 28.2cm., 11 1/8 in. Estimate 200,000-300,000 GBP
EXHIBITED: Yuan and Ming Blue and White Porcelain, David Lin and Co., Taipei, 2000, cat. no. 1.
NOTE: In its material, shape and painted decoration, the present finely potted and well preserved guan represents the classic blue-and-white porcelain from the Yuan dynasty. It is also an example from one of the key stages in the formation of the shape known as guan. It is after this stage that the proportions of the vessel were altered, making the neck wider and more distinctive and the shoulders broader with an expanded body. The later guan shape continued to be made into the Ming dynasty, changing very little over time. The banded decoration seen on this jar is also characteristic of the period, although vessels painted with peacocks remain unusual and rare. Three related examples appear to be recorded; one of similar form but with a cut neck and lotus scroll band design around the shoulder, from the collection of Frederick Knight, sold in our Hong Kong rooms, 18th May 1982, lot 22; and two vessels, both similarly painted with a peacock and a peahen among scrolling peonies but of a simpler guan shape with short straight neck and lacking the animal-mask handles. One of them, from the collection of Charles Russell, was sold in these rooms, 6th June 1935, lot 90, and is now in the British Museum, London, illustrated in Jessica Rawson, The British Museum Book of Chinese Art, London, 1992, col. pl. 177. The other guan, now in the Archaeological Museum, Teheran, is published in Alexander Pope, Chinese Porcelains from the Ardebil Shrine, London, 1956, pl. 27 top.
Compare also the peacock-and-peony motif, painted in various styles, on other Yuan vessel shapes; for example, on a pear-form vase from the hoard find in Kulun Banner, Inner Mongolia, and on two flat-sided flasks, one in the Matsuoka Museum of Art, Tokyo, the other in a private collection, all illustrated in Ye Peilan, Yuandai ciqi, Beijing, 1998, pls. 105, 109 and 110. See also a Yuan meiping finely painted with a pair of peacocks amongst peonies as the main motif on the central design band offered in our Hong Kong rooms, 9th October 2007, lot 1550. A large charger decorated with a peahen was sold in these rooms, 10th June 1986, lot 217; and another dish with a pair of peacocks, from the Sedgwick Collection, was also sold in these rooms, 2nd July 1968, lot 120.
For examples of guan of this form, but the main design band decorated with a different theme; see a vessel boldly painted in varying tones of cobalt-blue with a pair of ferocious dragons striding through swirling clouds and flames, sold in our Hong Kong rooms, 8th April 2007, lot 838; and another comparable piece discovered in 1980 from the Gao'an hoard in Jiangxi province published in The Porcelain from the Celler of the Yuan Dynasty in Gao'an, Beijing, 2006, p. 46.
It is interesting to note that vessels of this type were made for imperial use as well as for the export market. In their decoration and shape they were made to suit the Mongol taste and the Central Asian markets.John Carswell in Blue and White Chinese Porcelain Around the World, London, 2000, p. 17, mentions that Islamic proscription againstrepresentations of humans in the secular decorative arts would arguably have favoured jars of this type.
Sotheby's. Fine Chinese Ceramics and Works of Art. London | 09 Nov 2011 www.sothebys.com