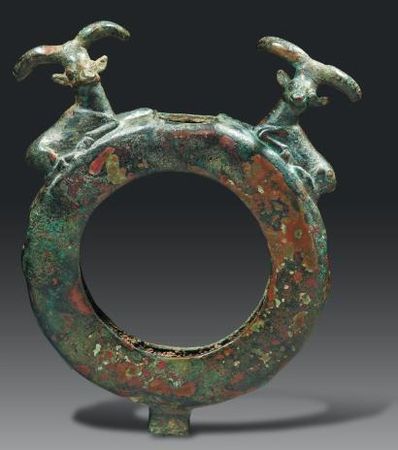 Sommet d'étendard annulaire. Élam, seconde moitié du IIe millénaire av. J.-C. Photo Pierre Bergé & associés
surmonté de deux figurines de caprins couchés, les têtes tournées, les cornes développées. Bronze. H_14,5 cm - Estimation : 8 000 - 10 000 €

Elamite bronze top of a banner. Second part of the 2nd millennium B.C. 5,7 in. high.

Ancienne collection française constituée dans les années 1970.

Bibliographie comparative : O. W. Muscarella, Bronze and Iron. Ancient Near Eastern Artifacts in the Metropolitan Museum of Art, New York, 1988, pp. 229-233, n° 332.
Pierre Bergé & associés. Jeudi 01 décembre à 14h00. Drouot Montaigne - Paris. EMail : contact@pba-auctions.com - Tél. : Paris +33 (0)1 49 49 90 00. Bruxelles + 32 (0)2 504 80 30