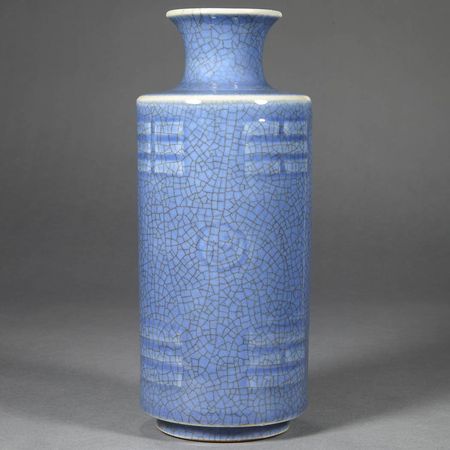 Chinese Blue Glazed Porcelain Rouleau Vase
18th/19th Century. Photo Doyle New York

The cylindrical form rising to a flared neck, the body centering four incised yinyang symbols, the edges molded with short horizontal bands, overall light blue glaze with brown crackle. Height 9 1/2 inches.
Provenance:
Cleveland Museum of Art

C The Langsdorf Collection
Estimate $4,000-6,000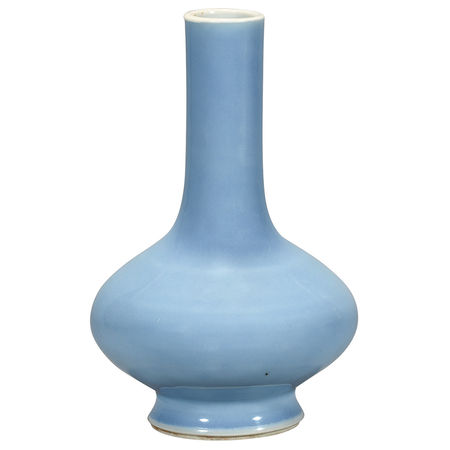 Chinese Clare de Lune Glazed Porcelain Vase
19th Century
The squat ovoid body rising to a tall straight neck and raised on a slightly splayed foot, all under a light powder blue glaze, base with underglaze blue Kangxi six-character mark. Height 7 5/8 inches.

C The Langsdorf Collection
Estimate $2,000-4,000

Very good condition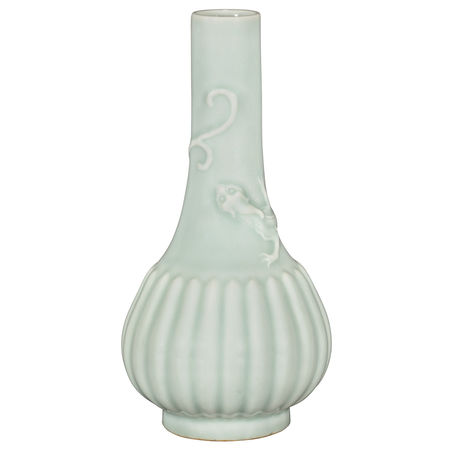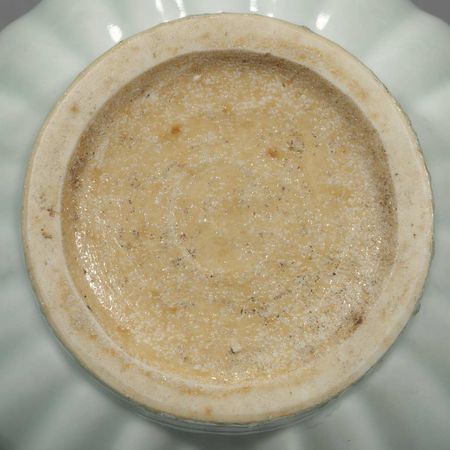 Chinese Celadon Glazed Porcelain Vase, 19th Century. Photo Doyle New York
Worked with a raised single dragon wrapped around the neck above a lappet border, under a pale green glaze. Height 8 inches. Very good condition. Estimate $1,000-2,000

C The Langsdorf Collection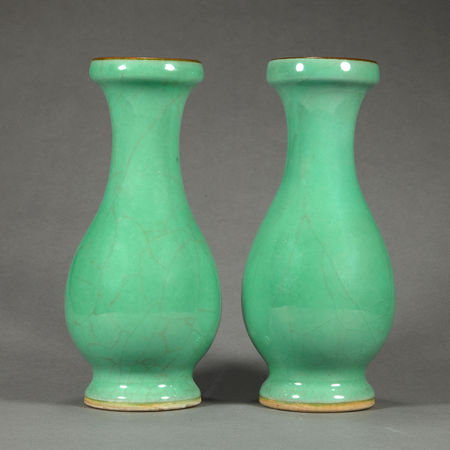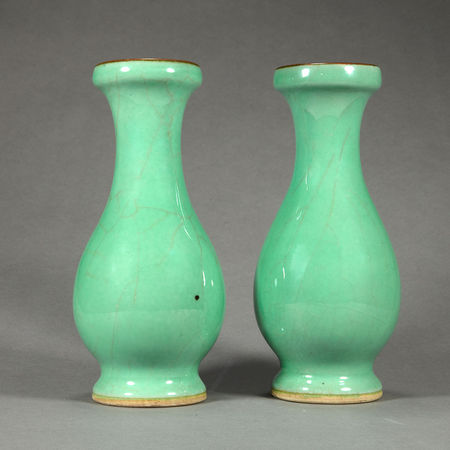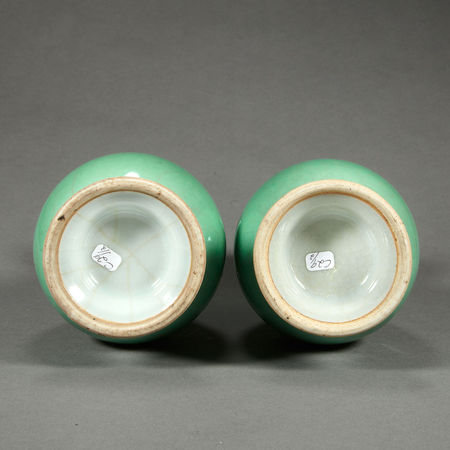 Pair of Chinese Green Glazed Porcelain Vases
Late 19th century
The pear shape rising to a squared rim, glazed overall in crackled bright aqua green. Height 8 inches.

C The Langsdorf Collection
Estimate $1,000-2,000

Very good condition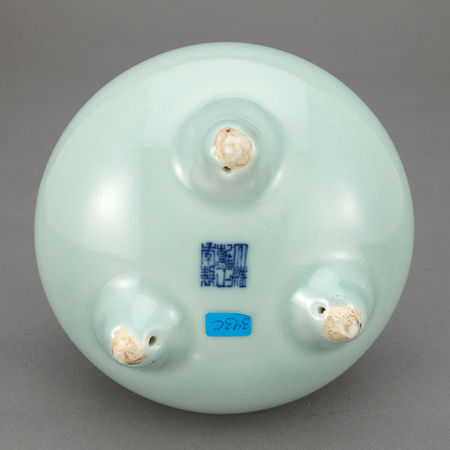 Chinese Celadon Glazed Porcelain Vase, 19th Century.
The squat globular body rising to a long neck and out-turned mouth, applied with lion head handles, set on three conical-form feet, allover bubble suffused sea-green glaze, base with Yongzheng seal mark. Height 7 1/8 inches. Scattered small pinholes and iron spots, foot is not flat. Estimate $800-1,200
C The Langsdorf Collection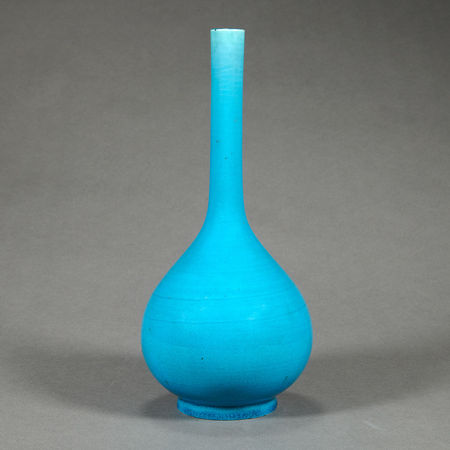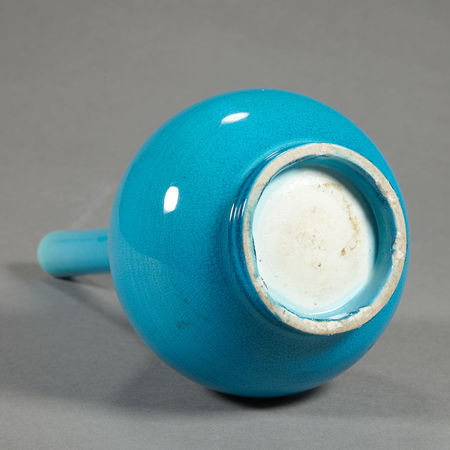 Chinese Turquoise Glazed Porcelain Vase. Late 19th century.
The bottle form rising to a tall thin neck under a bright blue glaze. Height 9 inches. Very good condition. Estimate $600-800

C The Langsdorf Collection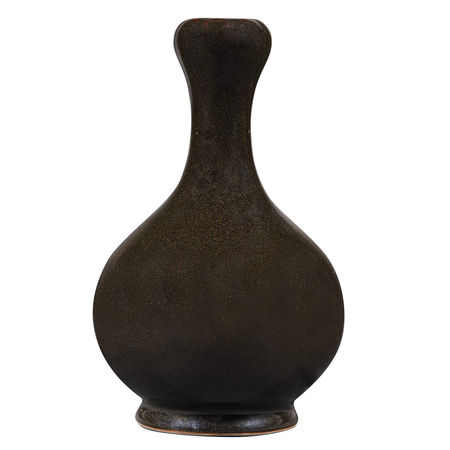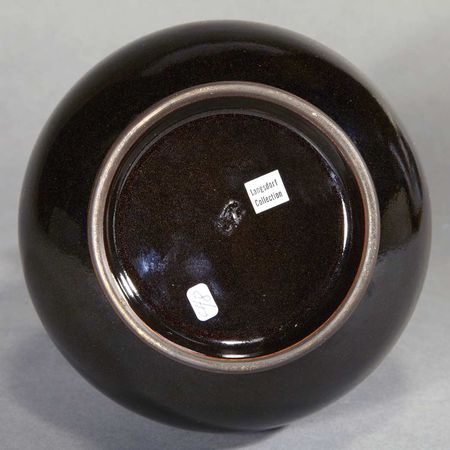 Chinese Black Glazed Porcelain Bottle Vase, 18th Century.
The bulbous body rising to a flared neck and garlic-form mouth, overall glossy black glaze with rich brown undertones. Height 10 1/4 inches. Estimate $600-800
Exhibited: St. Louis Art Museum 2000-2004

C The Langsdorf Collection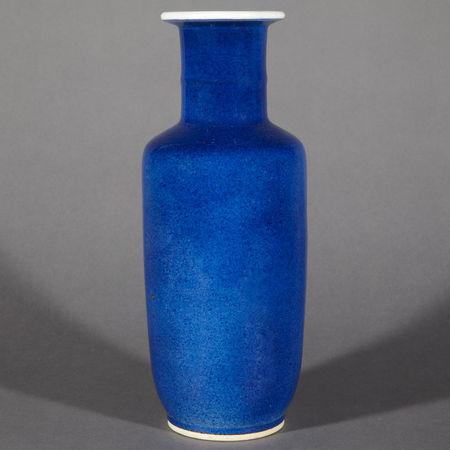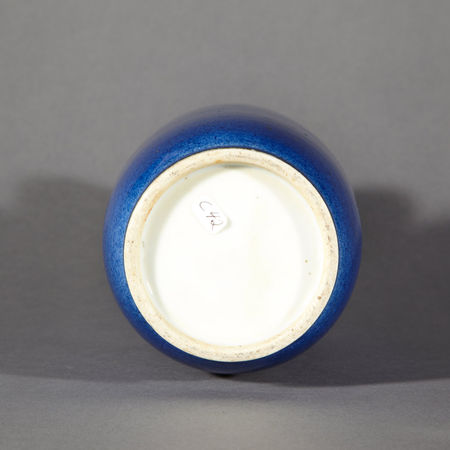 Chinese Powder Blue Glazed Porcelain Rouleau Vase, 19th Century. Photo Doyle New York
The exterior in a rich blue glaze below the white everted rim, the interior and foot glaze white. Height 9 3/4 inches. Pinholes and iron spots throughout. Estimate $600-800

C The Langsdorf Collection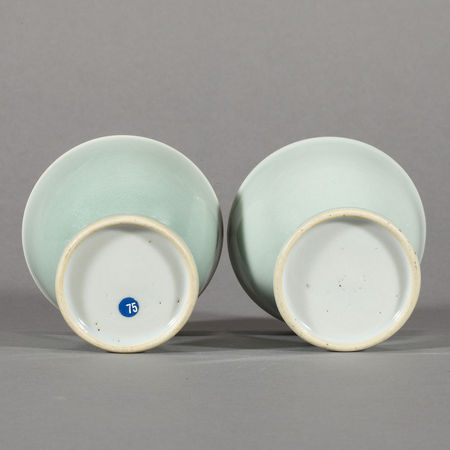 Pair of Chinese Celadon Glazed Porcelain Stem Cups, 18th Century. Photo Doyle New York
Each round bowl set on a thickly potted splayed foot, the glaze a pale blue-green. Height 3 1/4 inches. Scattered pinholes and iron spots around foot, one with 1/8 inch long glaze gap on foot. Estimate $600-800
C The Langsdorf Collection
Doyle New York. Asian Works of Art. Monday, March 19, 2012 at 10am. http://www.doylenewyork.com