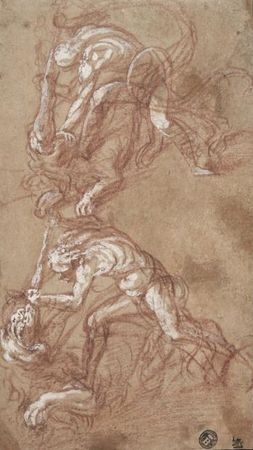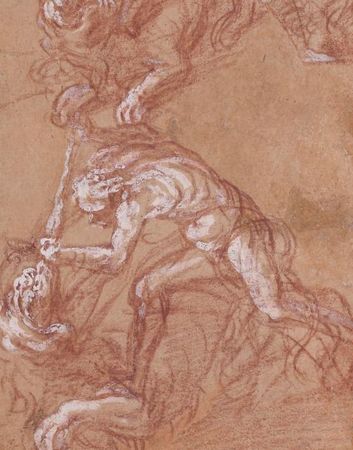 Attribué à Bartholomeus Spranger (Anvers 1546 - Prague 1611), Deux études pour un Hercule combattant le lion de Némée. Photo Millon & Associés
Sanguine et rehauts de gouache blanche sur papier préparé beige, 35 x 20 cm. Dessin doublé, manques et déchirures restaurés.
Provenance: ancienne collection du Comte de Bandi, son cachet en bas à droite (L.336) ancienne collection W. Mayer, son cachet en bas à droite (L.2799)
Ce dessin est à rapprocher d'un ensemble de dessins à la sanguine rehaussée de gouache blanche par Spranger: une feuille d'études diverses conservée à la Staatliche Graphische Sammlung de Munich, une autre au Fitzwilliam Museum de Cambridge (voir Catalogue d'exposition «The Age of Bruegel», Washington, National Gallery of art 1986-87, n°108, repr.), un dessin présenté en 1991 par Jean-François Baroni (n°1 du catalogue) et un autre par la galerie Colnaghi en 1998 (n°12 du catalogue).
Le dessin de Munich est relié à une gravure de Jan Muller daté de 1597, mais plusieurs des motifs apparaissant dans les feuilles citées ci-dessus se rapportent à des oeuvres vues en Italie, où Spranger séjourne entre 1565 et 1575.
Notre dessin, vif et vigoureux, présente deux études pour Hercule et le lion de Némée dans des attitudes différentes, mais où le lavis de sanguine mêle les corps de l'homme et de l'animal. L'éclat de la gouache blanche vient fouetter les combattants de son éclat, avivant ce corps à corps acharné.
MILLON & ASSOCIÉS. LUNDI 02 AVRIL À 14H15. Drouot - Richelieu - Salle 2. contact@millon-associes.com