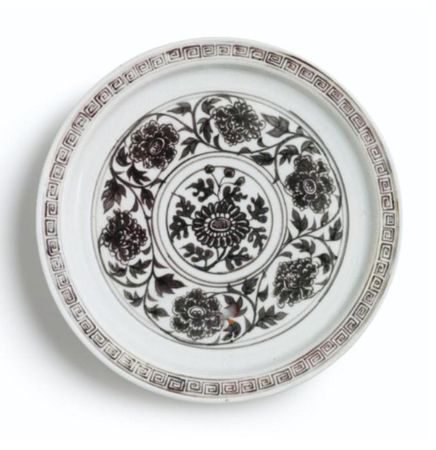 An underglaze red 'floral' dish. Ming Dynasty, Hongwu Period. Photo Sotheby's
the low curved sides with an everted rim, painted in copper red with a chrysanthemum bloom and three small buds in the central medallion encircled by a peony scroll with six blooms alternately shown in profile and en face, and a key-fret border on the rim, the exterior painted with petal lappets radiating from the foot, the red of characteristic pyrrhous-red tone, the unglazed base covered with a dressing fired to bright orange; 19.6 cm., 7 3/4 in. Estimate 3,000,000-5,000,000 HKD
PROVENANCE: A Japanese collection (1940s).
Sotheby's Hong Kong, 16th May 1989, lot 118.
Christie's Hong Kong, 1st/3rd May 1994, lot 626.
Eskenazi Ltd, London.
LITTERATURE: Kushi Takushin, Shina Minsho tji zukan [Illustrated catalogue of Chinese porcelain of the early Ming], Tokyo, 1943, pl.128 bottom.
Regina Krahl, Chinese Ceramics from the Meiyintang Collection, London, 1994-2010, vol. 4, no. 1625.
NOTE: After the boisterous painting style practised by Jingdezhen's porcelain painters in the Yuan dynasty, a more quiet, orderly manner of decorating porcelains was introduced at the imperial kilns at the beginning of the Ming dynasty (AD 1368-1644). The soft copper-red tones characteristic of Hongwu porcelains are particularly well suited to this style.
Another dish of this design from the collection of Lady David, sold in our London rooms, 5th July 1977, lot 229, was included in the exhibition Chinese Art under the Mongols. The Yüan Dynasty (1279-1368), The Cleveland Museum of Art, Cleveland, 1968, cat. no. 175, is now in the Asia Society, New York, from the collection of Mr. and Mrs. John D. Rockefeller 3rd, illustrated in Denise Patry Leidy, Treasures of Asian Art: The Asia Society's Mr. and Mrs. John D. Rockefeller 3rd Collection, New York, 1994, pl. 163; one from the collection of H.F. Parfitt and R.H.R. Palmer was included in the exhibition Jingdezhen Wares. The Yuan Evolution, Fung Ping Shan Museum, University of Hong Kong, Hong Kong, 1984, cat. no. 149; and another from the collection of Mr. and Mrs. R.D. Pilkington is published in Adrian M. Joseph, Ming Porcelains. Their Origins and Development, London, 1971, pl. 18. This design exists also with the pattern reversed, with a chrysanthemum scroll surrounding a peony spray; see a dish from the collection of Edward T. Chow, sold in these rooms, 19th May 1981, lot 448. A companion piece with the same design in blue-and-white is also in the Meiyintang collection, published in Krahl, op. cit., vol. 2, no. 643
Sotheby's. The Meiyintang Collection, Part III - An Important Selection of Imperial Chinese Porcelains. Hong Kong | 04 Apr 2012, 10:15 AM www.sothebys.com