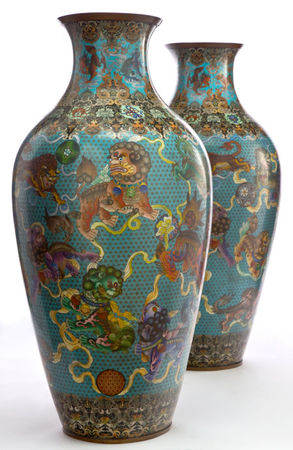 A pair of monumental Chinese Cloisonné Palace vases. Maker unknown, Chinese, Qing dynasty. Photo Heritage auctions
DALLAS, TX.- A Frank Lloyd Wright leaded glass window, a large private Dallas collection featuring a Gilbert Rohde dining set anda magnificent matched pair of Chinese cloisonné palace vases are among the important lots in back-to-back events presented by Heritage Auctions in its 20th Century Design Signature® Auction, with the Decorative Arts Signature® Auction following on June 14.

"The auction features a large collection of iconic American Modern Design that was secreted away in a Dallas residence for years," said Karen Rigdon, Consignment Director at Heritage Auctions, "painting a picture of the era of the 1930s to the mid 1950s, a period of glamorous cocktail parties, elegant women and technological advancements that propelled society into the modern age." Passionately and methodically amassed, the collection encompasses all things streamlined from furniture and accessories to appliances and books.

Other important offerings include the Frank Lloyd Wright leaded glass window is from the famed Darwin D. Martin House in Buffalo, NY – estimated at $15,000+ – and is the upper part of a Tree of Life window discarded during a 1960s remodeling.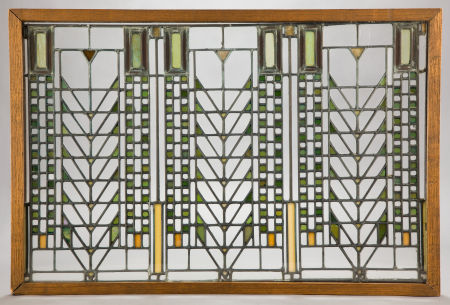 Frank Lloyd Wright (American,1867-1959), Leaded glass window from the Darwin D. Martin house, Buffalo, New York. Produced by Linden Glass Company, Chicago, Illinois, circa 1904. Photo Hermitage auctions.
Unmarked, 25-3/8 x 16-1/2 inches (64.5 x 41.9 cm). Estimate: $15,000 - $25,000.

The window with stylized geometric trees executed in colored glass in several shades of transparent green, amber and white, and opaque opalescent, gold and iridized gold glass, the glass pieces each set at slightly different angle, in brass canes.

This lot is the upper portion of a Tree of Life window from the Martin House (1904-1905), part of the Darwin D. Martin House Complex, and is one of more than sixty windows and doors in this pattern created for the house. The window, which originally extended to stylized trunk and roots, was removed from the home which was abandoned from 1938 to 1954 and remodeled in the 1960s. At the time of the remodeling many irreplaceable parts of the house were sold or scrapped. This window was salvaged from a Buffalo dump, with damage beyond repair to the bottom segment.

Other examples of this window are represented in the collections of the Corning Museum of Glass, the Art Institute of Chicago and the National Gallery of Australia..

PROVENANCE: Darwin D. Martin House
Private New York Collection from the early 1960s

Wright, Frank Lloyd:Architect, draftsman, furniture and interior designer and author, Wright is internationally recognized as one of the most important figures in 20th century architecture. However, unlike other architects whose success and reputation are measured in part by the dispersal of their ideals into the everyday landscape, Wright remained an individualist who made only a slight impact on the evolution of 20th century architecture. Instead, his fame is derived from its intuitive ability to mold space within an environment and within space itself. He is best known for his "Prairie style" homes, efficient office buildings, and innovative furniture and chinaware designs.. American architect, 1867-1959.
A Toulouse-Lautrec lithograph, L'Anglais au Moulin Rouge, is featured in the Design auction with an estimate of $30,000+. Number 29 in an edition of 100, it depicts the French post-Impressionist's most famous subject.

"Few artists are so linked with one place as Toulouse-Lautrec is with the Moulin Rouge cabaret in Paris," said Rigdon. "The pairing of a well-dressed Victorian Englishman with two of the Moulin Rouge's infamous dancers adds humor to Toulouse-Lautrec's unmistakable style."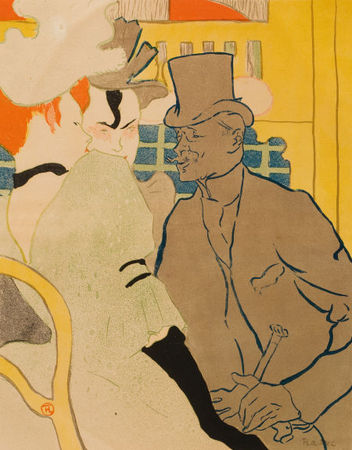 Henri de Toulouse-Lautrec (French, 1864-1901), L'Anglais au Moulin Rouge, 1892. Color lithograph, 18-5/8 x 14-5/8 inches (47.2 x 37.1 cm); 29/100. Signed and numbered in pencil lower left: HTLautrec / No. 29. Estimate: $30,000 - $50,000. Photo Heritage auctions
NOTE: Printed by Ancourt on wove paper
LITERATURE: G. Adriani, Toulouse-Lautrec: The Complete Graphic Works: A Catalogue Raisonné: The Gerstenberg Collection, New York, 1988, no. 7.
Midcentury design highlights continue with an important Italian representative in a Piero Fornasetti and Gio Ponti lithographed Architettura cabinet, estimated at $30,000+. The two-door, three-drawer cabinet sports a dazzling array of columns, windows, and arches, all rendered in black on a cream-colored ground. A Paul Frankl Desk and bookcase commissioned by the heir of the King Ranch for his New York residence and a Walter Dorwin Teague Bluebird Radio for Sparton are sure to pique the interest of collectors.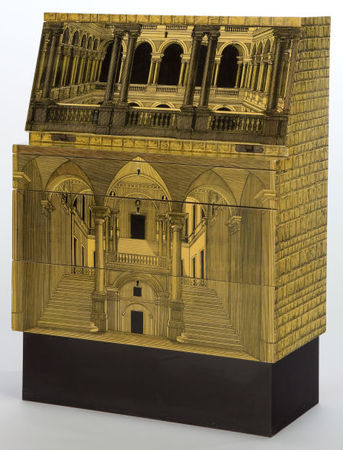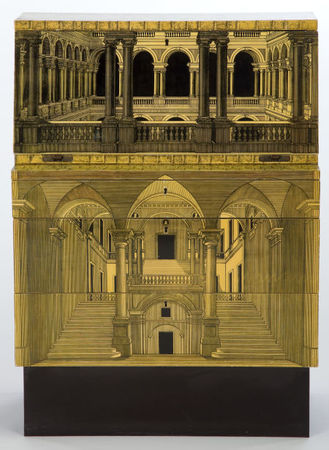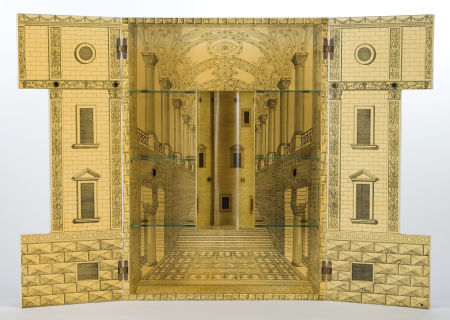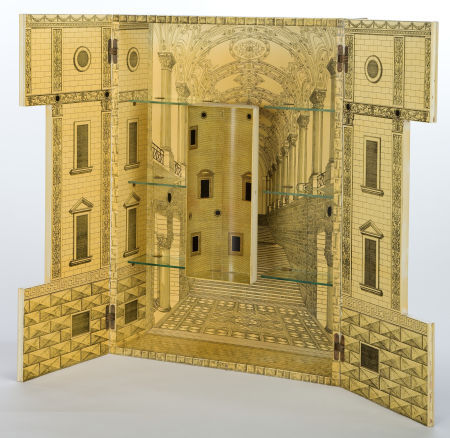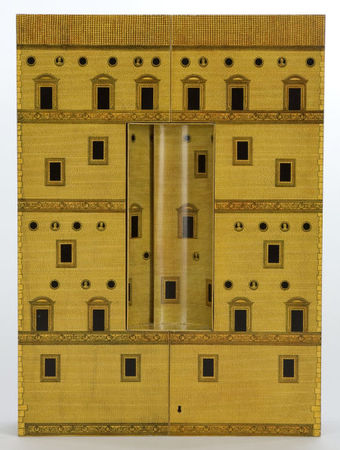 A Piero Fornasetti and Gio Ponti lithographed Archittura Cabinet. Piero Fornasetti (Italian, 1913-1988) and Gio Ponti (Italian, 1891-1979), Milan, Italy, designed 1951. Photo Heritage auctions
Unmarked. 86-3/4 x 31-1/2 inches (220.3 x 80.0 cm). Estimate: $30,000 - $40,000.

The cabinet with two upper doors above a fall front three drawer base, with black lithographed architectural decoration on cream ground.
Additional interest is provided by the field of American glass, including a c. 1900 Tiffany Studios patinated bronze lamp with Tulip glass shade, estimated at $20,000+.

In the Decorative Arts auction the paired Chinese cloisonné palace vases dating to the 19th century, late in the Qing Dynasty, add a considerable amount of interest to high-end collectors. Each stands 41 inches high and has a diameter of 10-½ inches. They are estimated at $50,000+.

"The turquoise enamel on these vases is truly eye-catching," said Rigdon, "and that is only the backdrop to the fearsome dog figures at the center of each. The two vases are mirrors of each other, which makes it all the more fortunate that they remain as a pair so viewers can appreciate the effect."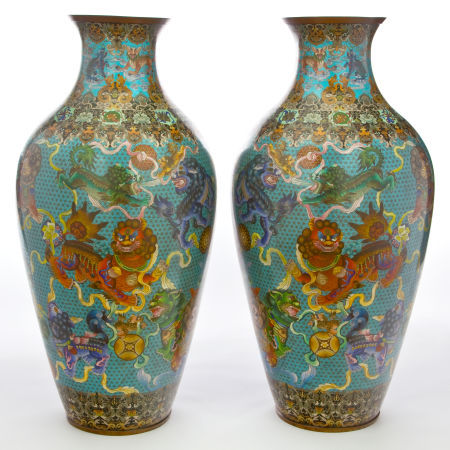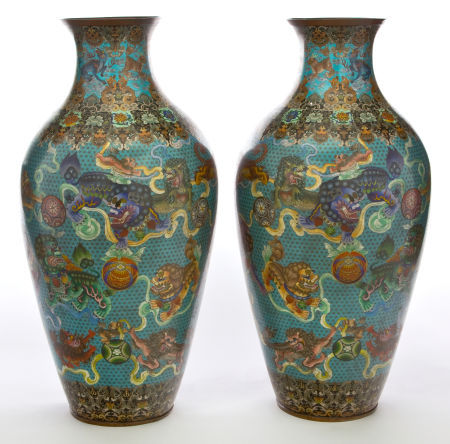 A pair of monumental Chinese Cloisonné Palace vases. Maker unknown, Chinese, Qing dynasty. Photo Heritage auctions

41 inches high x 10-1/2 inches diameter (104.1 x 26.7 cm). Estimate: $50,000 - $80,000.

The pair of monumental vases with finely articulated Foo dogs to the body over a turquoise blue diaper pattern ground, stylized floral and scroll patterning to base and to neck with eight cartouches containing symbols at the top of the shoulder, Foo dogs to neck on turquoise ground with clouds, included are two modern stands and two pedestals measuring 46 1/2 inches high.

Condition Report: With minor denting to the middle of shoulder of one, minor surface scratching to enamel and to copper interior commensurate with age.
A seven-legged Wright & Mansfield Victorian Satinwood Cabinet, dated to the 1870s and estimated at $40,000+ continues the Dec Arts highlights and is the top European lot. More than five feet tall and almost eight feet wide, this cabinet from the award-winning London firm is similar in design to another housed in the Victoria and Albert Museum.

Additional highlights include a c. 1870 Italian (probably Milan) ebonized wood and ivory secretary and a c. 1900 French pair of monumental porcelain and gilt bronze urns. Each lot carries an estimate of $30,000+ while a c. 1900 walnut and gilt bronze vitrine by Louis Majorelle also is estimated at $30,000+.

"Once again we've put together a great lineup of design and decorative art," said Tim Rigdon, Director of Decorative Arts. "The European and American offerings are impressive, but the Chinese cloisonné palace vases prove that true decorative beauty knows no borders. Lots across the auction are presented across a variety of price points to satisfy all level of collector."