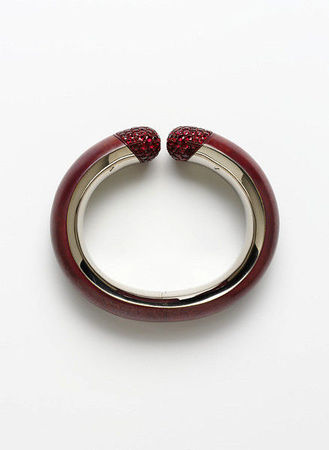 Bangle. Hemmerle, 2009, Munich, Germany. Patinated copper, white gold, faceted spinels. Height: 21 mm, Width: 80 mm, Depth: 68 mm. Given anonymously. M.18:1-2010. © V&A Images
This bangle, in which copper richly patinated in red is juxtaposed with superbly cut spinels and an inner lining of white gold, represents the distinctive voice which Hemmerle has brought to jewellery since the middle of the 1990s. The design is minimalist. The craftsmanship is of the highest order and includes a twist mechanism to open the bangle which is finely engineered. The surprise is the contrast between the base and precious metal, and the base metal and the gemstones, 172 spinels pavé-set.
When Stefan Hemmerle began to explore the marriage of gemstones with a highly unconventional range of woods and metals in the 1990s, one strand of his inspiration was the black cast iron jewellery particularly associated with Berlin in the 19th century.
In 1893 Joseph and Anton Hemmerle took over a jewellery firm founded in Munich in 1866 by G. Hausinger. They were appointed 'Purveyors to the Royal Court'. A diamond-set Bavarian Order of St Hubert made for presentation to King George V in 1911 is in the British Royal Collection. Stefan Hemmerle and his wife Sylveli, and their son Christian and his wife Yasmin, are the third and fourth generations of the family to run the firm.