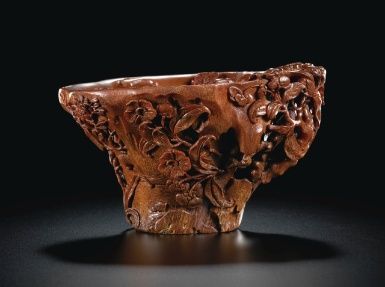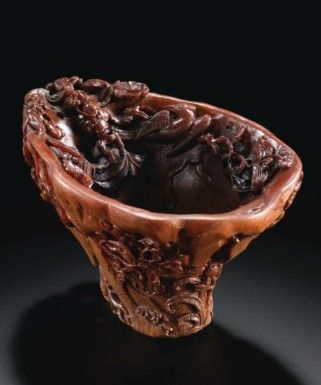 A Finely Carved Rhinoceros Horn 'Bird and Flowers' Libation Cup. Qing Dynasty, Early 18th Century - Photo Sotheby's
the exterior carved to resemble a craggy garden rock surrounded by roses bushes with large blossoms and rosehips and a daylily, with a large undercut flowering hibiscus at one end forming the handle, the gnarly branches laden with open blossoms and buds, extending into and spreading across the rim forming a perch for a bird, the horn of a rich reddish brown color, wood stand; length 14.3 cm., 5 5/8 in. Estimation: 1,200,000 - 2,000,000 HKD

PROVENANCE: Acquired in London, 1982.
EXHIBITED: Hong Kong Museum of Art, Metal, Wood, Water, Fire and Earth: Gems of Antiquities Collection in Hong Kong, 2003-
2005.
LITTERATURE: Thomas Fok, Connoisseurship of Rhinoceros Horn Carving in China, Hong Kong, 1999, p. 140, no.91.
World Journal, New York, 30th March 2003, p. 23.
NOTE DE CATALOGUE: The carving of this rhinoceros horn cup is impressive for its creative composition that combines a number of design elements in a pleasingly balanced manner. The decoration is rich yet not overpowering which is a testament to the carver's skillful use of his material. In the shape of a rock, the cup is densely fashioned with flowers, blooms and leafy branches and furthermore, the artist has added an element of surprise in the form of a bird perched on a branch under the inner rim. Flora and fauna are carved in a fine and naturalistic manner, while the bird is playful and eye-catching.
The hibiscus bush seen on this cup is reminiscent of a prunus tree design on a cup, in the collection of the Chester Beatty Library, Dublin, illustrated in Jan Chapman, The Art of Rhinoceros Horn Carving in China, London, 1999, fig. 215; and another vessel , also in Dublin, included in Jan Chapman, 'The Chester Beatty Collection of Chinese Carved Rhinoceros Horn Cups', Arts of Asia, May-June 1982, fig. 5, p. 74.
Sotheby's. Fine Chinese Ceramics & Works of Art. Hong Kong | 09 oct. 2012 www.sothebys.com