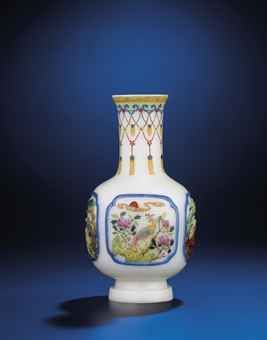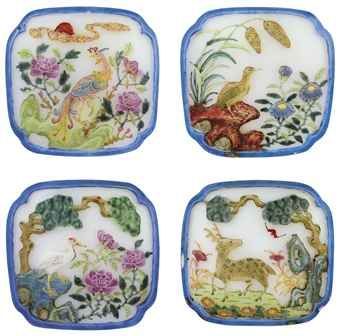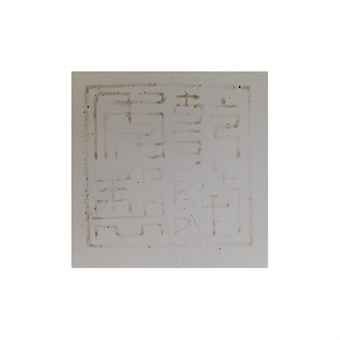 An Important And Very Rare famille Rose glass Bottle Vase. Qianlong Red-Enamelled Four-Character Seal Mark Within A Square And Of The Period (1736-1795). Photo Christie's Image Ltd 2012
The vase has a globular body carved and enamelled with four quatrefoil panels enclosing designs of deer and lingzhi, quail and millet, crane and pine, and phoenix and peony within blue borders. The long neck is encircled with an elaborate network of tasseled jewels suspending from ruyi heads below a keyfret border at the everted rim. The vase is supported on a waisted base above the splayed foot. The four-character mark is inscribed in red enamel inside the stepped foot. The glass is of an opaque white tone. 5 7/8 in. (14.7 cm.) high, stand, box. Estimate HK$2,500,000 - HK$3,500,000 ($324,172 - $453,840)
Provenance: H.M. Knight
Frederick Knight
Sold at Sotheby's Hong Kong, The Frederick Knight Collection: Important Chinese Ceramics and Lacquer, 18 May 1982, lot 44
James Godfrey, New York, 1984
Literature: Sotheby's Hong Kong Twenty Years, 1973-1993, p. 271, no. 434
Exhibited: Oriental Ceramics Society, The Arts of the Ch'ing Dynasty, London, 1964, no. 253
Notes: The present lot is unique in its form and carved decoration among the very few Qianlong-marked enamelled glass wares. An example carved and enamelled with four panels almost identical to the present lot, but with an undecorated long neck and a Guyuexuan mark, in the Robert H. Clague Collection is illustrated in Chinese Glass of the Qing Dynasty, 1644-1911, Phoenix Art Museum, 1987, no. 49; the same vase is also published in H. Moss, 'Enamelled Glass Wares of the Ku Yueh Hsuan Type', Journal of the International Chinese Snuff Bottle Society, vol. 10, no. 2, June 1978, fig. 6. A smaller vase (10.2 cm. high) enamelled similarly with bejewelled chains and keyfrets under a straight rim, and the phoenix and peony as subject-matter on one of the four panels, is also illustrated in Chinese Glass of the Qing Dynasty, 1644-1911, no. 50. Another vase very similar to the latter example, with scroll border at the rim and floral designs, is illustrated by H. Moss, By Imperial Command: An Introduction to Ch'ing Imperial Painted Enamels (Plates), Hong Kong, 1976, pl. 43.

Recent scholarship argues that a distinctive group of glass bottles was produced in Yangzhou for the Court between the 1767 construction of Guyuexuan, the Ancient Moon Pavilion, in the Qianlong emperor's Summer Palace and his death in 1799. In 1767 the Emperor appears to have encouraged a new group of enamellers to master the art of enamelling on glass. As these enamellers mastered their art, they evolved a new style of enamelling, some on a flat plane, some on carved relief designs, which became the classic Guyuexuan wares of the second half of the Qianlong reign. H. Moss discusses several snuff bottle examples in 'Mysteries of the Ancient Moon', JICSBS, Spring 2006, pp. 31-32. It is now accepted that bottles of this type bearing either the Qianlong reign mark or theGuyuexuan mark date from these years. This vase was almost certainly a contemporary to those carved-relief glass bottles.

The decoration of bejewelled chains seems to first appear on some imperial enamelled porcelains listed in the Archival Records of the Imperial Household Department, including a baluster vase decorated with Indian lotus, one of a pair illustrated in Stunning Decorative Porcelains from the Ch'ien-lung Reign, Taipei, 2008, pl. 40; and two similar mallet vases differing only in the colour palettes which feature jewels suspending tassels and chimes, see ibid., pls. 27 and 28. All these examples were recorded in the 7th year of the Qianlong reign (1742).
Christie's. Important Chinese Ceramics and Works of Art. 28 November 2012. Hong Kong