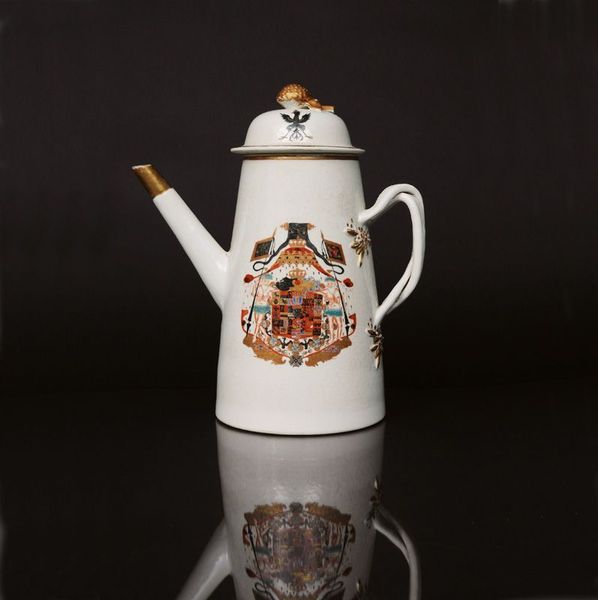 An important Chinese export coffee pot with Prussian coat of arms. China, around 1800 (Qing-dynasty 1644-1911). Photo Auktionshaus Stahl
Porcelain with polychrome painting and gold decoration. Conical body ('lighthouse-shape') with naturalistic branch handles.The cover knob in the shape of a lychee fruit. At both sides of the wall rich decoration with large official Prussian coat of arms. The cover with 2 Prussian eagles. The rims of the spout, body and cover with gilt border. H. 24,5 cm. Estimation : 15 000 €

Note: The decoration of the coffee pot shows a remarkable similarity with the legendary export dinner service for King Frederick II of Prussia.
This service can be regarded as the most important example of Chinese export ceramics for the German speaking countries.
It was under the reign of Frederick II when a merchant fleet of four ships was established.
This fleet was able to establish contact to the Chinese market via the harbor of Canton.
In 1752 the ship 'King of Prussia' was the first to bring a cargo of silk, tea and porcelain to Germany.
A second ship, the 'Prince of Prussia' reached the German shore in June 1755 but sunk in a storm right in front of its home harbor Emden.
The cargo contained an expensive and especially commissioned dinner service for the Prussian king as a gift from the trading company, which was decorated with the large Prussian coat of arms.
Parts of this service are nowadays in the Prussian heritage collection in Berlin and in many museums world-wide.
The above coffee pot was produced after the dead of Frederick the Great (1786) and Chinese emperor Qianlong (1796).
Those days were times of massive change and economical turnover. As the original armorial service was a dinner service the coffee pot is a unique and surprising piece.
The object was most probably produced as a kind of sample in order to stimulate further commissions.
It reached the Prussian tables years after the end of the merchant fleet in 1765, probably via the VOC or the East Indian Company.

Litterature.: Butz (Hg.), China und Preußen - Porzellan und Tee, Kat.Ausst. Berlin 2012, pp. 14-17; Kerr/Mengoni, Chinese Export Ceramics, London 2011, pp. 54f.
Auktionshaus Stahl. Samedi 23 février 2013. Graumannsweg 54 - 22087 Hamburg. Tel. +49 (0) 40 34 34 71.