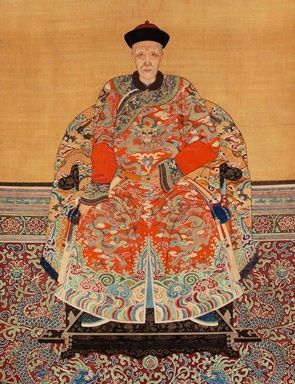 Chinese Ancestor Portrait, Color Inks on Silk, 19th century. Est. USD150,000/250,000.
NEW YORK, NY.- A preview of the iGavel online auction of important Asian, Ancient & Ethnographic works of art will take place during Asia Week New York, March 15-22, it was announced by Lark Mason, founder and president of the Harlem-based auction house, at 227 East 120th Street. Over 400 lots, drawn from a cross-section of periods and disciplines, will be offered in the online sale goes live on April 17 to May 1.
"I am pleased to preview a wide variety of freshly offered Asian items including bronzes, paintings, furniture, scholars' articles, and ceramics during Asia Week New York," says Lark Mason, who created the highly successful online auction platform in 2003. "Our estimates allow both seasoned and novice collectors to purchase quality works of Asian art."
The sale's top ten highlights include:
• Chinese Ancestor Portrait, Color Inks on Silk, 19th century Ancestor portraits are common in China but those of such extraordinary large size are unusual. The sitter of this portrait is unidentified, but clearly an individual of importance and high rank. (Est. $150,000/250,000)
• Chinese Archaistic Rhinoceros Horn Libation Cup, 17th/18th century Rhinoceros horn carvings in China are valued due to the symbolism Chinese culture associates with both the horn and the rhinoceros, including strength, power and wealth. Sometime before the Tang Dynasty, the Chinese came to believe that the rhino horn contained magical powers, and because of that it was included as part of the eight Taoist Treasures. The Chinese also for centuries ground the horns to create medicine. This particular example draws upon ancient Chinese bronze decorative elements, emphasizing antiquity and the connection with the present and the long history of Chinese civilization. (Est. $70,000/100,000)
• Chinese Archaic Bronze Vessel, Gui, Western Zhou Dynasty Est. Chinese bronze ritual vessels from the Western Zhou period are among the most dramatic and beautiful examples of Chinese art. This vessel is called a Gui and it was used for food offerings. Some ancient bronzes are accompanied by inscriptions, such as this example, which is cast with an inscription on the center of the interior. While inscriptions were rare on Shang dynasty bronzes, they became a little more commonplace during the Zhou period, and have become a help to modern historians in understanding values of the time, or social or historical events. The fine quality casting and beautiful patina in tones of grey, brown, and green make this an exceptional example. (Estimate: $40,000/60,000)
• Chinese Porcelain Underglaze Blue and Copper Red Decorated Meiping Vase, 18th century The provenance of this vase includes Yamanaka & Co, and was sold in 1943 in the sale 'Collection of Chinese and Other Far Eastern Art.' Yamanaka was the preeminent Asian art dealer of the late 19th and early 20th centuries with galleries in Asia, London, and several American cities. His galleries had some of the finest examples of Chinese art, and a client list that included Prince Kung. This vase is unusual for its large size and bold decoration, which is usually reserved for much smaller examples. (Estimate: $20,000/30,000)
• Chinese Porcelain Green-Ground Famille Rose Jar, Jiaqing Mark and Period This jar demonstrates the fine overglaze enameling that Chinese artisans developed on porcelains during the Qing dynasty. The artist included a shou character which means 'longevity', peaches, also a symbol for longevity and a Buddhist endless knot representing the spiritual path. (Estimate: $10,000/15,000)
• Mughal Ivory and Tortoiseshell Cabinet, 17th century The Mughal Empire, established by descendants of Genghis Khan, reigned in India from 1526 to 1757. The period saw the traditional culture of India assimilated with Persian culture, and the art of India from this time is defined by this Indo-Persian integration. The scrolling lotus pattern on this box is indicative of Indo-Persian art. The scrolling pattern itself is influenced by the Persian geometric motifs of nomadic tribes and by Islamic design; however, the choice of lotus flower is uniquely Asian. (Est.$10,000/15,000)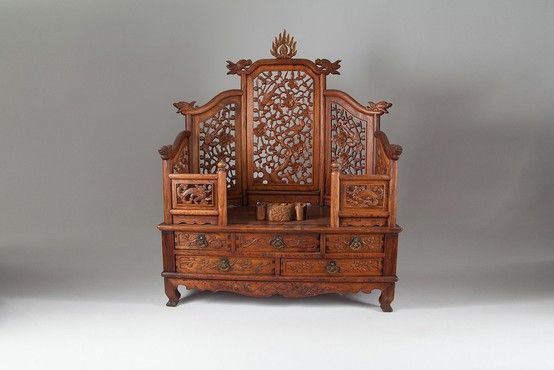 Chinese Huanghuali Mirror Stand, 18th century. Huanghuali is a wood prized by Chinese furniture collectors. Estimate: USD8,000/12,000.
• Chinese Huanghuali Mirror Stand, 18th century Huanghuali is a wood prized by Chinese furniture collectors. It is a hardwood from the rosewood family and was used in the construction of fine quality furniture during the late Ming and early Qing dynasties. Stands of this type were used by women and often incorporate, as does this example, designs of flowers that were appreciated by the user. The drawers were used for storing cosmetics. Chinese construction techniques principally relied upon the use of mortise and tenon and other joins, such as dovetails. This piece purposely highlights the use of dovetails in the joinery of the drawers, showcasing the skill of the cabinetmaker (Estimate: $8,000/12,000)
• Chinese Jadeite Vase and Cover, 20th century The Chinese have valued jade from Neolithic times to the present, because of the durability of the stone and its hard composition. Like gold to a Westerner, jade has an intrinsic value as a material, and the most prized jadeite incorporates bright apple-green and lavender colors that can be seen on this vase. (Estimate: $8,000/12,000)
• Chinese Cloisonné 'Lotus' Decorated Tripod Censer, Ming Dynasty Cloisonne censers of this shape are unusual. The bold lotus scroll is typical of decoration from the mid-Ming period. This shape became popular during the Ming dynasty, originating from an ancient bronze called a Li Ding. The original vessels were used for heating food over the fire, and during the Ming, the shape adapted to use for burning incense (Estimate: $5,000/8,000)