Tomioka Tessai (1836-1924), Hanging Scroll – Title: Letter to Mr Watanabe Yoen. Period: Taisho Period, c. 1920. Material: Ink on Paper.
BASEL.- BachmannEckenstein | JapaneseArt are showing again during Asia Week New York, not only as an Affiliate Member of the JADA (Japanese Art Dealers Association), but also as a new member of Asia Week New York, and at a new location.

They are following their reputation of being "two scholarly Swiss dealers … highly regarded for their taste and knowledge in the fields of pre-modern calligraphy, painting, and tea ceramics," and so they are showing among other works the following highlights:
· A landscape with pavilion painting by Ikeno Taiga (1723-1776). This undated landscape probably comes from his last decade and exhibits Taiga's mature style in its rigorous but idiosyncratic brushwork, combined with sparing application of color and a warm, intimate atmosphere that pervades this and other late works.
· Over the last several years BachmannEckenstein have explored the private sides of famous artists by their examining the personal letters. This year they include correspondence written by Otagaki Rengetsu (1791-1875), Tomioka Tessai (1836-1924), Rai Sanyo (1780-1832), and Yosa Buson (1716-1783).
· A number of hanging scrolls by "the last great Nanga painter" Fukuda Kodojin (1865 -1944), an artist BachmannEckenstein has handled for many years, and who has become increasingly popular amongst collectors and museums alike.
· A small but exquisite selection of the extremely seeked after and increasingly difficult to find ceramic artist, calligrapher, and poet, Otagaki Rengetsu (1791-1875).
· An elegant sake flask by Hamada Shoji (1894-1978), one of his most representative forms, takes the pre-modern style beyond. (#2265)
Exhibiting at: Gallery Schlesinger 24 East 73rd Street | 2nd Floor New York, NY 10021 P: 212-734-3600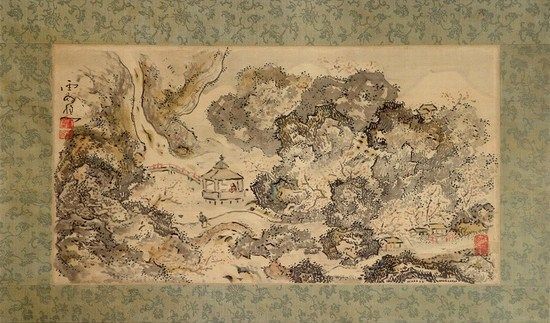 Ikeno Taiga (1723-1776), Hanging Scroll – Title: Landscape with Pavilion. Period: Edo Period - after 1750. Material: Ink and colour on silk.