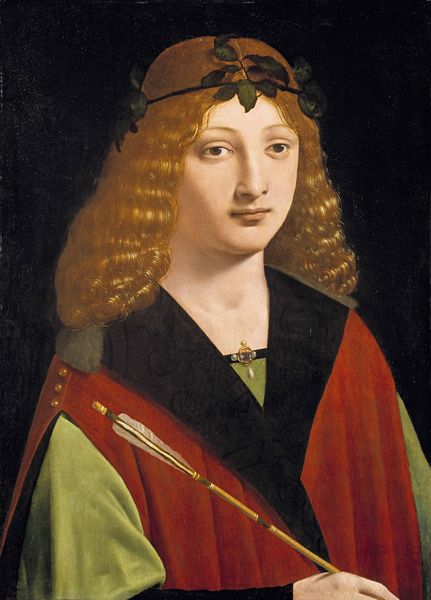 Giovanni Antonio Boltraffio (1467 - 1516), Portrait of a Youth Holding an Arrow, ca. 1500 - 10, oil on panel, 49.7 x 35.4 cm (19-5/8 x 14 in.) © 2013 Timken Museum of Art.
Born in Milan to a noble family, Boltraffio entered the school of Leonardo da Vinci in 1491, and remained with him until around 1498 or 1499.
This painting, once erroneously attributed to Leonardo, reveals an aristocratic refinement that derives as much from Boltraffio's own artistic gifts as from Leonardo's influences. The sitter may be Girolamo Casio, a well-known Bolognese poet who was a close friend of the artist. He is shown wearing a narrow headband, called a fillet, intertwined with laurel leaves and holding an arrow - both symbols of Apollo, the patron of poetry and leader of the Muses.
Provenance: The marquis de Gallo
Purchased in Paris by the seventh earl of Elgin, 1806
Earls of Elgin and Kincardine
Acquired by the Putnam Foundation, 1964