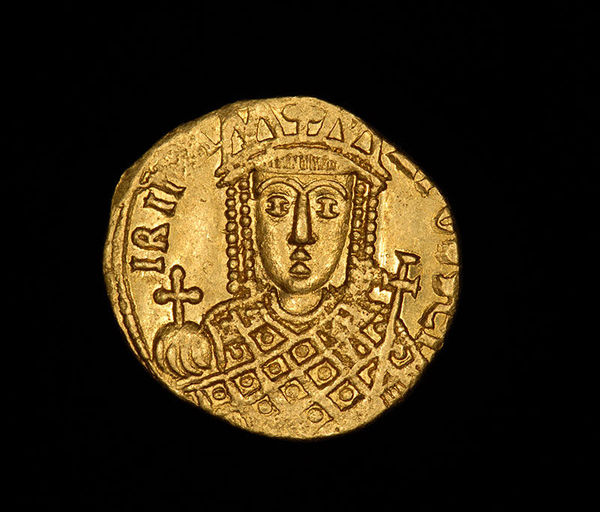 A rare Byzantine gold solidus of the Empress Irene and her son, Emperor Constantine VI, struck 793 - 797 A.D. Minted in Constantinople.
The obverse shows the crowned, half length bust of Irene. She wears the Imperial loros (a highly ornate and heavily jeweled toga worn by Emperors), modiolos (a spiked crown) and holds the cross topped scepter and globus cruciger (symbol of Christ's rule on Earth). The legend reads: IRInH AΓΟVSTI - "Irene, Augusta"
The reverse with the facing, half length bust of Emperor Constantine VI, shown beardless and wearing cross topped crown and chlamys (cloak) fastened with decorative, circular brooch, he holds a globus cruciger in his right hand. The legend reading: COnSTAn-TInOS bAS[ileos] - "King Constantine"
Irene was central to the restoration of the Orthodox tradition of worshipping Icons, which still continues to this day. She was the first woman to exercise sole rule over the Roman/Byzantine Empire, taking office in 780 and assuming power for her 9 year old son, Constantine VI. However, her rule was relatively short lived. She was ousted as a result of a palace revolution and exiled to the island of Lesbos in 802 A.D.
Constantine grew to become a cruel and incompetent ruler and the relationship with his mother soon turned sour. In April 797 he was captured by supporters of Irene who gouged his eyes out and imprisoned him, he likely died shortly after from his wounds.
Diameter: 19.5 mm. Weight: 4.35 g. Price: 4.457,60 EUR
Provenance: Ex English private collection, previously European art market. artancientltd