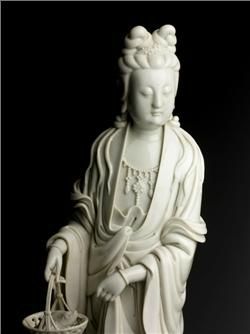 A Dehua Guanyin Holding A Basket With Fish, 19th Century. Estimate $6,000-8,000. Photo Christie's Image Ltd 2013
New York - Christie's is pleased to announce the launch of two online-exclusive sales for a Chinese Works of Art in July 2013, the first internet exclusive opportunities for the collecting category. Blanc de Chine: Dehua Porcelain from the Galster-Ireland Collectionwill run from July 9-23, offering 57 lots of exquisite Chinese porcelain, while Miniature Treasures: Chinese Snuff Bottles From a Private New York Collection and A Selection of Rare Chinese Reference Books will run from July 16-30 and feature 76 lots of exceptional and unusual bottles, in glass, porcelain, jade, and various other hardstones, as well as rare scholarly books that focus on an array of topics, from Chinese porcelain to Buddhist cave paintings.

Over the past two years, Christie's has made a significant commitment to building its e-commerce platform to support internet exclusive sales and has successfully piloted numerous online-only sales for Wine, Fashion, Post-War and Contemporary Art, and Pop Culture with great feedback and enthusiasm from our clients. The expansion of online-only sales into the Chinese Works of Art category is a testament to clients' support of the internet-exclusive platform from around the globe as a regular and integral component of Christie's business.
BLANC DE CHINE: DEHUA PORCELAIN FROM THE GALSTER-IRELAND COLLECTION
On July 9, bidding will open for 57 lots of Blanc de Chine: Dehua Porcelain from the Galster-Ireland Collection, featuring an impressive selection of works dating from the 17th through the 20th centuries. The sale will offer new and seasoned collectors the opportunity to obtain rare, decorative and classic blanc de chine porcelains, all covered in the luminous white and ivory-toned glazes used at the Dehua kilns. Formed over a 60-year period, the Galster-Ireland Collection reveals the keen, self-trained eye of a dedicated collector, with each piece exhibiting a different and endearing quality. Chosen for pure pleasure to the eye, the pieces are fitting for both traditional settings as well as the modern interior. Some of the more rare objects will certainly be coveted by devoted collectors of blanc de chine.
MINIATURE TREASURES: CHINESE SNUFF BOTTLES FROM A PRIVATE NEW YORK COLLECTION AND A SELECTION OF RARE CHINESE REFERENCE BOOKS
Starting on July 16 until July 30, the online-exclusive sale Miniature Treasures: Chinese Snuff Bottles From a Private New York Collection and A Selection of Rare Chinese Reference Books will be open for bidding with 76 lots of snuff bottles and 21 lots of rare Chinese art reference books. Collected over a period of thirty years, the sale of snuff bottles offers a selection of outstanding examples in a broad range of materials including glass, various hardstones, porcelain, amber and coral. The attractive estimates provide a wonderful opportunity for the novice collector seeking to build a collection and for the experienced connoisseur seeking the elusive bottle to complete their collection. Highlights include a finely carved red-overlay glass bottle carved with blossoming prunus trees and birds and a finely carved cameo agate snuff bottle, cleverly carved utilizing the darker brown markings with a badger seated on rockwork.
Also Included in this sale is a selection of rare Chinese art reference materials. More than 120 books, periodicals, and catalogues will be up for bidding offering collectors and scholars the opportunity to acquire important reference materials related to the study of Asian Art. Prominent titles include: Chinese Jades: Collection of Stanley Charles Nott, Mayuyama, Seventy Years, and Collection of Chinese and Other Far Eastern Art Assembled by Yamanaka & Company, Inc. Now in Process of Liquidation Under the Supervision of the Alien Property Custodian of the United States of America.