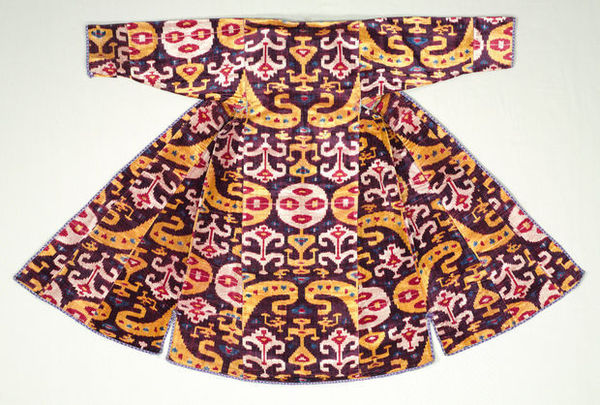 Silk Ikat-Velvet Woman's Robe, Munisak, 1850–75. Uzbekistan, Bukhara. (Cleveland Museum of Art)
CLEVELAND - Featuring 423 works, the new north wing gallery is the second to last portion of the Cleveland Museum of Art's total renovation and expansion.
The exhibition is located in the museum's new north wing galleries that are located on the second floor adjacent to the newly constructed glass atrium. To find the exhibit, head to the escalators at the far end of the atrium, turn left at the top and left again just before reaching the contemporary art section of the museum. The hallway has various items on display and there are a number of adjoining rooms off the hall with extensive collections on display.
"This new wing marks a significant milestone in our renovation and expansion project, which will be completed later this year," said David Franklin, Sarah S. and Alexander M. Cutler director of the Cleveland Museum of Art. "The collections represent areas of particular strength for the museum and we are excited to see them return to public view in this beautiful space."
Highlights:
Pre-Columbian Art
With over 850 objects and textiles on display representing major ancient cultures of Central America and Andean South America, this collection is one of the most extensive in the United States. The exhibit includes examples of Maya stone, ceramic and shell works as well as Veracruz ballgame sculptures. There are also important works from the Andes that include textiles (including the world-famous Nasca painted clothe, gold ornaments in the Chavín style and a Chimú back-rest. There are also objects from the Isthmian Region that include gold ornaments found at the Sitio Conte in Panama along with several Costa Rican ceramics of high quality.
Vessel with Battle Scene, 600–900. Mesoamerica, Guatemala, Nebaj region, Maya style. (Cleveland Museum of Art)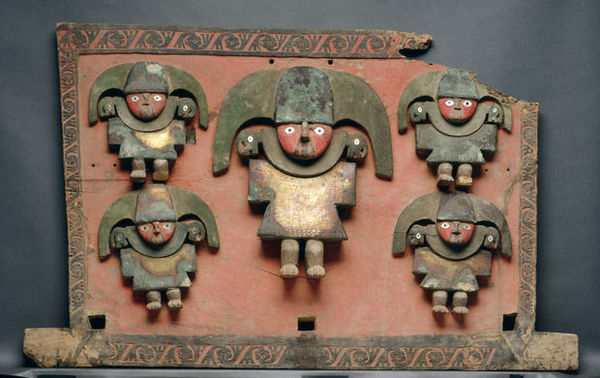 Backrest of a Litter, 900–1470. Central Andes, north coast, Chimú people. Wood, pigment, shell. (Cleveland Museum of Art)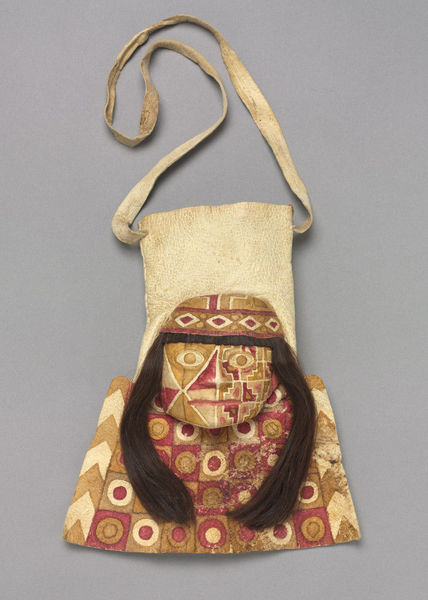 Bag with human face, Wari, Peru, 600–1000. Alpaca or llama hide, human hair, pigment, cotton, coca leaf contents; height. 26.0 cm (bag), length: 64.7 cm (strap). The Cleveland Museum of Art, Leonard C. Hanna Jr. Fund 2011.35
Native American Art Collection
Featuring about 190 objects, the focus is on baskets (circa 1900) as well as Southwest art (in particular ceramics and textiles) from both ancient and modern periods as well as several fine Saltillo serapes.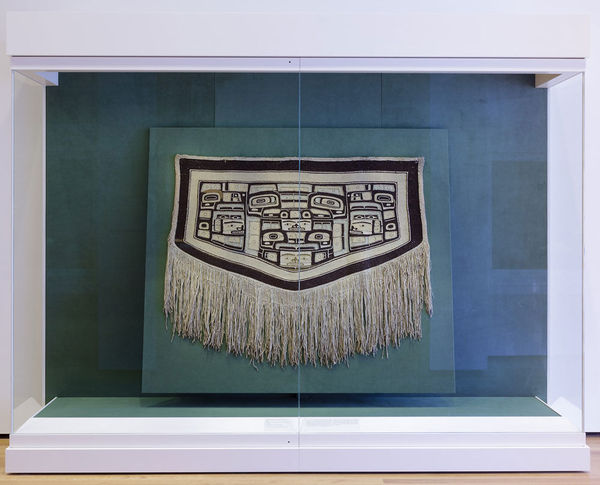 Chilkat blanket, Tlingit, Northwest Coast, America, 19th century. Weft twining: cedar bark wrapped with mountain goat hair, overall – h:137.80 w:175.30 cm (h:54 1/4 w:69 inches). Gift of Mrs. A. Dean Perry 1981.69. Courtesy of Cleveland Museum of Art Photo Credit: David Brichford
Japanese and Korean Art
Renowned for its collection of Japanese and Korean art, each collection is in its own dedicated gallery with a connecting central gallery that features works from both collections themed around Buddhism. Highlights of the Japanese installation include the richly detailed screen, Arrival of the "Southern Barbarians" (about 1600); Flame-Style Storage Vessel (2,500 BC), which is taller than most of the known surviving examples; and a stunning Buddhist Tabernacle (late 1100s) created to house nearly 300 sutras (religious scrolls). The Korean gallery features Arhat (Nahan) (1235), a hanging scroll that is one of only ten known fragments that survive today and the only one outside of Japan and Korea; a rare Storage Jar: Buncheong Ware (1400s); and The Seven Jeweled Peaks: Chilbo Mountains (1700s), a stunning true-view landscape painting.
The establishment of the Korean gallery was made possible by the support of the Korea Foundation.
Portrait of the Zen Master Hotto Kokushi. Japan, Kamakura Period (1185-1333) (Cleveland Museum of Art)
Kundika: Water Ewer. Korea, Goryeo period (936-1392) (Cleveland Museum of Art)
Textile Gallery
4,500 textiles dating between 2000 BC and 2010 AD and representing 62 different countries are now housed in the new Textile Gallery. Included in the exhibit are collections if Islamic textiles and early examples of lace as well as Italian silks. A major portion of the exhibit is its collection of contemporary fiber art. The inaugural exhibition, Luxuriance: Silks from Islamic Lands, 1250-1900, celebrates the museum's world-class collection of Islamic textiles. This special exhibition previews a forthcoming book, Luxury Textiles from Islamic Lands, 7th – 20th Century by Louise W. Mackie, curator of textiles and Islamic art.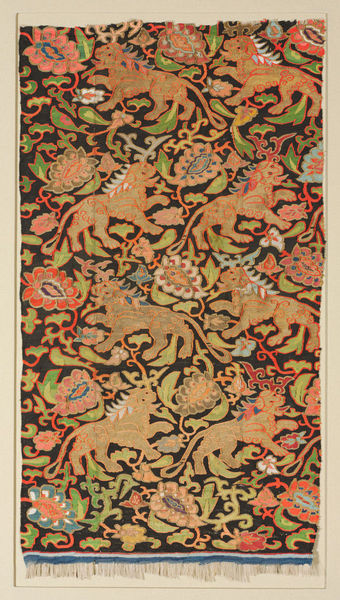 'Golden lions and palmettes' silk tapestry fragment, Central Asia, 1200s or earlier. Ilkhanid (Mongol) period. Silk, gold thread; tapestry weave; 63.50 x 34.70 cm. The Cleveland Museum of Art, Purchase from the J. H. Wade Fund 1991.3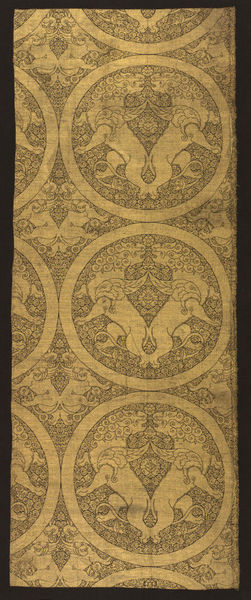 Cloth of gold depicting winged lions and griffins, Central Asia, circa 1240–60, Ilkhanid (Mongol) period. Silk, gold thread; lampas weave; 124.00 x 48.80 cm. The Cleveland Museum of Art, Purchase from the J. H. Wade Fund 1989.50
Alhambra Palace silk curtain, Grenada, Spain, Nasrid period, mid-1300s. Silk; lampas weave; 438.15 x 271.78 cm. The Cleveland Museum of Art, Leonard C. Hanna Jr. Fund 1982.16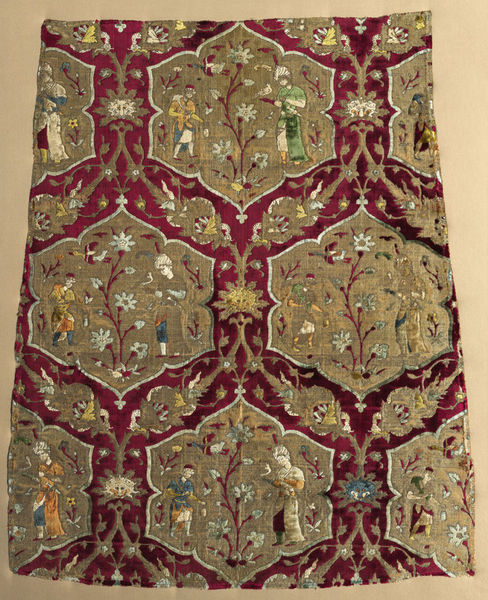 Brocaded velvet kaftan fragment with falconer and attendant, Iran, mid 1500s. Silk, gilt-metal thread; brocaded velvet, pile-warp substitution; 79.40 x 66.70 cm. The Cleveland Museum o f Art, Purchase from the J. H. Wade Fund 1944.239

Velvet cover, Turkey, Istanbul or Bursa, Turkey, early 1600s. Silk, gilt and silver metal thread, cotton; brocaded velvet; 180.98 x 127.00 cm. The Cleveland Museum of Art, John L. Severance Fund 2008.146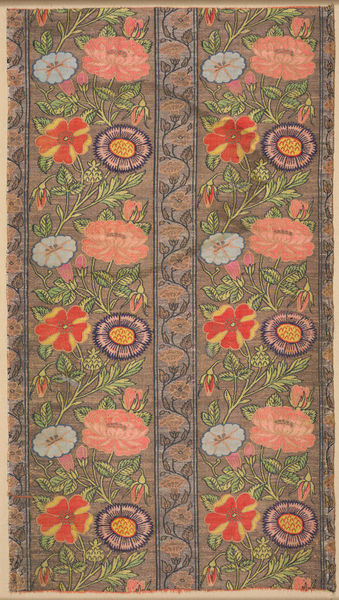 Floral silk on a golden ground, Iran, about 1650. Silk, silver-metal thread; samit; 50.10 x 27.50 cm. The Cleveland Museum of Art, John L. Severance Fund 2003.96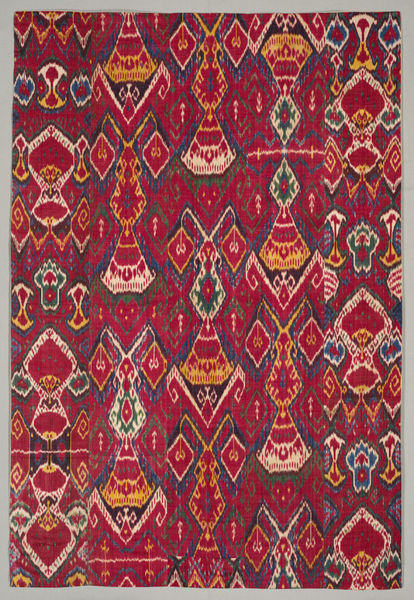 Silk ikat wall hanging, Bukhara, Uzbekistan, 1800–1850. Silk warp, cotton weft; warp ikat, warp-faced plain weave; 208.90 x 141.60 cm. The Cleveland Museum of Art, Gift of Guido Goldman 2006.150
Embroidered silk hanging with a tree of life design, Turkey, 1850–1900. Silk, plain weave, embroidery; 228.60 x 172.70 cm. The Cleveland Museum of Art, Gift of Mr. and Mrs. J. H. Wade 1916.1358
The Cleveland Museum of Art is open Tuesday, Thursday, Saturday and Sunday from 10:00 a.m.–5:00 p.m. and Wednesday and Friday from 10:00 a.m.–9:00 p.m. The museum is closed Mondays.
About the Cleveland Museum of Art
The Cleveland Museum of Art is renowned for the quality and breadth of its collection, which includes almost 45,000 objects and spans 6,000 years of achievement in the arts. Currently undergoing an ambitious, multi-phase renovation and expansion project across its campus, the museum is a significant international forum for exhibitions, scholarship, performing arts and art education. One of the top comprehensive art museums in the nation, and free of charge to all, the Cleveland Museum of Art is located in the dynamic University Circle neighborhood. The Cleveland Museum of Art is supported by a broad range of individuals, foundations and businesses in Cleveland and Northeast Ohio. The museum is generously funded by Cuyahoga County residents through Cuyahoga Arts and Culture. Additional support comes from the Ohio Arts Council, which helps fund the museum with state tax dollars to encourage economic growth, educational excellence and cultural enrichment for all Ohioans. For more information about the museum, its holdings, programs and events, call 888-CMA-0033 or visit www.ClevelandArt.org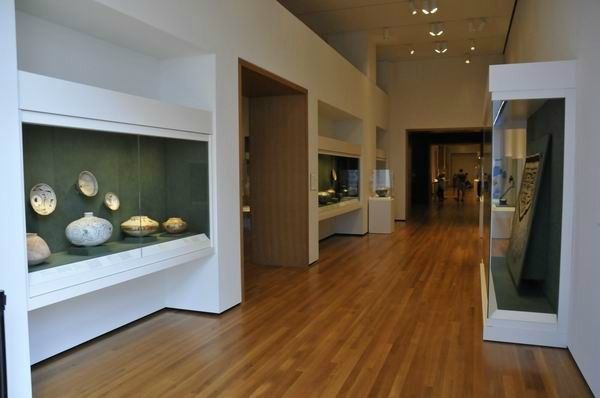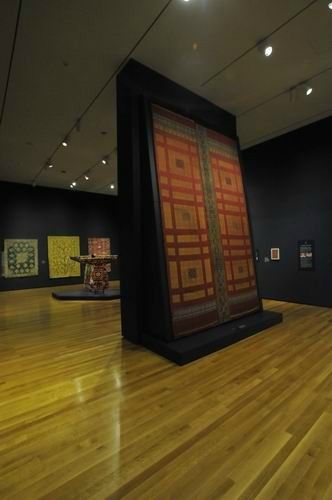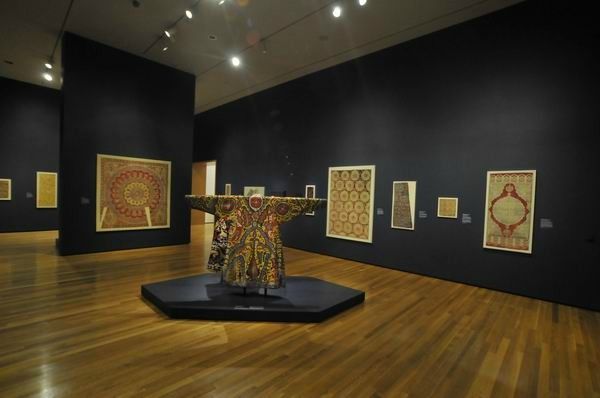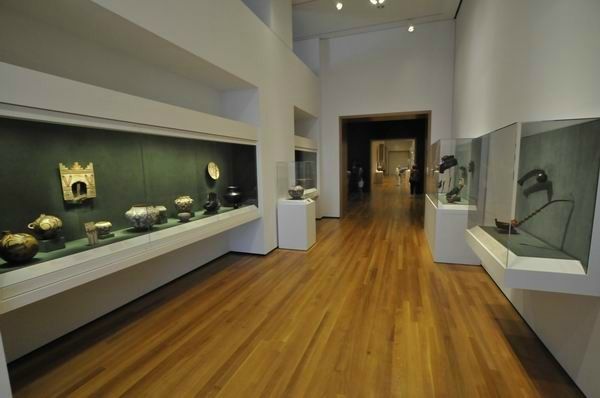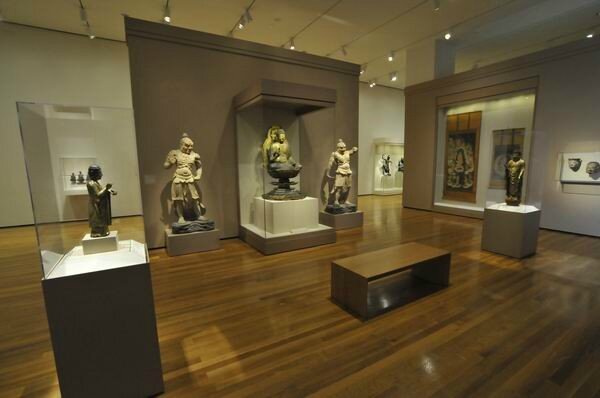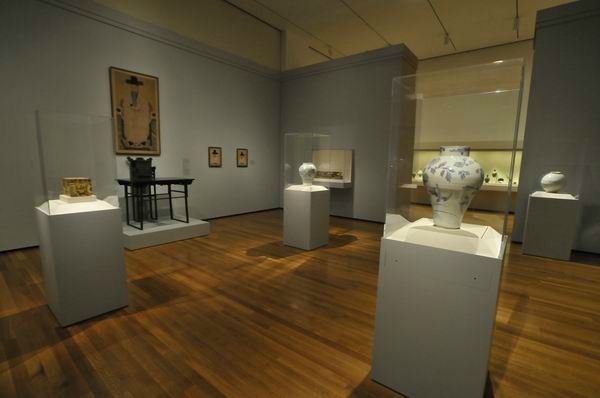 Featuring 423 works, the new north wing gallery is the second to last portion of the Cleveland Museum of Art's total renovation and expansion. Credit: Mark Horning