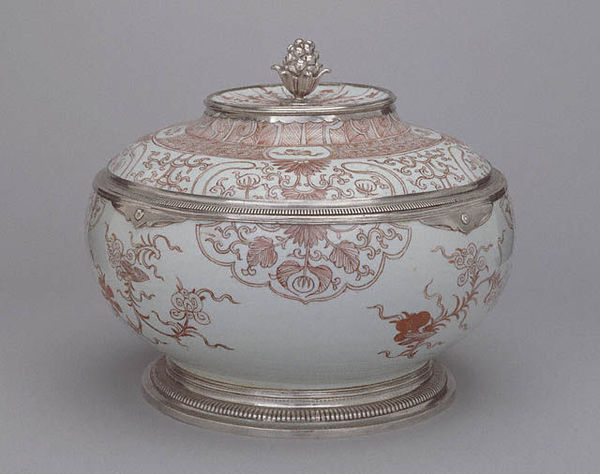 Lidded Bowl, Unknown. Porcelain: Chinese, 1662 - 1722; Mounts: French, about 1722-1727. Hard-paste porcelain, enamel and gilding; silvermounts. H: 8 x Diam.: 9 7/8 in. 87.DI.4. The J. Paul Getty Museum ©J. Paul Getty Trust
The European practice of decorating precious, exotic objects with gilt bronze or silvermounts dates back to the late Middle Ages. These mounts were a tribute not only to the beauty of the material but also to its extreme rarity. By the mid-1600s, when Europeans began to import larger quantities of Asian works of art, they continued to mount Chinese and Japanese porcelain in precious or semi-precious metals to emphasize their unusual colors and design. Remarkably, this Chinese porcelain lidded bowl has silver mounts, rather than the more common gilt bronze. The French usually matched silver with Japanese Imari porcelains rather than with Chinese pieces.

In the 1700s, the Chinese produced large quantities of porcelain specifically for export to European markets. Finished porcelain pieces were sent down the Yangtze River to Nanjing and to Canton, where Chinese merchants sold them to European traders. Parisian marchand-merciers mainly purchased porcelain in Amsterdam from the Dutch East India Company. The volume of trade was enormous: in 1752, a ship headed for Europe sank with 223,303 pieces of porcelain on board.