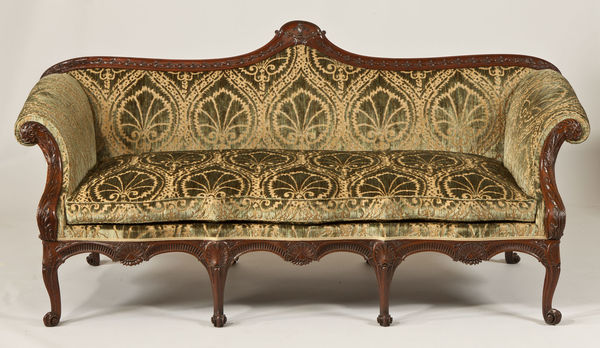 The 1st Earl Spencer's Carved Fustic* and Satinwood Sofa, c. 1758-65. Height: 40½ in (103 cm). Depth: 36 in (91 cm). Length: 86 in (219 cm). Price: $850,000 (£550,000). Apter-Fredericks Ltd, Stand D11.

NEW YORK - An exceptional sofa, dating from the middle of the 18th century and made for the 1st Earl Spencer, will be offered for sale by the leading London furniture dealer Apter-Fredericks at The International Fine Art and Antique Dealers Show. Established in 1989, this prestigious fair features some of the world's top dealers and takes place at The Park Avenue Armory, New York, from Friday 25 to Thursday 31 October 2013, Stand D11.

The 1st Earl Spencer employed James 'Athenian' Stuart (1713-1788), who had just returned from Greece, to decorate a house that would be the very first example of the accurate application of classical design to interior decoration. Spencer House, overlooking Green Park in St James's, London, was intended to be at the forefront of style and design in mid 18th century England and, as such, established the Spencers as a family of great intellect, sophistication and taste. This settee was part of a suite of seat furniture that is amongst the most successful of John Gordon's work. Gordon (fl. 1748-d. 1777), a cabinet-maker and upholsterer, was probably involved in furnishing Spencer House from the beginning.
Before 1814 the suite may have been transferred to Althorp, Northamptonshire, which was the childhood home of Diana, Princess of Wales. The suite returned to Spencer House around 1847 and was then taken back to Althorp, certainly by 1874, when an armchair was photographed in the Picture Gallery and photographs taken from 1892 onwards show more of the suite in various rooms including, in 1921, one of this sofa. The 7th, 'Curator', Earl Spencer (1892-1975) noted in his manuscript catalogue that the sofa 'was in the Patchwork Bedroom, covered in chintz. In 1911 it was upholstered in red velvet and placed in the Picture Gallery'.

The sofa is a distinctive model made with various decoration in the late 1750s or early 1760s. The largest set, painted white and gold, was supplied to John Spencer for the Great Ball Room at Spencer House and Lord Spencer commissioned other pieces of the same model, but in polished fustic and satinwood, including this sofa. The embryonic Neo-Classical design seems to be the result of collaboration between James 'Athenian' Stuart, who replaced John Vardy as architect of Spencer House in 1758, and John Gordon.
James 'Athenian' Stuart is widely recognised for his central role in pioneering Neo-Classicism. His influential career ranged across interior decoration, sculpture, furnishing, metalwork and architecture. Lord Spencer and Stuart were members of the Society of Dilettanti under whose patronage Stuart travelled to Athens in 1751, resulting in the eventual publication of Stuart and Revett's The Antiquities of Athens (1762-1794). The creation of the 'Greek Style' and its impact on British design in the late 18th century is largely due to this landmark publication, the first accurate record of Classical Greek architecture, which served as a principal source book for architects and designers well into the 19th century.
Apter-Fredericks Ltd has been the finest source of 18th and 19th century English furniture for four generations. Run by brothers Harry and Guy, they deal with the utmost discretion and offer the finest service. Their expertise, acquired by researching and handling thousands of pieces and following hours discussing the furniture with experts, researchers, curators and most importantly their clients, is second to none. Set away from the West End, they offer their international clientele a discreet approach to buying and are proud that their pre-eminent position rests solely on the recommendation of satisfied clients. www.apter-fredericks.com
* Fustic is a hard and dense wood from a tropical American tree and has been used for the front and side seat rails and the front legs while the top rail, arm facings, back seat rail and back legs are satinwood.