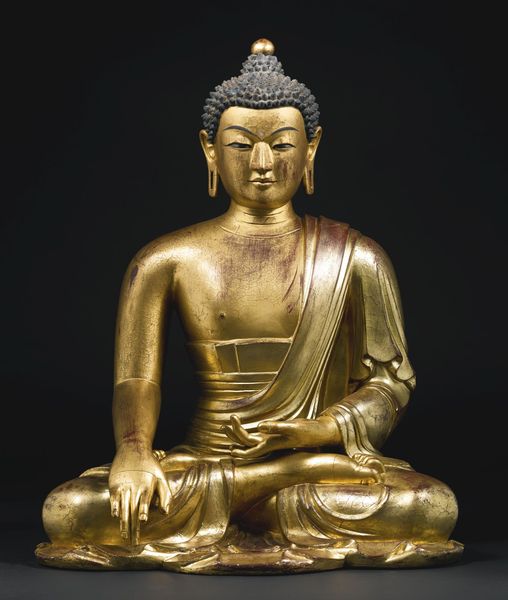 A large gilt-lacquered wood seated figure of Shakyamuni Buddha, China, Qing Dynasty, Kangxi period. Photo: Sotheby's.
HEIGHT: 24 1/2 in. (62.2 cm)
PROVENANCE: Collection of Victor Oppenheim (1906-2005), acquired prior to 1990s
NOTE: This figure portrays Shakymuni Buddha at the moment of his enlightment, with right hand in bhumisparsamudra, the gesture of touching the earth, and the left in dhyanamudra, the posture of meditation.
While meditating under the Bodhi tree at Bodhgaya, the demon Mara attacked the Buddha with armies of distractions and temptations in order to lure him from his path towards enlightenment. However, the Buddha was unshakable. Mara then claimed his own spiritual accomplishments were greater than Buddha's, and Mara's monstrous armies falsely bore witness to this assertion. Mara then challenged Buddha, wanting to know who would bear witness for him. At that moment Buddha touched the ground with his right hand, summoning the earth to be his witness. The earth touching mudra now symbolizes steadfastness, recalling Buddha's rejection of all temptations and delusions and achievement of supreme enlightenment.
The quiet way in which Buddha attains enlightenment points to early Buddhism's purity and simplicity. There were no deities, no forces of nature, no fanfare present to witness this momentous event, when effectively, Buddhism as a religion was born. The Buddha quietly attained enlightenment though his own efforts, with only the earth beneath him.
The technique of coating carved wooden figures with gilt-lacquer appears to have emerged in the early Ming dynasty and continued into the Qing, when this figure was made. The physical characteristics and facial features of this figure echo those of Tibetan gilt-bronze images and reflects the influence of Tibetan Buddhism on Chinese art, which began during the Yuan dynasty (1279-1368) and reached its peak during the reign of the Qianlong emperor.
It is indisputable that the Qing emperors were patrons of Tibetan Buddhism, whether out of personal devotion or political expediency, they had temples built and filled with Tibetan-style Buddhist figures and ritual implements. In 1683, the Kangxi emperor made two separate trips to Wutai Shan, one of the main centers of Tibetan Buddhism in the Chinese interior, and in 1713, the Puren and Pushan Temples were built to the east and north respectively, of the Imperial palace in Rehol. It is possible that the present figure was an imperial commission for one of the many imperially sponsored lamaseries.
A similar gilt-lacquered wood figure with its original double lotus pedestal was sold in our Hong Kong rooms, October 8, 2010, lot 2795, and two smaller gilt-lacquered wood examples are in the collection of the Palace Museum and illustrated inCompendium of Collections in the Palace Museum: Sculpture Series, vol. 9, Beijing, 2011, nos. 141 and 143.
Sotheby's. Footsteps of the Buddha: Masterworks from Across the Buddhist World. New York | 03 sept. 2013 - http://www.sothebys.com