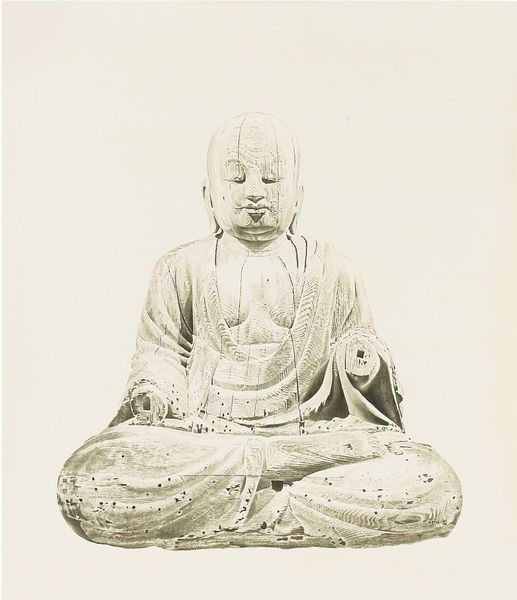 Cai Xiaosong (B. 1964), Buddha. Photo: Sotheby's.
Signed and dated 'Xiaosong/ 2013.1' with three seals of the artist. Ink on silk; 82 by 70 5/8 in. (200.3 by 179.4 cm).
NOTE: The present work ink on silk work by Chinese contemporary artist Cai Xiaosong is based upon a 10th century Japanese wood sculpture depicting Sogyo Hachimanat the Art Institute of Chicago (acc. no. 1960.755). The Shinto Buddhist deity Hachimon, shown here taking the appearance of a monk, is venerated as a source of blessing and sovereignty throughout Japan. Hachimangu shrines and depictions originated in the early Buddhist centers of northeast Japan as early as the 6th century, and spread to the significant political centers of Kamakura, Kyoto and Nara as Buddhism assimilated into the local culture through shogunate support. As such, Hachimon was then and is today a powerful and ubiquitous symbol of Buddhism in Japan.
Born in Shanghai in 1964, Cai Xiaosong graduated from the Arts Academy of Shanghai University. Trained in traditional Chinese ink painting, Cai experimented with Western media and art forms before returning to ink, brush, rice paper and silk. Since 2002, Cai has focused on large format rock paintings as single images and large-scale installations. His works are in major international museums and private collections worldwide, and he has had solo and group exhibitions at the Valencia Museum of Modern Art; National Museum of Fine Arts, Havana; Duolun MOMA, Shanghai; the 54th Venice Biennial; Wereldmuseum, Rotterdam, the National Taiwan Museum of Fine Arts, Taichung; and the Today Art Museum, Beijing, as well as various galleries in Asia and Europe.
The artist explains: "It took me almost six months to paint this—a difficult task, as I stopped frequently to listen for the repeating voice of the Buddha. This was a blessed journey for me, as it brought calmness to my soul which I tried to capture and share."
Sotheby's. Footsteps of the Buddha: Masterworks from Across the Buddhist World. New York | 03 sept. 2013 - http://www.sothebys.com