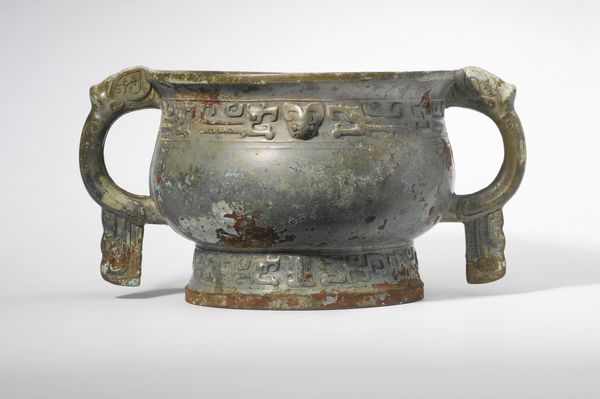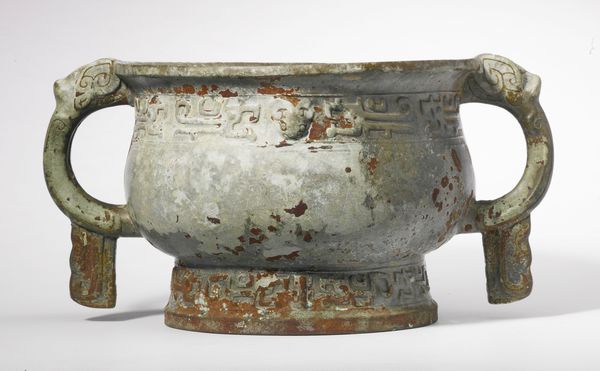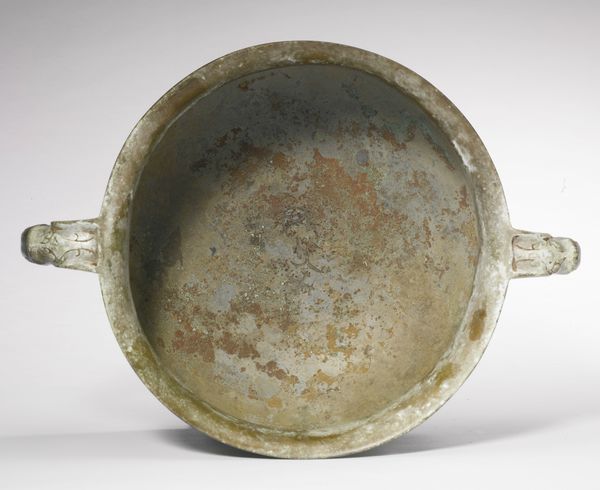 A bronze ritual food vessel (gui), Early Western Zhou Dynasty, 11th-10th century BC. Photo: Sothebys.
boldly cast with a swelling body below an everted rim with a band of eight archaistic kui dragons between bow-string borders and divided into four pairs by a small animal mask on each side, the vessel flanked by a pair of loop handles each issuing from a bovine mask and terminating in a hooked pendent tab, a similar band of kui dragons confronted on a stylized mask encircling the slightly flared foot, the interior cast with a three-character inscription reading Ran Fu Kui, with a mottled pale greenish-gray patina and some malachite and ferrous encrustation. Length 11 5/8 in., 29.5 cm. Estimation 30,000 — 50,000 USD
Provenance: J. T. Tai & Co., New York, 1971.
Arthur M. Sackler Collections, accession no. V-403.
Christie's New York, 18th March 2009, lot 209.
Litterature: N. Barnard and Cheung Kwong-yue, Rubbings and Hand Copies of Bronze Inscriptions in Chinese, Japanese, European, American and Australasian Collections,Taipei, 1978, no. 1471.
Hayashi Minao, In Shu jidai seidoki no kenkyu (In Shu seidoki soran ichi), Tokyo, 1984, vol. 2, pl. 97, gui, no. 136.
Institute of Archeology, Chinese Academy of Social Science, Yinzhou jinwen jicheng, 1984, no. 3218.
Jessica Rawson, Western Zhou Ritual Bronzes from the Arthur M. Sackler Collections, vol. IIB, Washington D.C., 1990, pp. 410-13, no. 50.
Notes: Jessica Rawson notes in Western Zhou Ritual Bronzes from the Arthur M. Sackler Collections, Washington D.C., 1990, p. 415, that these types of gui vessels are more common in early Western Zhou, and lists five other provenanced examples, including one from Liaoning Kezuo Shanwanzi illustrated in Wenwu, 1977.12, p. 23-33, fig. 55. Another Western Zhou gui with vertically ribbed, rather than plain body below the dragon band, can be found illustrated in the Catalogue to the Special Exhibition of Grain Vessels of the Shang and Chou Dynasties, National Palace Museum, Taipei, 1985, pp. 248-9, pl. 39.
The dating of this lot is consistent with the results of Oxford thermoluminescence test no. 366m78.
Sotheby's. Fine Chinese Ceramics & Works of Art. New York | 17 sept. 2013 - http://www.sothebys.com