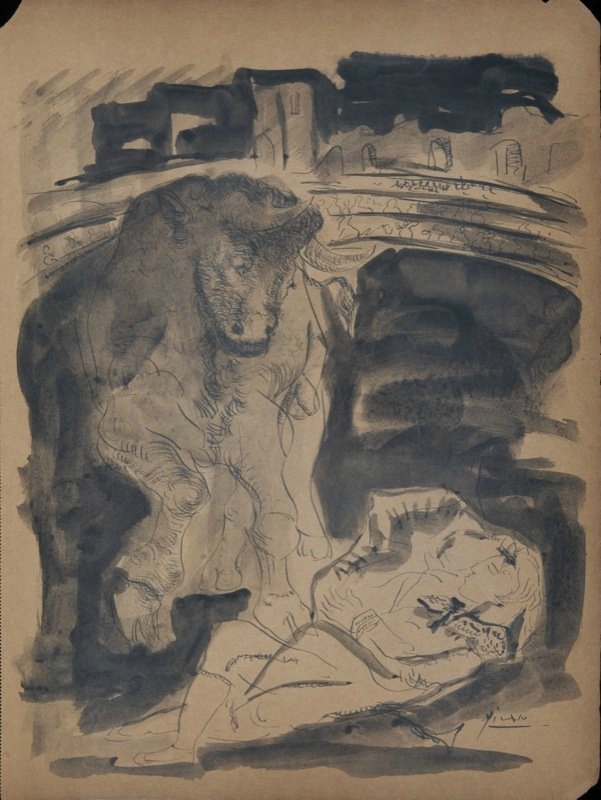 Pablo Picasso (Attr.) (1881 - 1973).,"Minotaure s'approche de la Dormeuse,", 1930s. Photo Beaux Auctions
Original pen & ink & inkwash on light tan wove paper signed lower right. Size: 15.1 x 11.5 inches (corners clipped). Excellent condition. Estimate $250,000 – $350,000
This extraordinary original drawing is an example of an important recurring theme of Picasso's in the 1930s, that of the bull and the Minotaur, which he used deliberately to portray man's subconscious violent and animalistic nature, prompted by the atrocities of the political upheaval in Spain at the time. The composition is reminiscent of many of those that appeared in the Vollard Suite of 100 lithograph prints, which became a significant milestone in Picasso's career.
Also of great interest is the portrayal of the voluptuous female form, almost certainly modeled by Marie-Thérèse Walter. He met her in 1927 and by 1930 she had become a central muse in his works. Picasso moved her to his home in Boisgeloup, even though he was still married to Olga. Marie-Thérèse became the model for almost all of his paintings, sculptures and prints at this time. It was not until 1935, when Marie-Thérèse was pregnant with their daughter Maya, that Picasso and Olga separated, allowing the artist to lead a full-time relationship with Marie-Thérèse. Both of these drawings show to perfection Picasso's bravura use of line and wash to create an erotically charged scene that contrasts beautifully with the sleeping female form in a state of carefree abandon.
Writing about Picasso's depictions of Marie-Thérèse, William Rubin commented: 'None of Picasso's earlier relationships had provoked such sustained, lyrical power, such a sense of psychological awareness and erotic completeness… Picasso proceeds from his intense feeling for [Marie-Thérèse]… he paints the body contemplated, loved and self-contemplating' (W. Rubin, Picasso in the Collection of the Museum of Modern Art, New York, 1971, p. 138).
Ref. Hans Bolliger, Picasso's Vollard Suite, London, 1956, nos. 1-100.
Beaux Auctions. 3:00 PM PT - May 27. 2445 NW 38th Street, Miami, FL 33142, United States - http://www.liveauctioneers.com/