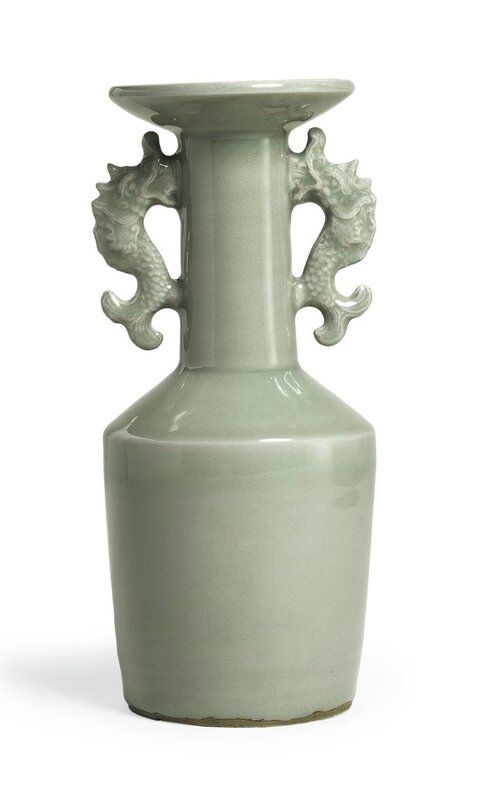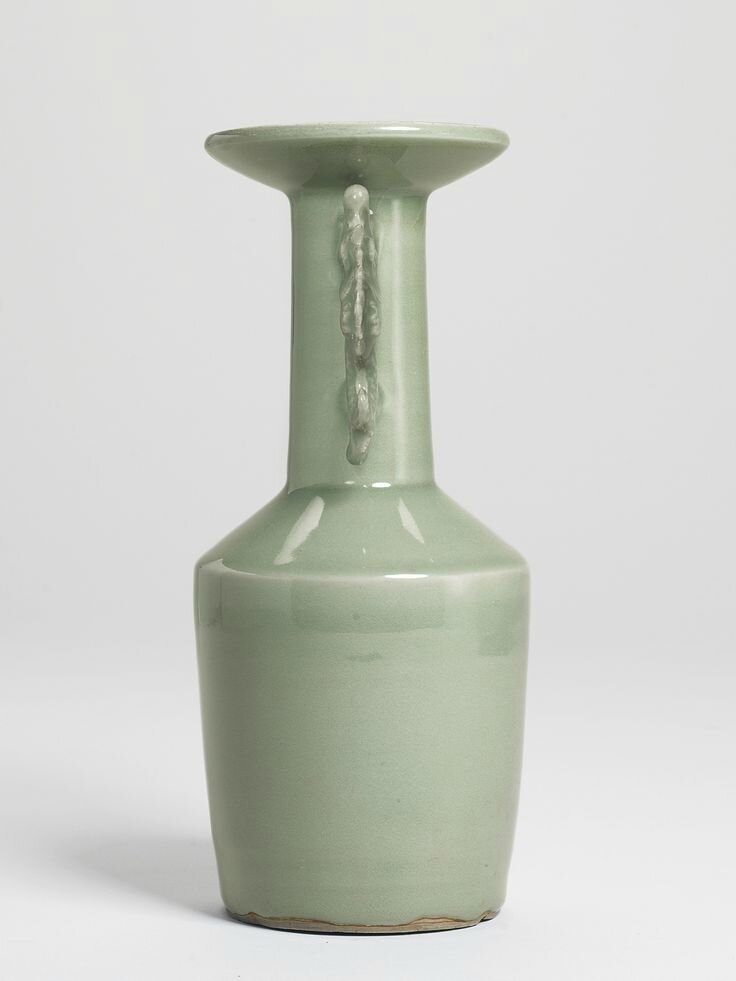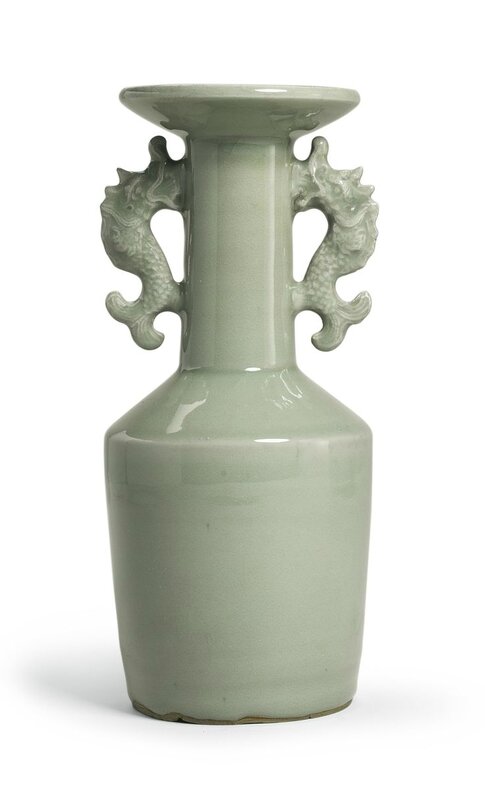 A rare 'Longquan' celadon 'Kinuta' mallet vase, Southern Song dynasty. Estimate 500,000 — 800,000 USD. Photo Sotheby's.
well-potted with a cylindrical body rising from a low footrim to a canted shoulder sweeping up to a tall gently tapering neck applied with a lively pair of crisply-molded and carved serpentine dragon-fish-handles, each with the detailing of the scales, fins and eyes finely incised, all below a wide everted dished rim with slightly upturned lip, covered overall with an even sea-green glaze, draining to a paler tone at the edges, the unglazed hand-pared footrim burnt an orange color in the firing, Japanese wood boxes. Height 11 in., 27.9 cm
Notes: Celadon vases of this 'mallet' shape which is generally known under the Japanese term kinuta, are among the most sought-after Longquan vessels. It has been suggested by several scholars that this shape, despite resembling a paper mallet, may in fact have been introduced to China as a glass vase or bottle from the Islamic west, possibly Iran. An Islamic glass bottle vase, probably Nishapur, North East Iran, was among the treasures found in the tomb of the Princess of Chen, Liao dynasty, dating to no later than 1018 and illustrated in Grand View: Special Exhibition of Ju Ware from the Northern Sung Dynasty, National Palace Museum, Taipei, 2007, cat. no. 25, fig. 2. (fig. 1)
Glass Vase, Islamic, circa 1018. Tomb of Princess Chen, Inner Mongolia Institute of Cultural Relics.
Fragments of glass vessels of this shape were found in 1997 among the excavated material from the cargo of the Intan shipwreck excavated off the Indonesian coast. This ship is believed to date to the Northern Song period. Furthermore according to the Yi Jian Zhi by the Song scholar official Hong Mai, the emperor Huizong owned a collection of imported glass. For further discussion see National Palace Museum, China at the Inception of the Second Millennium, Art and Culture of Sung Dynasty, 960 - 1279, p. 121, fig. 2.
Kinuta vases with dragon-fish, feiyu, handles are rare and particularly so in this large size. The mythological feiyu, considered a good omen, was a popular motif during the Yuan dynasty and may well have traveled along nomadic paths, originating in the ancient Near East through Central Asia into China. A Yuan dynasty gold cup with feiyu handles in the State Hermitage Museum, St. Petersburg, exhibited in The Legacy of Genghis Kahn, Courtly Art and Culture in Western Asia, The Metropolitan Museum of Art, New York, 2002, p. 18, fig. 11, cat. no. 139. attests to the association with fine decorative wares. (fig. 2).
Gold Cup, Yuan Dynasty, State Heritage Museum, St. Petersburg.
A vase, very similar to the present but of smaller dimension, in the Tokugawa Art Museum, Nagoya, is illustrated in Heavenly Blue: Southern Song Celadon, Nezu Museum, 2010, no. 23 (fig. 3).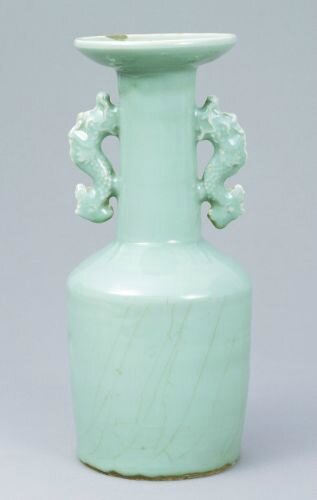 Kinuta Vase, Tokugawa Art Museum, Nagoya.
The same exhibition illustrates two others closely related vases, ibid, nos. 24 and 25 which is from the Seikado Bunko Art Museum, Tokyo and also included in a tour exhibition in Japan and illustrated again in Longquan Ware: Chinese Celadon Beloved of the Japanese, Aichi Prefecture Museum of Ceramics, 2012, cat. no. 22. A vase with the same type of handle and similar size from the collection of Enid and Brodie Lodge, included in the Exhibition of Chinese Art, Palazzo Ducale, Venice, 1954, cat. no. 422, and in five other exhibitions, sold in our London rooms, 8th July 1975, lot 91. A mallet vase with dragon-fish handles excavated in 1983 from a Southern Song tomb at Songyang county is illustrated in Zhu Boqian, ed., Celadons from Longquan Kilns, Taipei, 1998, p. 149, no. 116. Another similar examples of note is the kinuta vase in the Freer Sackler Galleries, Washington D.C., illustrated in The Freer Gallery of Art, I China, Washington, D.C., 1972, pl. 89. Two other vases of slightly smaller size with dragon-fish handles were recovered from a shipwreck off the coast of Korea in 1323, and included in Special Exhibition of Cultural Relics Found off Sinan Coast, National Museum of Korea, Seoul, 1977, col. pl. 3, which along with pls. 4 and 5, form part of a small group of vessels which are believed to predate the ship's voyage by some decades.
There are variants to the present form. Vases of the mallet form were made without handles such as the superb example sold in our London rooms, 8th November 2006, lot 54, currently on loan from the Xiling Collection to the Harvard Art Museums/Arthur M. Sackler Museum, Boston and published in Sekai toji zenshu, vol.12, Tokyo, 1977, pl.207. Another of this type without handles is in the Palace Collection, Beijing and illustrated in The Complete Collection of Treasures of the Palace Museum, Porcelain of the Song Dynasty (II), Hong Kong, 1996, p. 112, no. 100. Among mallet vases with handles, the most common is of phoenix-form; compare several fine examples including one ranked as Japan's National Treasure and one as its Important Cultural Property in Yutaka Mino and Katherine R. Tsiang, Ice and Green Clouds: Traditions of Chinese Celadon, Indianapolis Museum of Art, 1987, no. 78 and figs. 78 a-e, where the authors note that vases of this type have been valued in Japan since the Kamakura period. Similar examples of mallet vase with phoenix-form handles at auction include one from the Edward T. Chow collection sold in our London rooms, 16th December 1980, lot 300; another in our Hong Kong rooms, 31st October 1994, lot 530; one in our London rooms, 5th November 2008, lot 396 one in these rooms 23rd March 2011, lot 536 .
Sotheby's. Chinese Art through the Eye of Sakamoto Gor – Ceramics, New York, 17 mars 2015, 10:00 AM