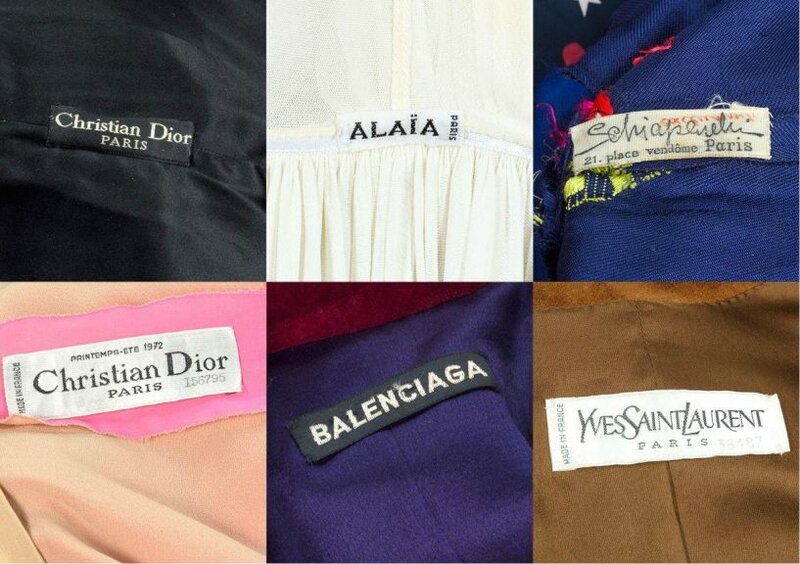 Collection Didier Ludot.
PARIS - Pour la première fois à Paris, Sotheby's aura l'honneur, avec le concours de Kerry Taylor Auctions, de mettre en vente la collection personnelle de Didier Ludot le 8 juillet à la galerie Charpentier.
Doit-on encore présenter Didier Ludot ? Le plus grand, si ce n'est le seul, « antiquaire de mode » français. Les vitrines magiques de sa galerie du palais-royal sont une visite parisienne incontournable pour tout amoureux de la mode. Depuis plus de quatre décennies et parallèlement à son activité de marchand, Didier Ludot a collectionné une à une les pièces de Haute Couture les plus rares. C'est ce jardin secret qui nous est aujourd'hui dévoilé : Didier Ludot confie le soin à Sotheby's France de vendre aux enchères une partie de sa collection personnelle.
De Paul Poiret à Yohji Yamamoto en passant par Madame Grès, Christian Dior, Cristobal Balenciaga, Azzedine Alaïa, Jean-Charles de Castelbajac, John Galliano ou Comme des Garçons, Didier Ludot nous offre ici un panorama complet de l'histoire de la mode au XXe siècle. Les 150 pièces que composent cette vacation sont un vibrant hommage à la haute couture française et au savoir-faire ancestral de ses artisans, couturiers, brodeurs, plumassiers, peaussiers, dentelliers, etc.
Chaque pièce a été sélectionnée avec soin pour sa technique, sa singularité, la spécificité du couturier qui l'a créée ou l'originalité de la femme qui l'a portée. C'est à ces femmes, célèbres ou anonymes, que Didier Ludot doit sa vocation. Cette vente lève le voile sur leur garde-robe : la petite robe noire pailletée Chanel ayant appartenu à Romy Schneider, la pochette Jacques Fath de la duchesse de Windsor et le chapeau Yves Saint Laurent de Loulou de la Falaise, le manteau Balenciaga de Mona Bismarck, les robes sculpturales d'Alaïa créées pour Bettina, l'impeccable veste de Monsieur Dior conçue pour Josette Day, le coffret à bijoux Cartier de Barbara Hutton, etc… Elégantes d'hier ou d'aujourd'hui, ces femmes n'en finissent pas de nous faire rêver.
Sotheby's est fière aujourd'hui d'accompagner ce collectionneur passionné et inconditionnel qui s'érige désormais en passeur et s'inscrit dans un rôle de transmission. Grâce à cette vente, Didier Ludot offre à ses robes une nouvelle vie, un nouveau propriétaire et se fait le héraut d'un monde où le raffinement rencontre l'intemporel.
La collection réservera de belles surprises parmi les 150 vêtements et accessoires, réalisés entre 1924 et le début des années 2000. Ces pièces uniques, conservées dans leur état original, toutes porteuses d'histoire, toutes emblématiques d'un moment de mode, du style d'un créateur, composent un ensemble d'une qualité rare.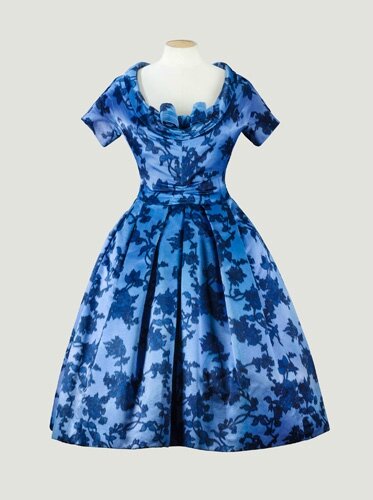 Christian Dior – Hiver 1957. Robe en ottoman bleu lavande modèle « Louveciennes ».
Dernière collection de Monsieur Dior.
Christian Dior – Winter 1957. "Louveciennes" dress.
This model came from Dior's last collection.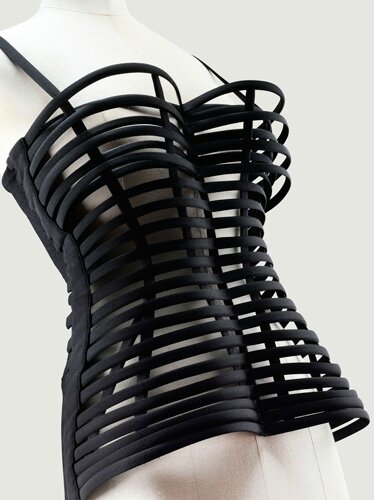 Yamamoto – Hiver 2006. Bustier cage en jersey noir.
Modèle porté à quasiment chaque passage du défilé hiver 2006.
Yamamoto – Winter 2006. Cage corset in black jersey.
This model worn at nearly each moment of the Winter 2006 show.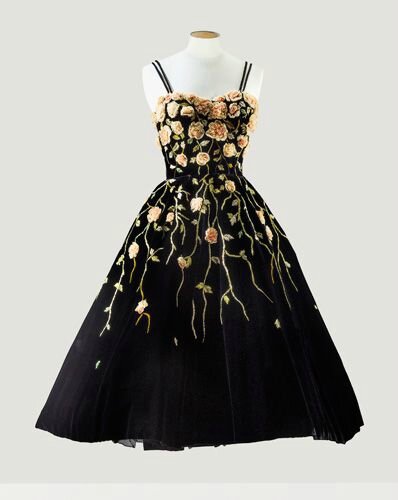 Pierre Balmain – Hiver 1953. Robe de cocktail en velours noir, entièrement brodée de roses en mousseline par la Maison Lesage.
Pierre Balmain – Winter 1953. Black velvet cocktail dress embroidered with chiffon roses by the Lesage Company.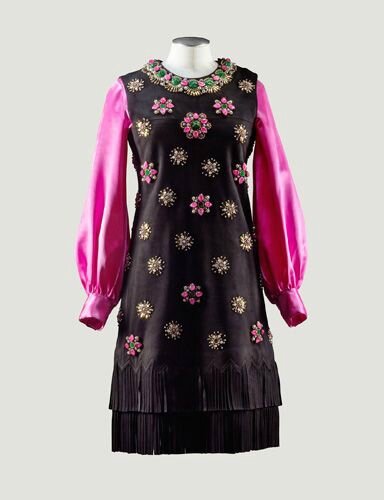 Yves Saint Laurent – Automne / Hiver 1968. Robe de cocktail en daim entièrement brodée de pierreries par la Maison Lesage.
Modèle porté par Marisa Berenson, photographié par Irving Penn pour le magazine Vogue en 1968. Un modèle identique figurait dans l'exposition rétrospective consacrée à Yves Saint Laurent au Petit Palais du 11 mars au 29 août 2010, reproduit dans le catalogue de l'exposition L'intégrale Yves Saint Laurent, Haute Couture 1962-2002 aux éditions Lamartinière. Un autre modèle est conservé au Kobe Museum.
Yves Saint Laurent – Fall / Winter 1968. Buckskin cocktail dress embroidered with precious stones embroidered by Lesage.
This piece was worn by Marisa Berenson, photographed by Irving Penn for Vogue magazine in 1968. A model was shown at the Yves Saint Laurent retrospective at the Petit Palais, 11 March to 29 August 2010 and reproduced in the exhibition catalogue. Another model is kept at the Kobe Museum.
Balenciaga - 1960. Robe du soir en satin noir au bustier brodé d'œillets.
Balenciaga - 1960. Black satin evening dress embroidered with carnations on the bodice.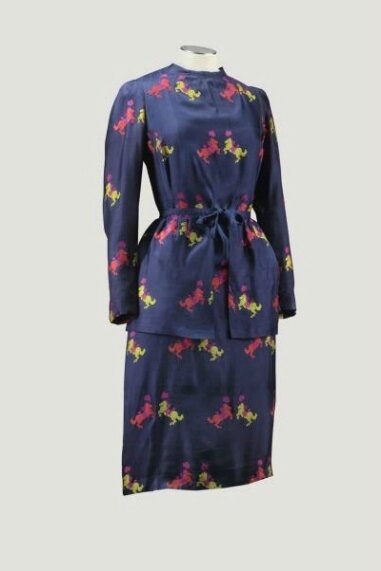 Schiaparelli – Eté 1938. Robe en twill de soie collection « Circus ».
Une veste issue de cette mythique collection reprenant le même motif de petits chevaux est conservée au Victoria and Albert Museum de Londres.
Schiaparelli – Summer 1938 Silk twill dress from the "Circus" collection.
A jacket from this legendary collection, with similar iconography forms part of the in the Victoria and Albert Museum in London.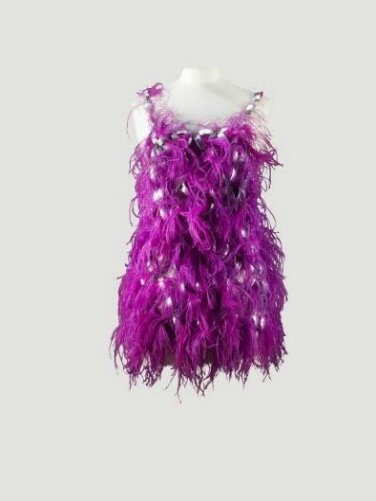 Paco Rabanne - 1969 Mini robe en métal et plumes de marabout. Provenance : Mademoiselle Dani.
Robe spécialement créée pour la chanteuse Dani à l'occasion de son spectacle à l'Alcazar en 1970.
Rabanne - 1969. Mini-dress in metal and ostrich feathers. Provenance: Ms Dani.
This dress was especially designed for the singer Dani for her show at the Alcazar in 1970.
Marc Vaughan – 1973 Robe du soir carrée en organdi peint à la main de cercles multicolores. Provenance : Madame Marc Vaughan, muse du couturier.
Il s'agit d'un prototype, témoignage des recherches menées par le couturier sur la coupe et l'architecture dans ses vêtements.
Vaughan - 1973. Square evening dress in organdie with hand-painted multicolour circles. Provenance : Ms Marc Vaughan, the couturier's muse.
This was a prototype, reflecting the couturier's experiments with the cut and architecture of his garments.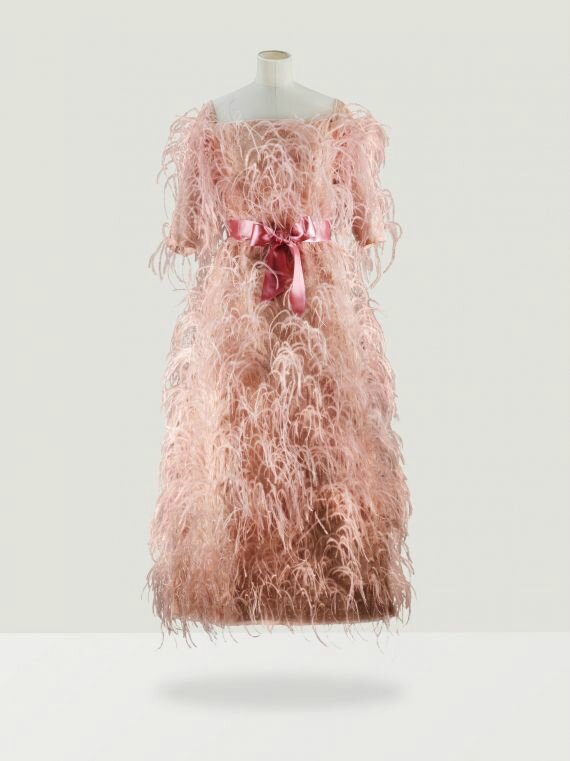 Balenciaga - 1965. Robe du soir en tulle point d'esprit de Brivet entièrement appliquée de plumes roses par Albert. Provenance : Madame Francine Weisweiller.
Cet exceptionnel exemple est le fruit d'une collaboration entre les artisans de la mode les plus célèbres de l'époque. Il fut prêté pour l'exposition rétrospective consacrée à Balenciaga au Musée des Tissus de Lyon en 1986 et reproduit dans le catalogue. Elle a appartenu à l'une des parisiennes les plus élégantes de son temps, muse de Cocteau et grande amie du couturier, Madame Francine Weisweiller.
Evening dress in point d'esprit tulle by Brivet, entirely covered with appliqué pink feathers by Albert. Provenance : Ms Francine Weisweiller.
This remarkable piece arose from a collaboration between the most celebrated craftspeople in fashion at that period. It was loaned for the Cristobal Balenciaga retrospective at the Musée des Tissus in Lyon in 1986. It belonged to Cocteau's muse, Francine Weisweiller: one of the most elegant Parisian women of her time.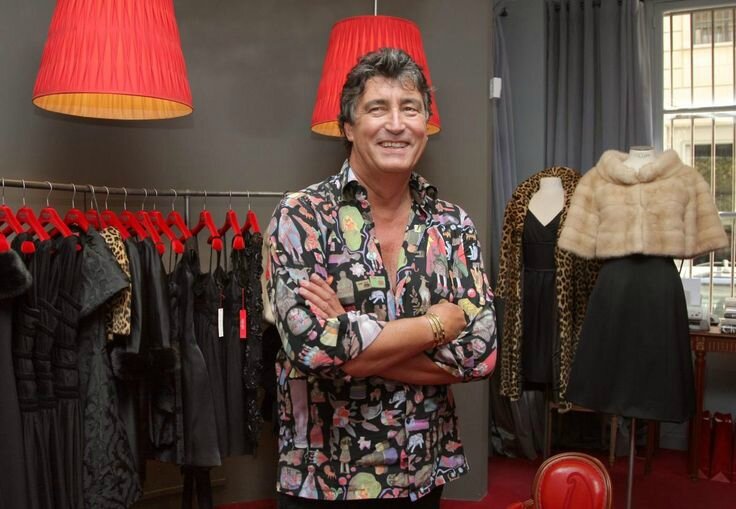 Didier Ludot.
PARIS - For the first time in Paris, Sotheby's, in association with Kerry Taylor Auctions, announces the sale of fine haute couture from the renowned Didier Ludot collection on 8 July at the Galerie Charpentier.
Didier Ludot, France's greatest "fashion antiquarian", surely needs no introduction. The magical showcase of his legendary Palais-Royal gallery is a must for any fashion-lover visiting Paris. Specialising and dealing in vintage fashion for more than forty years, he has carefully selected and set aside for his own personal collection many of the most important pieces he has handled.
With designs by Paul Poiret, Yohji Yamamoto, Madame Grès, Christian Dior, Cristobal Balenciaga, Azzedine Alaïa, Jean-Charles de Castelbajac, John Galliano and Comme des Garçons, Didier Ludot's collection provides a comprehensive overview of 20th century fashion. The 150 items in the sale are a vibrant tribute to French haute couture and the time-honoured expertise of its craftspeople, who include tailors, embroiderers, leatherworkers, feather merchants, and lace makers.
Each piece was carefully chosen by Monsieur Ludot for its technical skill and beauty, sometimes to reflect the trademark style of the couturier who created it, or the elegance of the woman who wore it. It is to these women, famous and anonymous alike, to whom Didier Ludot owes his vocation.
This sale unveils their wardrobes and individual style: the Chanel "little black dress" with sequins owned by Romy Schneider; the Duchess of Windsor's psychedelic 60's dress; Loulou de la Falaise's Yves Saint Laurent hat; Mona Bismarck's Balenciaga cape; the sculptural dresses Alaïa created for Bettina; the impeccable Dior jacket designed for Josette Day; Barbara Hutton's Cartier jewel box – and so the list goes on. These elegant women of past and present are an endless inspiration for our fantasies.
There are some stunning surprises among the 150 garments and accessories, produced between 1924 and the early 2000s. These unique pieces still in their original condition – all redolent with history, all emblematic of a moment in fashion, or a designer's style – make up a collection of extraordinary quality. They will appeal to private collectors, museums and stylish women the world over who buy vintage fashion to wear.
Today, Sotheby's and Kerry Taylor Auctions are proud to assist a passionate, wholehearted collector who has now decided to pass on his treasures. Through this sale, Didier Ludot gives new life and new owners to his dresses, as the harbinger of a world where the exquisite meets the timeless.