Mark Rothko, Untitled (Yellow and Blue), 1954. Estimate $40-60millon. Photo courtesy Sotheby's.
LONDON.- On 12 May 2015 Sotheby's New York will present the majestic Untitled (Yellow and Blue) by Mark Rothko as a major highlight of the Contemporary Art Evening Sale. The work was executed in 1954, the year the artist created a number of his most celebrated canvases, and furthermore boasts distinguished provenance that includes the Collection of Mr. and Mrs. Paul Mellon. Standing at over eight feet tall Untitled (Yellow and Blue) engulfs the viewer in the vastness of its yellow and blue planes. Like so many of Rothko's most renowned canvases the work stands as a towering thesis on the absolute limits of abstraction with the seamless flow of color and light emanating as if from within. The work is estimated to fetch $40/60m and is currently on view at Sotheby's London before the pre-sale exhibition opens in New York on 1st May
For nearly thirty years, from the time that it was acquired directly following Rothko's death in 1970, Untitled (Yellow and Blue) held an esteemed place in the renowned collection of Mrs. Paul Mellon. In a life and a world comprised of truly beautiful, personally meaningful, and historically significant works of art, Bunny Mellon had a particular admiration for and predisposition towards the paintings of Mark Rothko. Indeed, the core of the National Gallery Of Art's collection of works by the artist comes from the Mellon collection and the present work has been exhibited there for a collective ten years. Sotheby's sales of the collection in November 2014 brought a remarkable total of $218. 1 million, and the offering of 1,551 lots was led by two Rothko paintings that both exceeded expectations: Untitled from 1970 and Untitled (Yellow, Orange, Yellow, Light Orange) from 1955.
The year 1954 was an important moment for Rothko's career and has been described by David Anfam, author of the artist's catalogue raisonné, as the 'anni mirabilis.' Of the twenty paintings executed that year, seven are today in the permanent collections of prominent museums around the world, including the National Gallery of Art; the Yale University Art Gallery; The Museum of Contemporary Art, Los Angeles; the Tehran Museum of Contemporary Art; The Phillips Collection; The Museum of Art, Rhode Island School of Design; and the Essen Folkwang Museum.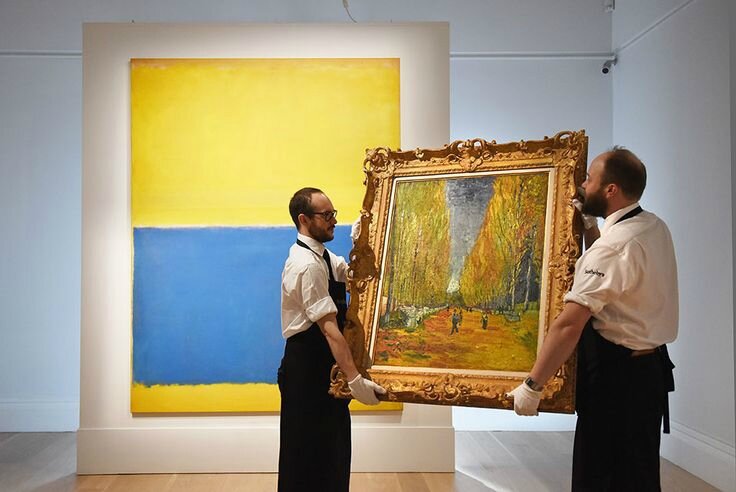 Exhibited alongside the Van Gogh in Sotheby's London galleries is Mark Rothko's eight-foot-tall masterpiece Untitled (Yellow and Blue). Photo: Sotheby's.
Sotheby's to Offer a Major Painting from Van Gogh's Renowned Arles-Period
Sotheby's also announced it will offer Vincent van Gogh's L'Allée des Alyscamps as a highlight of its Evening Sale of Impressionist & Modern Art in New York on 5 May 2015. Van Gogh completed this work in 1888 during his fabled Arles-period, when he created many of his most celebrated compositions: Sunflowers, Self-Portrait, L'Arlesienne and the Night Café all date to this stage of his career. The painting also serves as lasting evidence of the artist's relationship with Paul Gauguin – the two worked side-by-side in France that autumn under their shared artistic experiment known as the Studio of the South, before mounting tensions eventually drove Van Gogh to his violent breakdown at the end of the year. L'Allée des Alyscamps is estimated to achieve in excess of $40 million in the May auction.
David Norman, Co-Chairman of Sotheby's Worldwide Impressionist & Modern Art Department, commented: "Since the first memorial exhibitions of his work in 1901, Van Gogh has been one of the most influential artists of the past century. With the vast majority of his most important paintings in institutional collections, it is extremely rare to see a major canvas at auction – only two paintings from his final breakthrough years were offered in all of 2014. To offer a picture from Van Gogh's famous Arles-period is therefore a particular privilege, and we are thrilled to present the stunning L'Allée des Alyscamps this May. Painted in 1888, the work displays all of the greatest qualities of his unique body of work: a lush, fiery palette of brilliant orange, reds and yellows against a cool blue sky, a rich and vigorously-painted surface, and an expressive mood."
In 2014, only two works from Van Gogh's mature period (1888–1890) appeared at auction – both at Sotheby's. Still Life, Vase with Daisies and Poppies from 1890 sold at Sotheby's New York for $61.8 million (estimate $30–50 million) to an Asian private collector – that price marked a new auction record for any still life by the artist, as well as the highest auction price for Van Gogh since 1998. In February of 2014, an impressive 11 bidders spanning North America, South America, Europe and Asia competed for L'homme est en mer from 1889 at Sotheby's London, driving the final price to $27.5 million (estimate $9.8–13 million).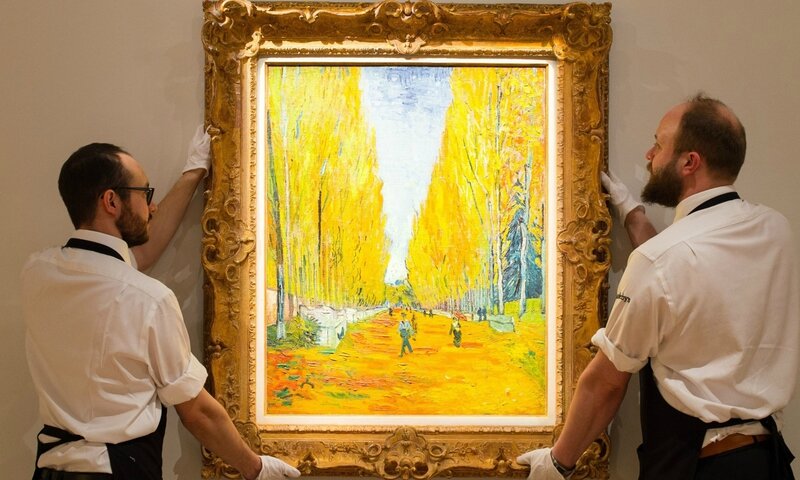 L'allée des Alyscamps by Vincent van Gogh is unveiled at Sotheby's in London. Photograph: Dominic Lipinski/PA
L'ALLÉE DES ALYSCAMPS
For two months during the autumn of 1888, Van Gogh painted in the company of his close friend Paul Gauguin, who had come to the south of France for an ideological and artistic experiment they termed the 'Studio of the South'. The artists would set up their easels side-by-side or back-to-back, tackling what are now some of the most famous subjects of their careers.

Their first shared experience was a series of views of lovers strolling through Alyscamps, the ancient "Elysian Fields" just outside the walls of the city. With its lush scenery, historic importance and romantic undertones, the location was an irresistible starting point, resulting in four major oils by Van Gogh and two by Gauguin. Over the passing weeks, conflicts increasingly arose between the two artists. The simmering tension ultimately resulted in Gauguin's decision to leave France for the South Pacific, and his scheduled departure in turn prompted the legendary act of self-mutilation that sent Van Gogh to the asylum in Saint-Remy.

But present work, created during their exciting first days together, presents a glorious view of the central thoroughfare of the Alycamps, one of the most famous Roman burial grounds in all of Europe. The ruins of Romanesque sarcophagi are visible down the tree-lined promenade known as the Allée des Tombeaux, which by 1888 had become a popular lovers' lane and parade ground for fashionable and single Arlesiennes.

In the days following his completion of the present composition, Van Goh would go on to paint two other depictions of Alycamps, but in a horizontal and more intimate format. Those pictures, both entitled Falling Leaves, hung in Gauguin's room at the quarters the two men shared at the Yellow House and signified their important collaboration. The present work, however, remained with Mme Marie Ginoux, the beloved innkeeper at the Yellow House and the model for L'Arlesienne.