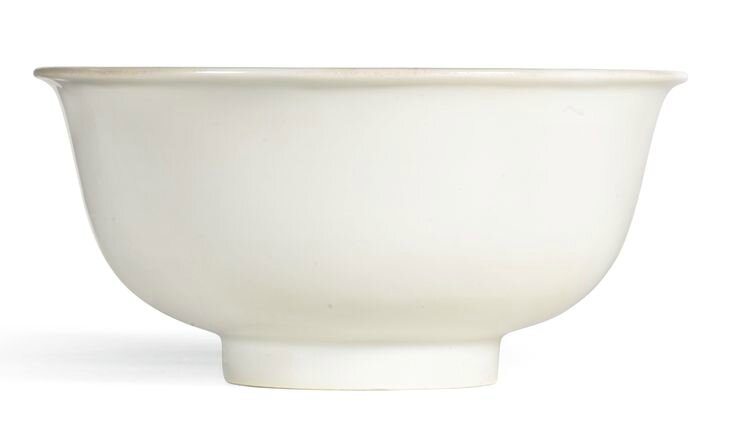 Lot 113. A large white-glazed 'anhua' 'Phoenix' bowl, Ming Dynasty, Hongwu Period (1368-1398). Estimate 20,000 — 30,000 GBP (27,130 - 40,695 EUR). Unsold. Photo Sotheby's
robustly potted with rounded sides rising from a straight foot to a flared rim, the interior incised with vaporous ruyi clouds in the centre, surrounded by two anhua phoenix with outstretched wings and long curling tails, the exterior left undecorated, all beneath a smooth creamy glaze with a slight tinge of yellow; 21.5cm., 8 1/2 in.
Notes: Anhua, 'hidden decoration', is a complicated and not yet fully understood manner of decoration that appears to involve some moulding into a fine layer of slip. It was practised almost exclusively at the beginning of the Ming dynasty, from the Hongwu to the Xuande period, and only at Jingdezhen. The term is often misinterpreted and used to designate any difficult-to-decipher incised design, but pieces such as the present bowl, which is decorated both with incising and withanhua, clearly document the difference between the two techniques.
A similar Hongwu period bowl with anhua design of phoenix, from collections of Captain Vivian Bulkeley-Johnson, Mount Trust and Meiyintang was exhibited at the Victoria and Albert Museum, London, 1970, cat. no. 88, illustrated in Regina Krahl,Chinese Ceramics from the Meiyintang Collection, London, 1994-2010, vol. 2, no. 648, and sold in our Hong Kong rooms 7thApril 2011, lot 45. Other anhua white bowls of this large, impressive type are illustrated in John Ayers, The Baur Collection Geneva. Chinese Ceramics, Geneva, 1968-74, vol. II, no. A 142, and in Fujioka Ryoichi and Hasebe Gakuji, Sekai toji zenshu/Ceramic Art of the World, vol. 14, Tokyo, 1976, pl. 225. For a white dish with anhua design of five-clawed dragons from the Hongwu period, see Regina Krahl, op. cit., no. 647. A white stem bowl with anhua design of Eight Buddhist Emblems and incised mark of Yongle was exhibited as part of the Meiyintang collection at the British Museum in 1994, illustrated ibid., no. 652, and sold in our Hong Kong rooms 8th April 2013, lot 8.
Sotheby's. Important Chinese Art, Londres, 13 mai 2015, 11:00 AM