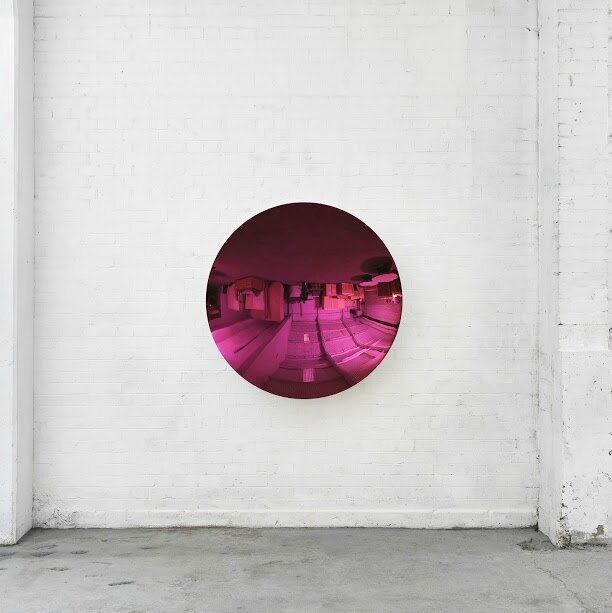 Anish Kapoor (born 1954), Untitled, 2012; signed twice and dated 2012 twice on the reverse; stainless steel and lacquer; 124.5 by 124.5 by 30 cm.; 49 by 49 by 11 13/16 in.
Estimate £400,000 - 600,000 (€560,000 - 840,000).
Photo: Bonhams.
LONDON.- Anish Kapoor's Untitled 2012 is one of the star lots at Bonhams Postwar and Contemporary sale on July 1. Estimated at £400,000-600,000, the monumental convex disc is one of his signature mirrored works, with the stainless steel coated in a thin layer of magenta lacquer.

Reflecting whatever stands before it, Untitled 2012 distorts, mutates and twists the world around it, the shapes that it holds moving and turning as the viewer approaches or retreats. As a pure concave surface, the work also picks up sound from all over the room and bounces it out from the centre, and producing an echo.

Kapoor's instantly recognizable, circular mirrored works have made the London-based artist a household name. Untitled 2012 is the climax of years of experimentation: the idea may be simple, but the execution is long, complicated and precise, and the results are complex and astounding.

In a 2011 interview, Kapoor said, 'The mirroredness, in the right conditions, does something to dematerialise the object... they have to be made very well, and it has taken me too many years to make them well enough.' To produce the right effect, the steel must be polished perfectly smooth, so that when staring in to the reflection, you cannot tell where the surface begins.

Francesca Gavin writes in Bonhams Magazine: 'He is an artist whose work creates a sense of psychological disruption and the illusion of everlasting depth. Kapoor has made this mutable material truly his own.'

The artist's monumental public work Sky Mirror 2001 was ten years in the making from drawing board to completion. An even larger ten-metre version has since toured the world, being exhibited in the Rockefeller Centre, New York, the Hermitage museum in St Petersburg and Kensington Gardens, London.

Kapoor's largest project to date was unveiled in the gardens of Versailles earlier this month, a series of monumental sculptures in the grounds including Sky Mirror alongside Dirty Corner, which attracted attention after being defaced by French royalists.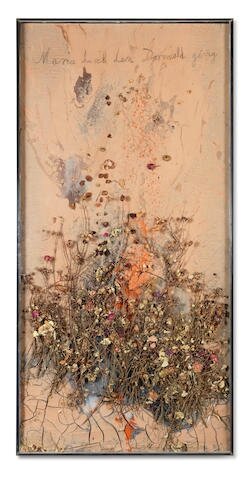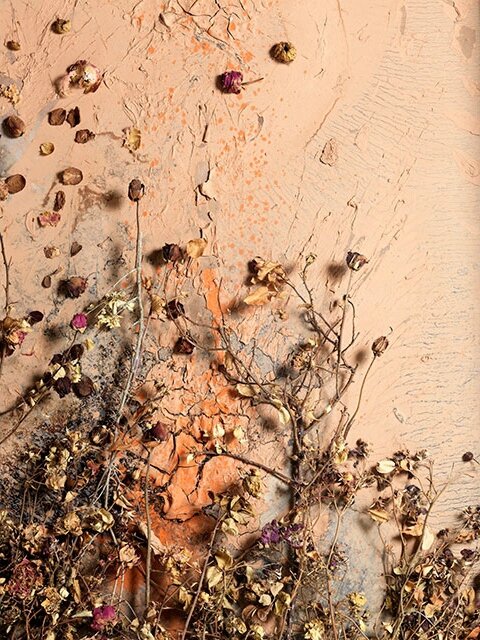 Anselm Kiefer (German, 1945), Maria durch den Dornwald ging, 2005; titled, acrylic, emulsion, clay, dried roses, shellac, charcoal and adhesive on canvas laid on board, in the original steel frame, 286 by 140 by 10 cm., 112 5/8 by 55 1/8 by 3 15/16 in. Estimate £400,000 - 600,000 (€560,000 - 840,000). Photo: Bonhams.
Anselm Kiefer, the subject of a solo show at the Royal Academy last year, is also represented in the sale. Estimated at £400,000 - 600,000, his Maria durch den Dornwald ging from 2005 was recently featured in two German exhibitions. The title of the work, the translation of which is 'Mary went through the forest of thorns', is an allusion to a German folk song. Kiefer, who often refers to German culture and history, uses dried flowers, earth and ash to reflect the lyrics' themes of spiritual immortality in the face of death. He compares his use of media to alchemy, transforming object into subject.
Also in the sale are Andy Warhol's 1982 Dollar Sign (estimated at £400,000-600,000), Banksy's Keep it Real (estimated at £40,000-60,000), Lucio Fontana's Concetto Spaziale (estimated at £60,000 - 80,000) and Miquel Barceló's Vila Nova de Milfontes (estimated at £150,000 - 200,000). The sale is currently on view at Bonhams New Bond Street.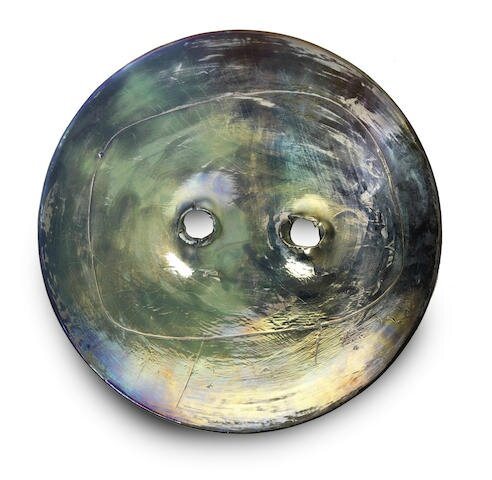 Lucio Fontana (Italian, 1899-1968), Concetto Spaziale, 1960-1963; signed, glazed ceramic. Diameter: 44 cm., 17 5/16 in. This work was executed circa 1960-1963. Estimate £60,000 - 80,000 (€84,000 - 110,000). Photo: Bonhams.
This work is registered in the Fondazione Lucio Fontana, Milan, under no. 3723/2.
Provenance: Galerie Mony Calatchi, Paris
Private Collection, Buenos Aires
Private Collection, Italy
Acquired directly from the above by the present owner
Exhibited: Besana in Brianza, Villa Filippini, Picasso, Fontana, Sassu - Arte ceramica da Albisola a Vallauris, 2003, pp. 79 and 125, no. 24, illustrated in colour (incorrect orientation)
Notes: To engage with Concetto Spaziale from 1960-1963 is not to merely stand, look, and consider. Rather, one impulsively wanders around the object, contemplating, gazing and inspecting as the deep pearlescence of the glaze radiates a prismatic array of colour from its surface. Glistening golds and yellows lucidly transform into intense ultramarines and violets contrasted against a ground of deep earthy green and bronze, as if Fontana had physically captured the transience of a rainbow. Two sculptural perforations right through the centre of the artwork not only dissipate the colour further, but also allow the viewer to focus on the space directly behind the piece. These apertures are an archetypal motif for Fontana, and coupled with his use of glaze and form, the present work acts as the reified synthesis of his most important theories.
Despite being best known for his slashed monochrome paintings, above all else, Lucio Fontana considered himself a sculptor. Born to a sculptor, Fontana's early life was based around his devotion to his father's craft: having moved from Argentina to Milan at a young age, he briefly moved back to Argentina where he set up his own sculpture studio, before finally settling back in Milan in 1928. It was there that he trained at the Accademia di Brera under the tutelage of the refined representational sculptor Adolfo Wildt. Like any other young artist, Fontana immediately produced work in line with the prevalent aesthetic movement of the time, in his case Novecento Italiano. Novecento was a representational movement characterised by a rejection of European Avant-Garde aesthetics in favour of embracing Italy's illustrious representational tradition. However, Fontana remained curious, and began to investigate new modes of expression.

In 1935 Fontana moved to the small coastal town of Albisola in the North West of Italy. At the time, Albisola was the epicentre of Italian ceramic research and production, and it was here that his ceramic investigations began in earnest. During this fecund period, Fontana tackled a vast array of traditional subject matter including: fantasias, rampant horses, lions, sibyls, warriors, saints and crucifixes. Whilst ostensibly figurative, these works were executed in a loose and intense manner, the plasticity of clay acting as the perfect foil for Fontana's firm and expressive manipulation. The highly finished technique of his earlier work became looser and looser, slowly paving its way closer to pure abstraction.

Fontana continued in this vein for almost a decade until, after a period back in Argentina which coincided with World War II, Fontana wrote five seminal manifestos between 1947 and 1952 which outlined his theories of Spazialismo(Spatialism). Humanity went through a rapid technological advancement in the mid-twentieth century, with more progress made in fifty years than in the previous five hundred. Fontana understood the significance of this, and his treatises called for art to shed its historical and bourgeois frameworks and fundamentally update its spirit and form. Fontana's response to his own doctrine was to create art that explored a new dimension – and this concept is encapsulated perfectly in the present work.

Commentators often mistake Fontana's holes and slashes as an attempt to bring the three-dimensional to a two-dimensional picture plane. Despite their aesthetic allure, Fontana's real interest was not in their form, rather, he was interested in what they revealed. This is particularly evident in Concetto Spaziale from 1960-1963, where the holes are large and gaping, and present the space behind to the viewer – and this is what Fontana considered to be a 'new dimension'. This dimension is neither pictorial nor definable per se but can be understood as being allegorical, an iconoclastic rip in art itself, and a portal into the unknown, the undefinable, and the new.
In the Manifesto Blanco 1946, Fontana makes constant references to the notions of dynamism and movement, and he argued that art should be dynamic, as matter itself is in constant movement. The present work's pearlescent glaze makes it seem like it is in a constant state of flux, and as light dances across the surface, and as the viewer's position ever so slightly shifts, so too does the colour and the position from which it is reflected. This artwork may be innate, yet the perceived movement generated from its surface gives the impression it is motile.

Artworks based on profound theory sometimes have a tendency to lose some of their aesthetic potential, yet the present work is an undeniably beautiful object. It was testament to Fontana's brilliance as an artist that he was able to combine the theoretical and the aesthetic with such harmony.

Fontana had the foresight to realise that the world was not only rapidly changing, but that this change would result in a stage of human existence unlike any other period that had preceded it. He felt that art should reflect this vital transformation of the human condition, and he embarked on a search for a new dimension by transforming entrenched and historic artistic tropes, such as canvases and ceramics. Concetto Spaziale from 1960-1963 is the epitome of this thought process, and the physical embodiment of his mission to find a truly Modern mode of expression: dramatic ruptures intertwine with mutable colour to form an artwork truly pertinent to its era, and filled with the optimism and excitement that Fontana felt for mankind.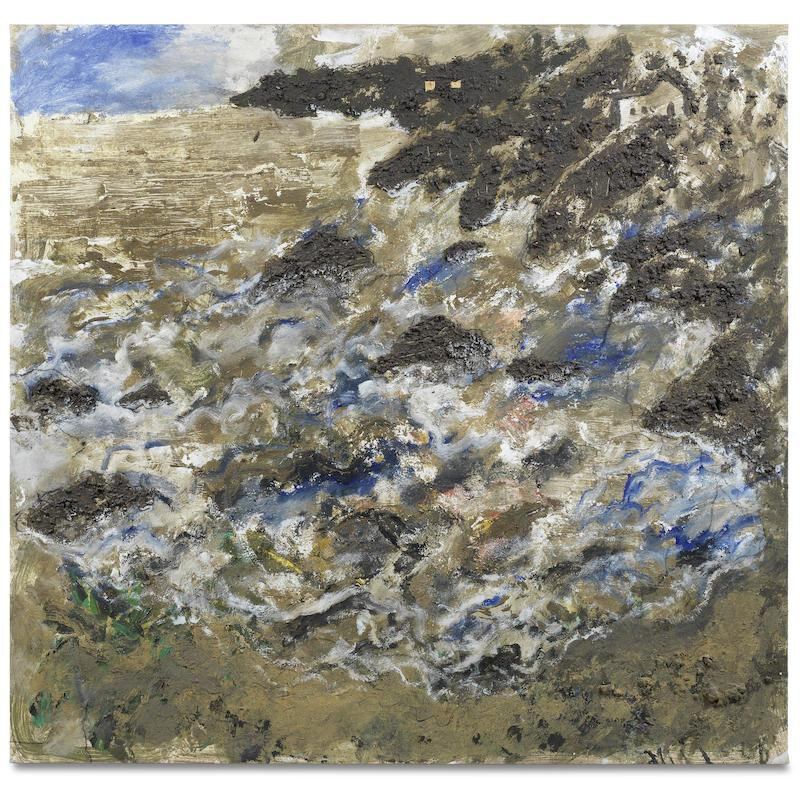 Miquel Barceló (Spanish, born 1957), Vila Nova de Milfontes, 1984, mixed media on canvas, 193 by 203 cm., 76 by 79 15/16 in. This work was executed in 1984. Estimate £150,000 - 200,000 "€210,000 - 280,000). Sold for £ 137,000 (€ 156,321). Photo: Bonhams.
Provenance: Galerie Bischofberger, Zurich
Private Collection, USA
Galería D'Art Ramón Sarda, Barcelona
Acquired directly from the above by the previous owner in 1988
Thence by descent to the present owner.