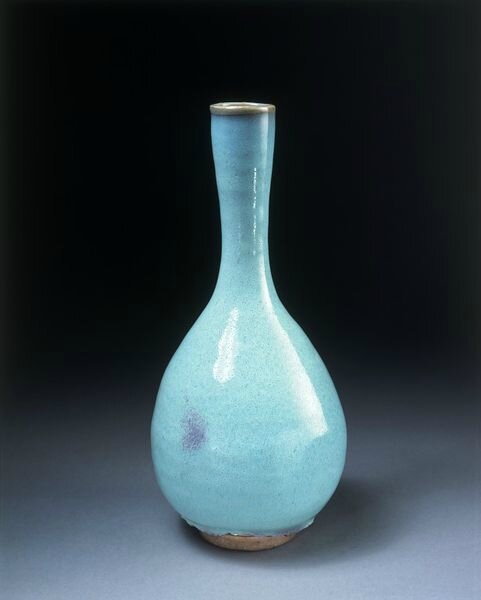 Vase with sky-blue glaze, China, Jun kilns, Henan, Northern Song or Jin dynasty (1100–1200). Glazed stoneware, splashed with copper. Height: 29.5 cm. Museum no. FE.156-1975 . Sir John Addis Gift [September 2009] © V&A Images
This elegant long-necked vase is an example of Jun ware, a type praised by collectors in the Ming dynasty as one of the 'Five Great Song Ceramics' (see p.36)., although unlike these others, which received imperial patronage, Jun was mainly made for a general market. It has a stoneware body coarser than most Song ceramics, but above all it is the glaze that distinguishes Jun ware from its rivals. Lacking relief or painted decoration, Jun wares rely entirely on the beauty of their form and glaze for visual impact. Here the glaze is sky-blue, very thick and full of tiny pinholes visible to the naked eye. Jun glazes have a tendency to run during firing, and in this case it has run thin at the mouth of the vase, leaving the rim a mushroom hue.
Modern scientists have carried out numerous analyses on Jun glazes, establishing that the opal-blue colour arises from a process known as 'liquid-liquid phase separation' during early cooling. In layman terms this means that the colour effects are partly optical, in much the same manner that the sky appears blue as a result of refracted light. Jun glazes are complex and their effects embrace luminosity, whiteness and opalescence, which together create a wide range of subtle tones and textures.
The single, subtle patch of purple on the vase is derived from a copper-rich pigment, added for heightened visual impact. On some Jun pieces the purple splashes are applied much more boldly and exploit chance effects, making them the most dramatic of all Song dynasty ceramics.
Jun wares are one of the Five Great Song Ceramics. Although coarsely potted, they are remarkable for their subtly coloured glazes, which are a great technical feat. Careful control of the cooling process allowed pinhole bubbles to form within the glaze.
These refract the light, enhancing the glaze colour. Here the visual impact is heightened by a single splash of purple.
Bibliographic References: Kerr, Rose. Song Dynasty Ceramics. London: V&A Publications, 2004. p. 32, no. 21.
Liefkes, Reino and Hilary Young (eds.) Masterpieces of World Ceramics in the Victoria and Albert Museum. London: V&A Publishing, 2008, pp. 40-41.