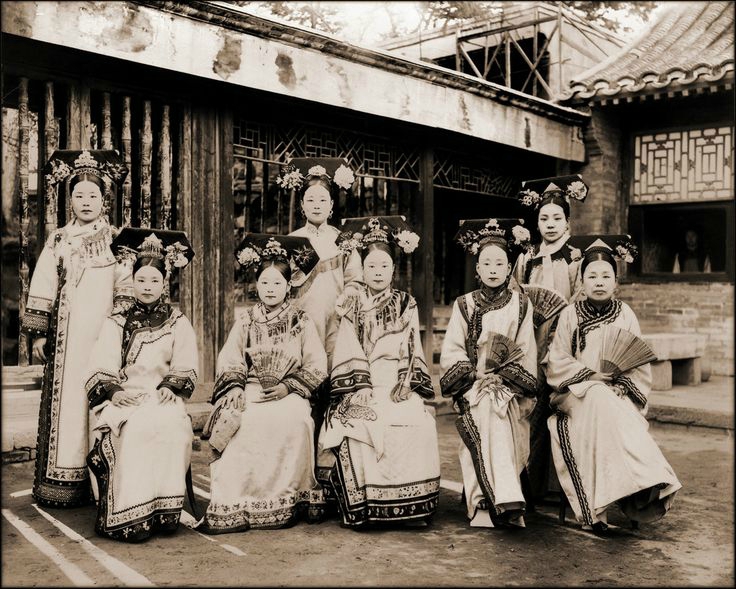 Frank Carpenter, Manchu ladies of the palace being warned to stop smoking, Peking, China, c. 1910-1925. (restored)
(originals on repository with the Library of Congress can always be found by using its LC number in their number search engine). The photograph was cropped, spotted, and had several areas tonally adjusted to bring out hidden or obscure detail not easily seen with the original. One large scratch on the left was digitally retouched out, as were a few emulsion wrinkles and processing marks.
Frank Carpenter and his daughter Frances were not only extraordinary world travelers ahead of their time, but so too were their desire to record everything that they saw on their journeys. On repository with the US Library of Congress, their staggering collection of over 15,000 images lives on for future generations. Above is an image that was made whilst they traveled through China, sometime in the beginning of the 1900's.
The image is so profoundly rich in the detail of Manchu fashion that I sat literally for an hour going over every inch of the picture. How it came to bear such a ridiculous title is probably lost to the generations. However, it remains a stunning record of the beautiful style of dress available to the affluent during imperial China. An interesting observational note is the abundant use of face powder seen here, rivaling that of Elizabethan fashion. The women's necks all reflect their normal skin tone, but their faces were artificially rendered white. Note too that, except for the two women on the right, their lipstick only traces the middle portion to their lower lips. There is a man in the background, seen though an open window to the right. His identity, purpose, or role can only be guessed at.
(Source: ralph repo)