NEW YORK, NY.- Gianguan Auctions will inaugurate its new Manhattan gallery at 39 W. 56th Street with a holiday sale of Buddhist art, Chinese porcelains and fine Chinese paintings, ancient to modern. Collections of stone seals, teapots and carved jades also come to the podium on Saturday, December 19th, beginning at 11:00 a.m.
Chinese Porcelains
The Chinese porcelains include Famille Rose, Caledon, Zisha, and Blanc de Chine from the Yuan Dynasty through the Ming, Glazes run from copper red to wood grain, flambé and purple splash, creating a compelling inventory for collectors.

The marquee item is Lot 138, a Yuan dynasty dragon jar with a rare copper red underglaze that depicts a three-clawed dragon among flames chasing a flaming pearl. Standing 12 ¾ inches tall, the pear-shaped vase is $200,000-$400,000.
Meanwhile, mid-level collectors will be well pleased with Lot 234, a Ming Dynasty bovine blood-red stem plate that carries the Xuande six-character mark and is of the period. It is $6,000-$10,000.
Entry level collectors will appreciate Lot 236, a copper-red ewer sculpted with florals and insects, valued at $1,500-$3,000.
Another highlight is Lot 150, a Qing Dynasty Famille-Rose white enamel plate with brightly painted wasps and butterflies. Of the period, bearing the Qianlong four character mark inside a double blue square, the 7 ½ inch plate will go for $200,000 - $300,000.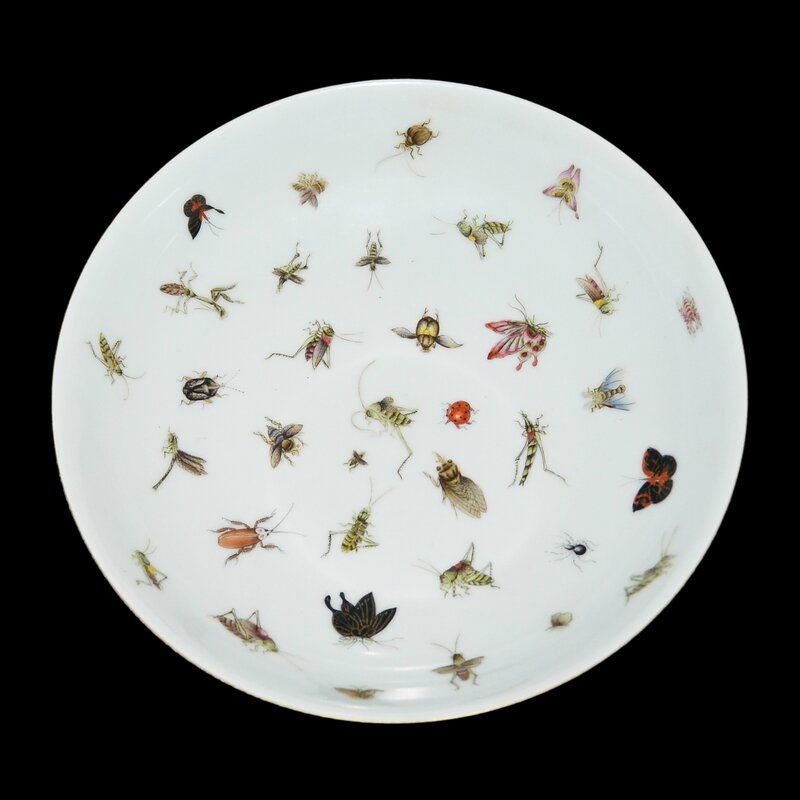 Lot 150. Famille-Rose Enamel Plate, Qing Dynasty, Qianlong Four Character Mark inside a Double Blue Square and of the Period. Diameter: 7⅞ in (20 cm). Height: 1¾ in (4.4 cm). Estimate $200,000 - $300,000.
The interior of the shallow plate curving to a slightly everted gilt lip, is delicately painted with circular register of animated wasps in varying position interspersed with butterflies, all picked out in gray, green, black, yellow, blue , pink and aubergine enamels, the interior glazed white.
One of the day's best values is Lot 237, an unusual Famille rose ogee-form bowl decorated with flowers and a key fret border valued at $1,500-$4,000.
The blanc de chine highlight is Lot 144, a pair of Yuan Dynasty vases with fish handles, their bodies incised with dragons and cobalt blue inscriptions at the shoulders. The presale estimate is $80,000-$200,000.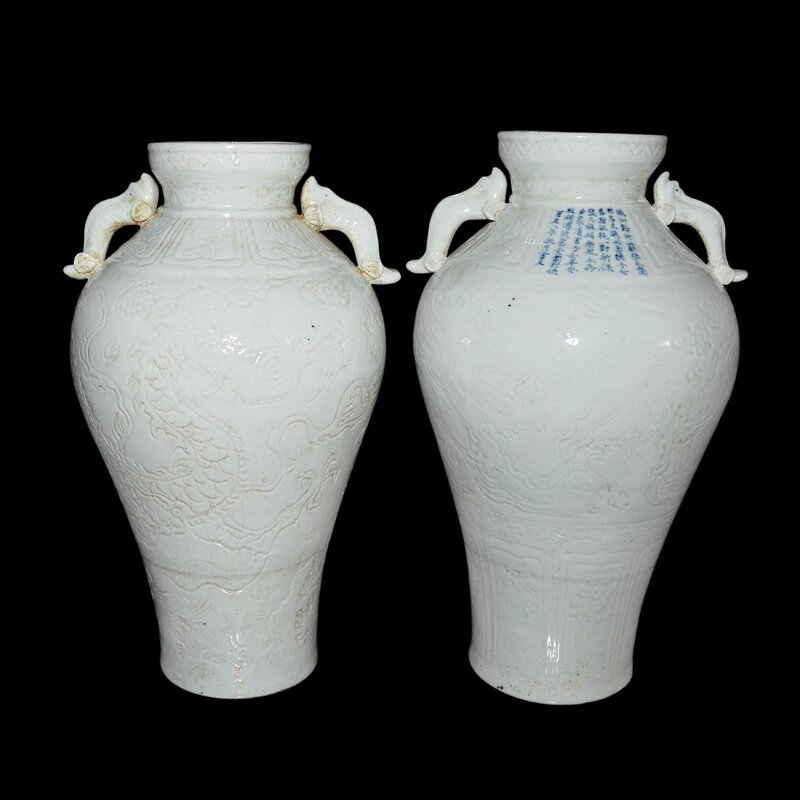 Lot 144. A Rare Pair of White-Glazed Carved Dragon Vase with Blue and White Inscriptions, Yuan Dynasty. Height: 18¾ in (47.6 cm), 18⅞ in (47.9 cm). Estimate $80,000-$200,000.
With rounded shoulders tapering to the base, the exterior carved with a central register of flaming dragons in between classic scroll bands, flanked by applied fish handles on both sides, below galleried rim. The unglazed base with am embossed stamp of the studio mark: Boling.
Blue and white collectors will find Lot 168, a large Yuan Dynasty yuhuchunping featuring plantain leaves on the pear shaped body worth their bid at $50,000-$80,000.
Celadon takes center stage at Lot 159 with a Northern Song Dynasty baluster form yuhuchunping in tones of sea green. Molded with peonies and plantain leaves, the vase is $20,000-$30,000.
The baluster body is moulded with a wide band of peony scroll, above a band of upright plantain leaves, and below a downward band, rising to the flared mouth rim. The vase is covered overall with a light sea-green tone.

Purple splash celadon from the Song Dynasty makes a statement at Lot 250, a Junyao teabowl and stand. An unglazed foot rim exposes the buff gray ware. Price: $800-$2,000.
Showy tones of raspberry and moss green decorate Lot 165, an elephant-ear handle vase. It is $6,000-$8,000.
A wood-grain glaze brings to life a small, round porcelain box with cover at Lot 225. With the Qianlong mark, it is just $800-$1,000.
Finally a collection of Zisha porcelain teapots (Lots 256- 259) and a cricket jar (Lot 258) add to the interest of unusual Chinese ceramics.
Buddhist Art
Buddhist art rendered in silver, gilt bronze, polychrome porcelain, jade, stone, crystal and gouache carry values from $400 to $40,000. Lot 37, for instance, is a silver figure of a Shakyamuni Buddha seated in dhyanasana. Of the Ming Dynasty with the Zhengde six-character mark, the 12-inch statue weighs 5,300 grams (slightly more than 11 pounds) and is valued at $30,000-$50,000.
Lot 37. A Silver Figure of a Seated Shakyamuni Buddha, Ming Dynasty, Zhengde Six Character Mark and of the Period. Height: 12¼ in (31.1 cm). Weight: 5300 g. Estimate $30,000-$50,000.
Seated in dhyanasana with his hands in bhumisparsamudra, dressed in a loose layered robes with foliate scroll borders, the broad face centered by a raised urna and flanked by pendulous earlobes, the hair in tight curls over the ushnisha and topped with a knop, the base sealed.

Lot 207 is a rare, richly gilded bronze figure of Tara embellished with blue pigment at the head and polychrome at lips and eyes. This unusual statue will make $20,000-$40,000.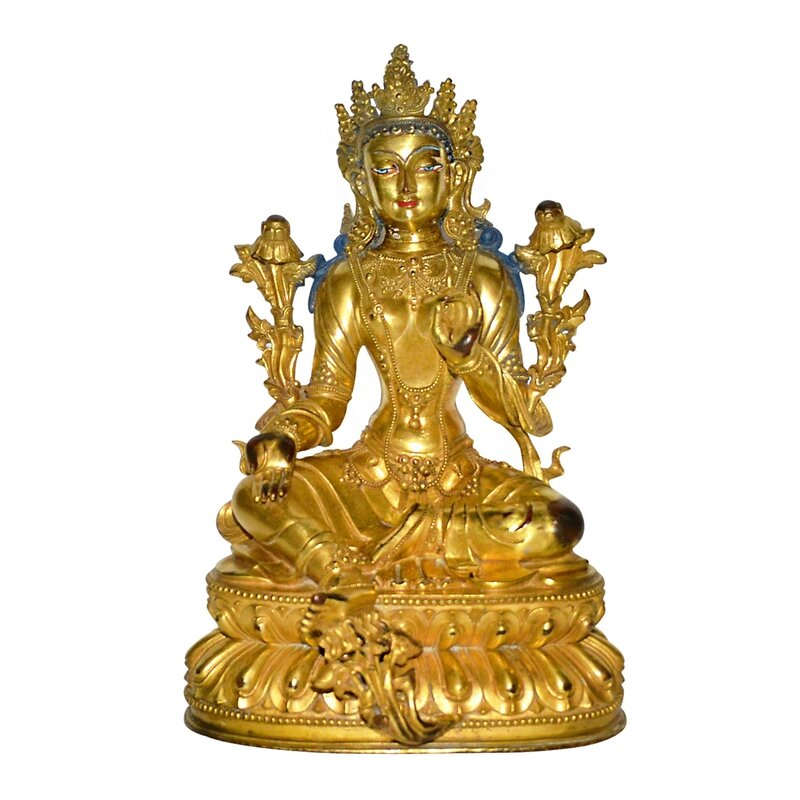 A Rare Gilt-Bronze and Pigment Painted Figure of Tara. Height: 9¾ in (24.8 cm). Estimate $20,000-$40,000.
Richly gilt overall, seated in lalitasana with her pendant right foot resting on a lotus rising from the double-lotus base with beaded rims, her lower body clad in a closely fitting dhoti gathered at the ankles and secured with a belt at the waist, a shawl across her chest and shoulders, the hands forming varada and vitarkamudra, her face serene with polychrome accents to the face and a crown framing the forehead and secured by a band tied over blue painted hair drawn up into a knotted jatamakuta and topped by a cintamani jewel, with tresses falling to the bare shoulders and flanked by lotus blossoms on either side. The metal covered underside incised with a double varja.
A silver Qing Dynasty Vajrasattva, seated and dressed in incised robes, is decorated with turquoise and coral. Its base is sealed with a double varja. It is Lot 204, $6,000-$10,000. Bronze with silver inlay were used for a statue of the 5th Dali Lama. It is Lot 193, a rare 6-pound treasure valued at $6,000-$8,000.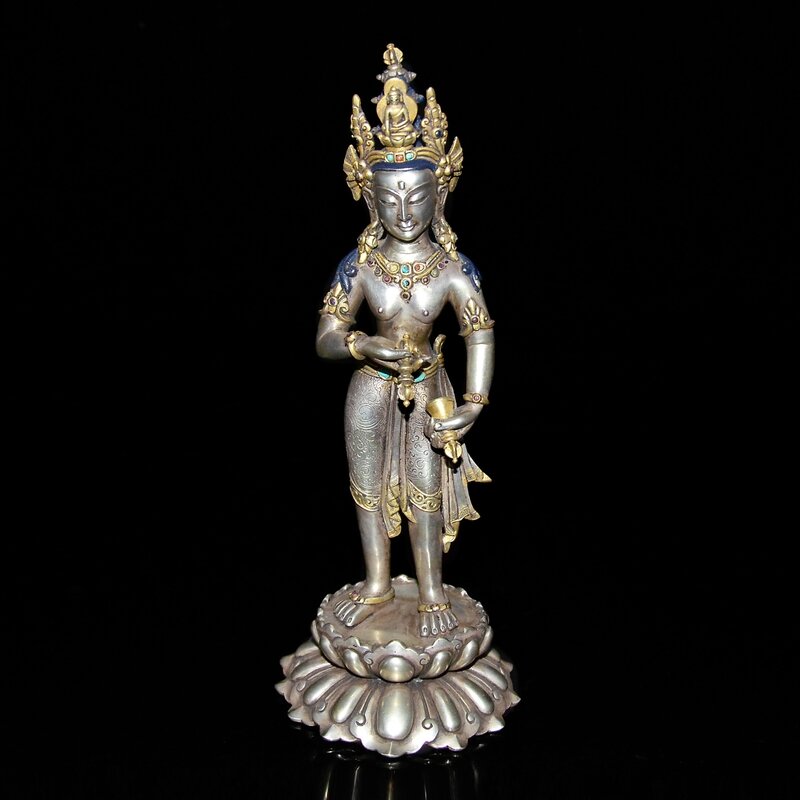 A Silver Figure of Vajrasattva, Qing Dynasty. Height: 10⅝ in (14.3 cm). Weight: 1278 g. Estimate $6,000-$10,000.
Standing on a double-lotus base with the hands holding varja, dressed in robe incised with dentilated pattern and adorned with gems, face with downcast expression surmounted with a tiara topped with a varja finial. The base sealed with a double varja.
Two Thangka wall murals, Lots 194 and 195, depict Goddess Sarawati with a stringed instrument and Ushnishavijaya holding all her instruments and framed by a flaming mandorla. Painted in gouache, the dynamic pieces will bring $3,000-$4,000.
Stone reflections of faith include Lot 34, a Guanyin with amphora bottle carved of shoushan stone. At 11-inches, it is $3,000-$4,000. Polychrome adorns the carved shoushan stone Budai Louhan at Lot 35. Its estimate is $2,800-$5,000. Polychrome furon stone makes Lot 36, a delicately decorated Guanyin dressed in flowing robes and holding an amphora bottle, a smart buy at $3,000-$6,000. Lot 6, a carved jade pendant of Maitreya, is destined to fetch $600-$1,000.
Lot 71, is a hanging scroll of Guanyin of South Sea painted by Hong Yi (Li Shutong – 1880-1942). The red ink-on- paper is signed and has two artist seals. Its value is $8,000-$15,000.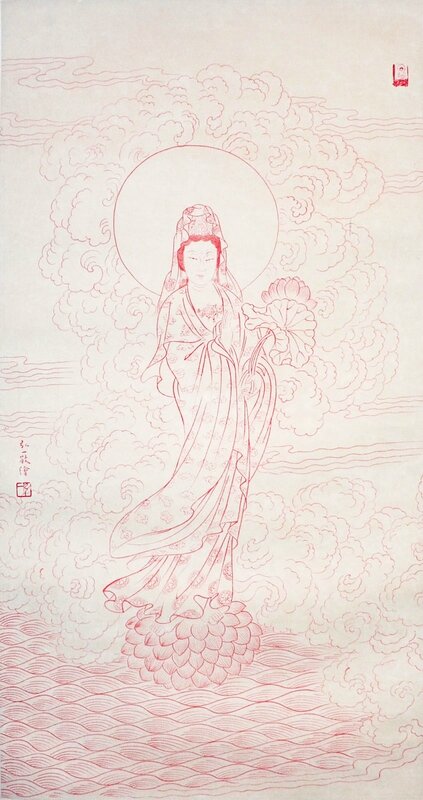 Lot 71. Hong Yi (Li Shutong), (1880-1942), Guanyin Of South Sea. Hanging Scroll, Color on Paper. Signed Hong Yi, with two artist seals, 32½ × 16⅞ in., 82.6 × 42.9 cm. Estimate $8,000-$15,000.
Fine Scroll Paintings
Fine art collectors who appreciate the company they keep need only view the thirteen Emperor seals, twenty-two collectors' seals and colophon by Emperor Qianlong that adorn Lot 113, Traveling Troupe, a Northern Song Dynasty painting by Fan Kuan (950-1032). A masterpiece of tonality, the ink on paper captures the high rising river and plateaus of a mountain while a troupe of travelers in the foreground groom their water buffalo and attend to daily chores. The estimate on Lot 117, Traveling Troupe, is $15,000,000-$20,000,000.
Fan Kuan, Northern Song dynasty, Traveling Troupe. Hanging Scroll, Ink on Paper. Signed Fan Kuan, with one artist seal. Thirteen Emperors' seals. Twenty-Two collectors' seals. Colophon by Emperor Qianlong. Estimate $15,000,000-$20,000,000.
The strong collection of landscapes continues with Lot 113, Spring Outing by Tang Yin (1470-1523), and ink-on-paper portraying rockery in the foreground of a bridge with two-foot travelers, all set above a pavilion by the river's edge filled with people. An inscription, signature, one artist seal and seven collectors' seals support the $3,000,000-$4,000,000 estimate.

Tang Yin, Ming Dynasty, Spring Outing. Hanging Scroll, Ink & Color on Paper. Inscribed and signed Tang Yin, with one artist seal. Seven Collectors' seals. Estimate $3,000,000-$4,000,000.
River's End by Wang Shimin (1592-1680) a highly stylized undulating landscape depicting bridge over river and varieties of lichen, evergreens and blue leafed tees is dated 1668. It is signed by the artist and bears two artist seals, nine Emperors' seals and three collectors' seals. Bidding starts at $200,000.
Lot 94. Wang Shimin (1592 - 1680), Qing Dynasty, River's End. Hanging Scroll, Ink & Color on Paper. Dated 1668. Signed Wang Shimin, with two artist seals. Nine Emperors' seals. Three Collectors' seals 51 × 25 in., 130 × 63 cm. Estimate $200,000- $300,000.
Fast forwarding to mid-century, Lot 100, Spring Trees by Wu Guanzhong (1919-2010) makes a strong abstract statement with a ground of colorful ink splashed overlaid with bold black strokes. Signed, with one artist seal, it is set to go off at $40,000-$60,000.
Lot 100. Wu Guanzhong (1919 - 2010), Spring Trees. Hanging Scroll, Ink & Color on Paper. Signed Wu Guanzhong, with one artist seal 52 × 26 in., 133 × 66 cm. Estimate $40,000-$60,000.
Florals, animals, fruit, scholars and maidens all bring the Chinese lifestyle and beliefs into the visual dimension. Artists Qi Baishi, Ru Pu, Li Keran, Li Kuchan and others are represented with works that range in value from $20,000 to $200,000. For instance, Lot 89, Crabs and Cabbage by Qi Baishi (1864-1957 is a masterful painting in spare strokes that will bring $25,000-$40,000 while Lot 116, Road to Riches, captures in few strokes a worker with rake and basket. Dated 1947, it is signed, with three artist seals, and will go off at $150,000-$200,000.
Lot 89. Qi Baishi (1864 - 1957), Crabs and Cabbage. Hanging Scroll, Ink & Color on Paper. Signed Qi Baishi, with one artist seal, 26½ × 17⅜ in, 67.3 × 44.1 cm. Estimate $25,000 to $40,000.
Lot 116. Qi Baishi (1864 - 1957), Road to Riches. Hanging Scroll, Ink & Color on Paper. Dated 1947. Entitled and signed Baishi, with three artist seals, 35⅛ × 18½ in., 89.2 × 47 cm. Estimate $150,000-$200,000.
Among the more majestic paintings is Lot 106, Horse and Attendant by Ru Pu (Xin Yu – 1896-1943), a modem rendition of the black stallion obedient in the hands of a handler in blue. The 1945 ink-on-silk is valued at $15,000-$30,000.
Lot 106. Pu Ru (Xin Yu) (1896 - 1963), Horse and Attendant. Hanging Scroll, Ink & Color on Silk. Dated 1945. Inscribed and signed Xinyu, with two artist seals, 24⅜ × 14⅛ in., 61.9 × 35.9 cm. Estimate $15,000-$30,000.
The attributes of scholars are poignantly portrayed in Lot 126, Luohans Crossing by Zhang Daqian (1899-1983), that shows a wizened old man supported by attendant crossing water will fetch $50,000-$80,000. Study Group, 1951, also by Zhang Daqian, captures two men pouring over a book. It is inscribed and signed with three artist seals bringing the auction to $40,000-$50,000. Both pair nicely with Lot 30, a golden shoushan stone boulder carving of nine Luohans moving between heaven and earth. It is $2,000-$4,000.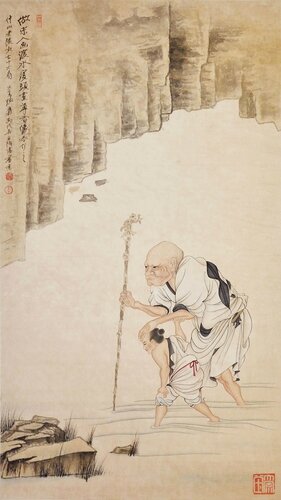 Lot 126. Zhang Daqian (1899 - 1983), Luohans Crossing. Hanging Scroll, Ink & Color on Paper. Dated 1946. Inscribed and signed Zhang Yuan, with four artist seals, 30 × 17 in., 76.2 × 43.2 cm. Estimate $50,000-$80,000.

Lot 87. Zhang Daqian (1899 - 1983), Study Group. Hanging Scroll, Ink & Color on Paper. Dated 1951. Inscribed and signed Zhang Yuan, with three artist seals, 47½ × 17½ in., 120.7 × 44.5 cm. Estimate $40,000-$50,000.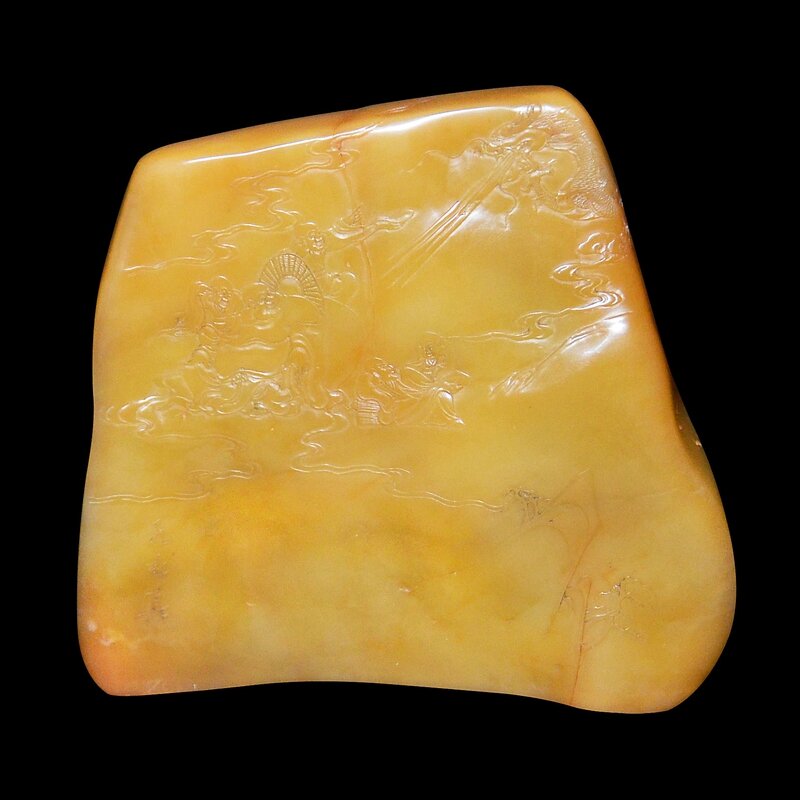 Lot 30. Translucent Golden Shoushan Stone Boulder Carving of Nine Luohans. Estimate $2,000-$4,000.
Exquisitely carved with flaming dragon above and rockwork below, depicting nine luohans moving between Heaven and Earth. With wood stand. Height: 5½ in ( 14 cm)
Seals and Smalls
Always popular with collectors are shoushan and jade seals. The auction puts a fine collection up front. The most sought after will be Lot 32, an olive green jade dragon seal of the Ming Dynasty. Surmounted on a rectangular base is a highly detailed, very scaly, recumbent dragon. The base has a six character intaglio: Zhengtong Huangdi Zhibao (Treasure of the Zhengtong Emperor.) The five pound seal is valued at $30,000-$50,000.
Rounding out the sale is a collection of the mythological creatures that populate Chinese mythology. Lot 173 a rare pair of rock crystal bixie from the Song Dynasty, predating the prevalence of Ming and Qing Dynasty crystal carvings, reflects the importance of the stone, known as "essence of water." This crouching pair is very detailed and expected to find a buyer at $28,000-$40,000. Other bixie in the sale are represented in yellow jade (Lot 174), shoushan stone (Lot 12) and carved bamboo root (Lot 137).
For details on carved jade decorative items and the fine collection of zitan and burl wood collectibles, please visitwww.gianguanauctions.com