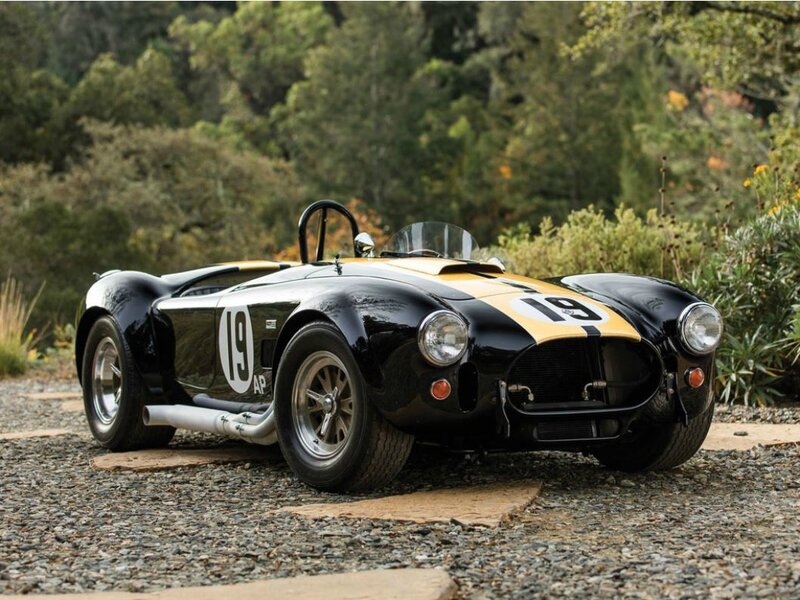 1965 Shelby 427 Competition Cobra. Sold for $2,255,000. Courtesy of RM Sotheby's
Chassis no. CSX 3010
620 bhp, 427 cu. in. OHV V-8 engine with a single Holley carburetor, four-speed manual transmission, four-wheel coil-spring independent suspension with rack-and-pinion steering and four-wheel disc brakes. Wheelbase: 90 in.
One of just 23 Competition 427 Cobras produced
Winner of the 1968 U.S. SCCA A Production Championship and the 1971 Eastern Canadian Endurance Championship
Veteran of many historic racing events and 1,000-mile tours
With the gap closing between the 289 Cobra and its competitors, Shelby was looking to keep the Cobras firmly ahead of the competition for the 1965 season. In Ken Miles' opinion, what the Cobra needed was a larger, more powerful engine. Luckily enough, Ford had the perfect engine for the job: the new 427–cubic inch V-8. Supported with a brand-new chassis with coil springs at all four wheels, the new 427 Cobra was sure to be just what was needed to keep Ferraris and Corvettes at bay on racetracks at home and abroad.

A COBRA FOR THE GOVERNOR'S SON

The Cobra presented here, chassis number CSX 3010, is the 10th chassis number of only 23 427 Competition Cobras built by Shelby, which are considered by many to be some of the most desirable Cobras in existence. It was built in early 1965 and invoiced to its first owner, Don Russell Jr. of Colombia, South Carolina, son of the state's then-Governor, Donald S. Russell. According to the fourth edition of the World Registry of Cobras and GT40s, CSX 3010 was fitted with a less aggressive exhaust for street use, a shoulder harness, and road lights.

Fulfilling a desire to run his Comp 427 on both the street and the track, the car reportedly appeared in two local speed events with Russell. However, Russell determined that the car was too wild for his street use and decided to sell. CSX 3010 was purchased by George Butler of New London, Connecticut, just two months after it had been delivered to the Governor's son. Records show that while Butler failed to finish in its first outing at the Garden State Cup at New Jersey's Vineland on June 13, 1965, he took home first place in the A Production class at the SCCA regional event at Connecticut's Thompson Speedway on October 10th.

CSX 3010: THE ONLY 427 COBRA TO WIN CHAMPIONSHIPS IN TWO COUNTRIES!

Staying in the Northeast, the Cobra was sold to Peter Consiglio of Worcester, Massachusetts, in 1967. Consiglio raced the car in regional SCCA events with mild success that year before deciding to step up to SCCA National competition in 1968. Gus Zuidema, also in Worcester, prepared the car for competition, including black paint with actual gold leaf stripes. Though odds were stacked against him in his rookie season, Consiglio proved to be a highly successful competitor behind the wheel of CSX 3010. He was on the podium for all but three of no less than 11 SCCA races that season while besting the 1966 champion CSX 3009 in divisional standings. Qualifying for the SCCA's American Road Race of Champions (ARRC) at Riverside, Consiglio and CSX 3010 won the A Production championship, beating out the 1967 champion CSX 3035 driven by Dick Smith and the 1965 champion CSX 3008 driven by Hal Keck, as well as the 427 Competition Cobras CSX 3028 and CSX 3020, of Jack Hurt and Dave Dralle respectively. For a rookie year in SCCA National competition, this was an incredible result!

Following his very successful season, Consiglio sold CSX 3010 to John Risley of Halifax, Nova Scotia, who continued to race the car, primarily in the Canadian Endurance Championship Series. Risley and co-driver David Fram saw similar success to Consiglio and often found themselves on the podium. Unfortunately, the fourth and final round of the Championship at Circuit Ste-Croix in October of 1971 was not only the last race of the season for Risley and Fram but also the last race of CSX 3010's period racing career. Following repairs to a broken axle early in the race, the car suffered brake failure that caused a rollover and took them out of the race. Despite this result, Risley and Fram still finished first overall for the season in the Eastern Canadian Endurance Championship due to their previous finishes!

After the accident, the car was sold unrepaired and without an engine to Andrew Davidson in 1971 and then to Pat Price and Marc Hefte. The gentleman who is the car's current custodian acquired it in 1978. With plans to take the Cobra back to the racetrack, finding that the chassis was straight and that the car's body had taken the majority of the damage in the accident, he had CSX 3010 fully rebuilt by Stewart Hall. The completed car was shown and took 1st at the 1982 Palo Alto Concours d'Elegance. Over the next few years, the Cobra was driven and vintage raced, including at the 1983 Monterey Historics. It was offered for sale at the first Monterey Vintage Sports and Race Car auction in 1986, where it hammered sold at $138,000, making it the most expensive Cobra ever sold at that time. Shortly thereafter, it was purchased by Steve Prewitt, who toured and vintage raced the car over the next 25 years.

RETURNED TO A FAMILIAR HOME

Following Steve Prewitt's passing in 2007, the gentleman who sold the car in 1986 followed his longtime passion for CSX 3010 and re-purchased it in 2011 from Prewitt's estate. As the car had been sitting for a few years, he refurbished the car once again over the next few years in preparation for further vintage racing and touring. The suspension and transmission were rebuilt, while the interior was freshened and the black paint with famous gold leaf stripes restored. A fresh engine was installed in 2014.

Producing over 600 brake horsepower, this Cobra is not confined to the garage or the concours field; it has been driven and enjoyed on a regular basis by its current owner. In a recent conversation with RM Sotheby's Research Department, the owner commented that he has been on at least seven tours with the car, the most recent being the Cobra 1000 Invitational in Idaho and Wyoming in September of 2015. In addition to touring, it has raced at the Monterey Historics multiple times. While it has been toured more frequently than raced, it can easily be converted to race-spec with minimal effort for serious track-day outings. Receiving high praise for its dual purpose as a vintage racer and comfortable high-speed tourer from its current owner, there is seemingly little that this Cobra cannot do. Included with CSX 3010 is its original front clip, street and race equipment, and a file of documentation from throughout its life. With 620 brake horsepower from a true 427 cubic inches and a race weight of 2,420 lbs., the weight-to-power ratio is an incredible 3.9 horsepower per pound!

CSX 3010 exhibits all of the over 100 factory modifications for Competition 427s, beyond the obvious roll bar, quick jack pads, magnesium Halibrand wheels, side pipes, and scoops for air and oil. Other factory upgrades include a remote oil filter, an Aviaid oil pan, a "turkey pan" air box, vented inner panels, a 42-gallon fuel tank, dual Stewart Warner electric fuel pumps, an FIA "suitcase bump," competition brakes, a reinforced suspension, 1965 date-coded Koni shocks, a riveted leading edge of the hood, dual aircraft batteries, a differential oil cooler with electric pumps, and a 3.73 differential.

The 427 Competition Cobras have always been the most desirable Cobras ever built, and ownership of one of these true 427 Competition Cobras is a dream of many Shelby enthusiasts. With an unmatched competition history and offered in its current state as a dual-purpose vintage racer and grand tourer, CSX 3010 is indeed the ultimate enthusiast's Cobra.
RM Sotheby's, ARIZONA, 28-29 January 2016