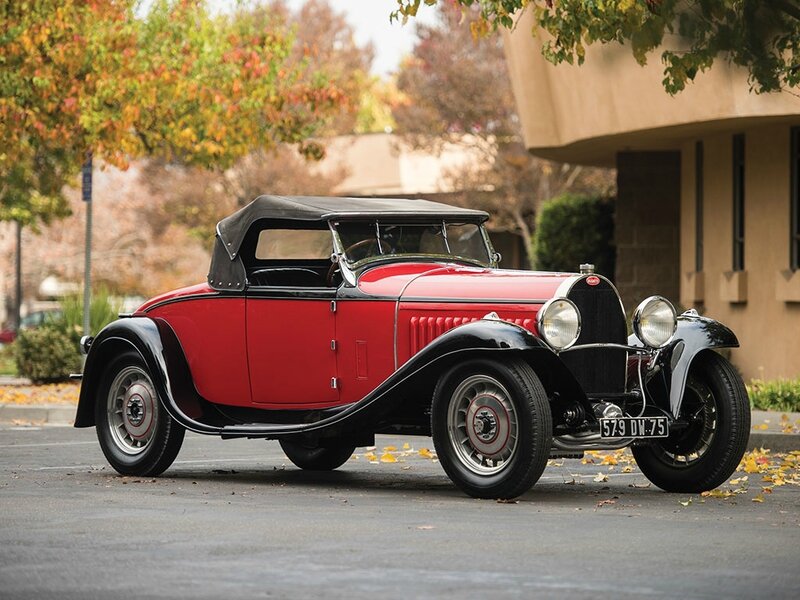 1931 Bugatti Type 49 Roadster by Gangloff. Sold for $852,500. Courtesy of RM Sotheby's
Chassis no. 49431 - Engine no. 275 - Gearbox no. 277 - Body no. 393 - Rear axle no. 277
Body Style 2787. 85 hp, 3,257 cc SOHC inline eight-cylinder engine, four-speed manual transmission, front semi-elliptical leaf-spring suspension, live rear axle with three-quarter-elliptical inverted suspension, and four-wheel mechanical brakes. Wheelbase: 122.8 in.
A desirable and rare short-wheelbase Type 49
Original chassis, engine, and body
Formerly owned by Jess Pourret and Nicolas Seydoux
Recent uncovered history by Bugatti historian Kees Jansen
The last of the early overhead-cam eight-cylinder Bugattis, the Type 49 was described in a contemporary report as a successful blend of comfortable carriage and lively sports car—something that still aptly describes the rare survivors today. A mere 470 examples were built between 1930 and 1934, of which the example offered here, chassis number 49431, is the rare and dashing short-wheelbase variant.

This car was one of two identical examples ordered at the same time by Bugatti agent Antonin Joly et Frères of Tunis, and it was sent to Alsatian coachbuilders Gangloff, that great favorite of the Bugatti factory, for their especially lovely roadster body with a "dickey" seat, folding windshield, and artfully flowing fenders. It is important to note that this very sporty coachwork actually predates the similar design credited to Jean Bugatti for the later Type 55! With body number 393 installed, the car was subsequently delivered by Joly to a client who wished to register it in France.

The history of this Type 49 picks up in 1955 in Paris, where, still very original and intact, it was registered as 579 DW 75. Several years later, the attractive little roadster participated in the 1958 International Bugatti Rally, organized by the Dutch Bugatti Club, which included stops at Château d'Ermenonville, the home of Ettore's daughter Lydia, as well as Le Mans. It also appeared the same year in a French film, La Chronique Provenciale.

In 1967, the Type 49 came up for sale at Henri Novo's garage in Montrouge, Paris, and was subsequently sold to Jess Pourret, the well-known collector and historian famous for his works on Ferrari. Monsieur Pourret reported the car to Bugatti historian Hugh Conway as 49431, with engine number 275, in 1974, indicating that it had retained both its original identity and engine up to this point. He participated with the car in a Bugatti rally at Bec Hellouin in 1968 and at a Bugatti Owners Club meeting at Prescott in 1969. Later, the Bugatti became one of many wonderful automobiles owned by the noted French collector Michel Seydoux, before its eventual sale through well-known broker Edgar Bensoussan.

At some point, the Type 49 gained the serial number tag 49122, however, in studying the Bugatti and its components, there is no question that this is actually 49431. Aside from the replacement of the original carburetor with a Weber unit and the addition of an auxiliary radiator under the chassis, there is no evidence of major changes made to the car during its long history.

The woodwork in the body bears the Gangloff number 393, and the drivetrain appears to be completely matching with engine number 275, transmission number 277, and rear axle number 277. The internal frame number is 1179, which, at a glance, appears to be a late Type 44 number, however, Jansen notes that, by the time of this car's production in late 1931, the short-wheelbase Type 49 was available only by special order. Rather than manufacture a new frame, the factory would use one of the leftover stock of the Type 44 chassis, which were of the same dimensions and virtually identical, so this last major component appears to be original to 49431 as well.

A lovely and honest Type 49, this car is among the few short-wheelbase examples to have been made publically available and awaits a new home where it can be driven and enjoyed, as its designer intended, or restored to modern concours standards. It will most certainly have exceptional presence wherever it is shown.
RM Sotheby's, ARIZONA, 28-29 January 2016