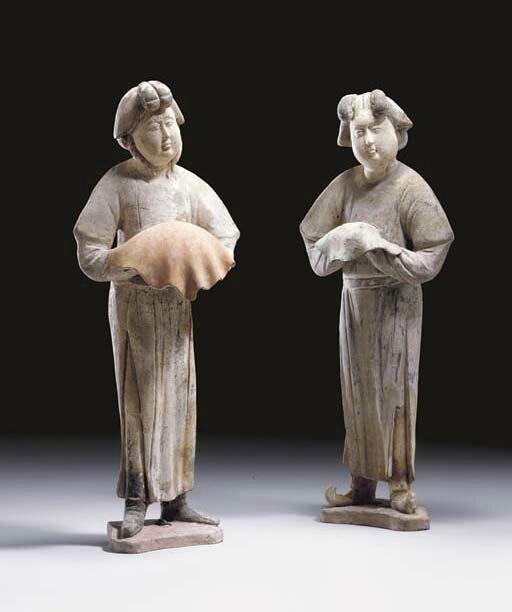 A pair of unusual painted grey pottery figures of female attendants, Tang dynasty (618-907). © Christie's Image 2003
Well modelled standing with hands hidden beneath a cloth, wearing belted mens'-style robes that blouson over the sides of the belt applied in back with gilded bosses, the long slit skirt showing the black boots worn by one and the trousers and shoes with upturned toes worn by the other, the full faces with small features beneath a helmet-like coiffure pulled up into topknots above the forehead, traces of white slip, and orange, pale green, red and black pigment - 16¼ and 16½in. (41.3 and 41.9cm.) high (2) - Lot 213. Estimate $70,000 - $90,000. Price Realized $59,750
Notes: These rare and charming figures relate closely to a Tang dynasty painting on silk depicting female attendants, which was excavated from the Astana site, Turfan, Xinjiang province in 1972, illustrated in The Silk Road - Treasures of Tang China, Empress Place, Singapore, 1991, p. 65. The right-hand figure in the painting has the same twin topknots falling forward onto her forehead as have the current pottery figures. The figures also share a similar style of dress. The attendants in the painting also wear long, loose tunics, belted on the hips and split at the sides. Like the pottery figures they also appear to wear a knee-length robe beneath the tunic with striped underskirt or loose trousers. Interestingly, one of the figures in the painting wears shoes with upturned toes and the other flat-fronted footwear, mirroring the current ceramic figures.
The Astana painting may also offer a clue to what the pottery figures are carrying. One of the figures in the painting appears to be holding a gold cup on a gold cup stand. Comparing her stance with that of the ceramic attendants, it seems very possible that they are carrying something similar beneath cloth covers. These covers might well have been intended either to preserve the heat of whatever was in the cup, or to prevent dust from despoiling either the precious vessel or its contents.
The result of Oxford Authentication Ltd. thermoluminescence test nos. C103b14 and C103b15 are consistent with the dating of this lot.
CHRISTIE'S. FINE CHINESE CERAMICS AND WORKS OF ART, 18 September 2003, New York, Rockefeller Plaza