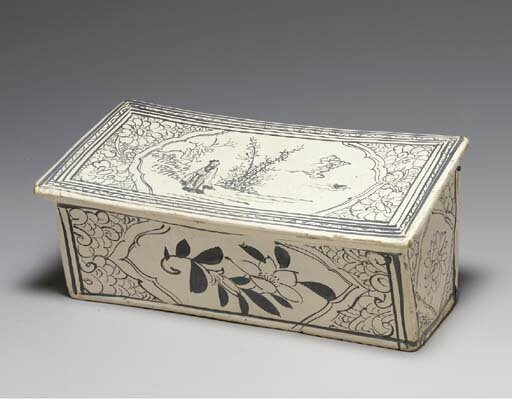 A Cizhou painted 'Zhang family' pillow, Late Northern Song-Jin dynasty, 12th-13th century. © Christie's Image 2003
Decorated on top with an ogival panel of a scholar standing by a river watching a double-gourd float by, and on the sides with panels of flowers, all surrounded by foliate designs and painted in brown on a white slip under a clear glaze, the base stamped with the three-character maker's mark Zhang jia zao (Made by the Zhang family) in a rectangular panel between a lotus blossom and a lotus leaf - 12¾in. (32.4cm.) long. Lot 245. Estimate $5,000 - $8,000. Price Realized $11,353
Provenance: Collection of Senator Hugh Scott.
Property from the collection of Mr. and Mrs. James E. Breece III
Notes: This pillow bears the stamp of the Zhang Family, a family or workshop famous for its skilled decorators that worked in an area formerly called Xiangxian, to the west of Anyang in Henan province.
Compare the similary decorated Zhang family pillow in the British Museum, London, illustrated by Oriental Ceramics, The World's Great Collections, vol. 5, Tokyo, 1981, no. 118. See, also, another pillow of this type, from the Falk Collection, illustrated by Y. Mino, Freedom of Clay and Brush through Seven Centuries in Northern China: Tz'u-chou Type Wares, 960-1600 A.D., Indianapolis, 1981, p. 143, pl. 59, and later sold in these rooms, 20 September 2001, lot 69.
CHRISTIE'S. FINE CHINESE CERAMICS AND WORKS OF ART, 18 September 2003, New York, Rockefeller Plaza