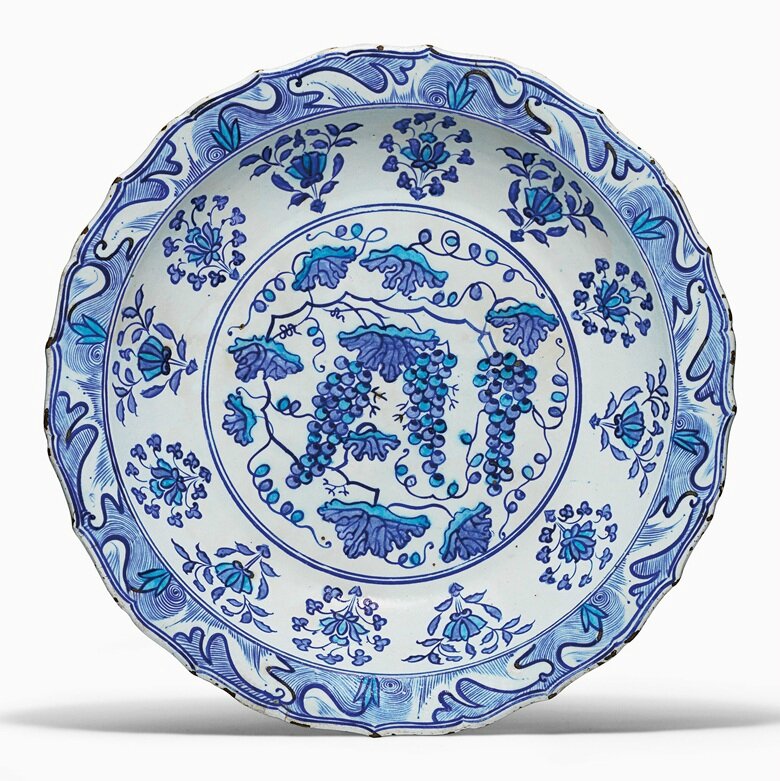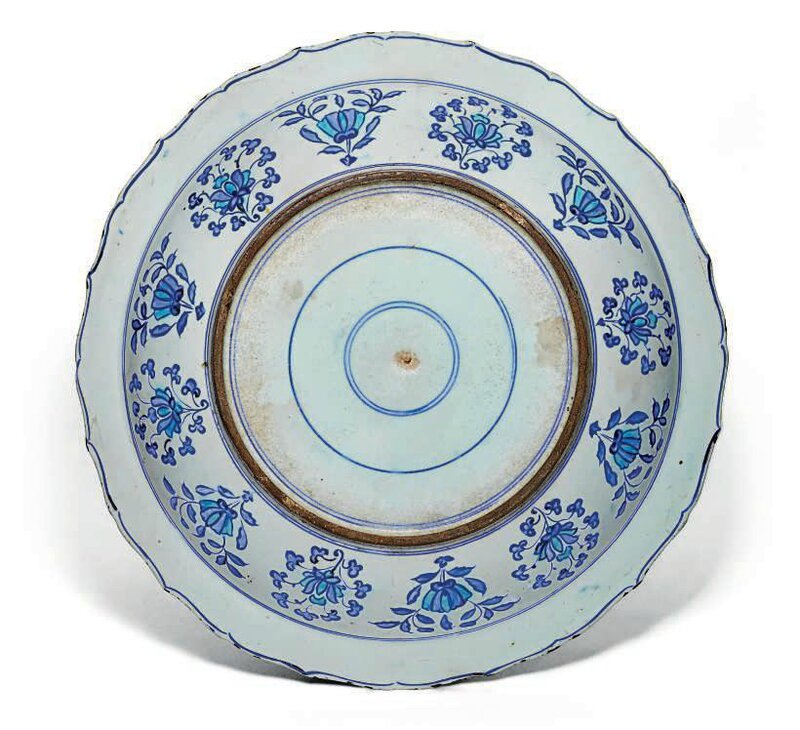 Lot 155. The largest recorded Iznik 'grape' dish: A large and impressive early Iznik pottery dish, Ottoman Turkey, circa 1530. Estimate £300,000 – £400,000 ($426,600 - $568,800). Photo Christie's Image Ltd 2016
With cusped sloping rim on short foot, the white ground painted in blue and turquoise with a central roundel containing bunches of grapes issuing from a vine with scalloped leaves and scrolling tendrils, the cavetto with an alternating design of similar palmettes issuing small leaves, the border with stylised wave design with regularly spaced small turquoise tufts, the exterior with similar palmettes to those on the cavetto, the underside with a series of concentric blue circles, minor fritting to rim, intact; 17½in.(44.5cm.) diam.
Property from a private collection
Notes: From the late 1520s Iznik potters began to imitate Chinese porcelains. Those copied were generally of the Yuan and early Ming dynasties of the 14th and 15th centuries, examples of which found their way in great quantities into the Islamic world. Of all the Chinese prototypes that existed in the Topkapi Palace collections and were copied by the potters at Iznik, it was the grape design that proved the most popular. It is clear that the grape design also found particular favour at other royal courts throughout the Islamic world - the 'Mahin Banu' grape dish for instance which recently sold at Sotheby's, New York, 17-18th March 2015, lot 264, was treasured at the Safavid Court and later came into the personal possession of the Mughal Emperor Shah Jahan.
Atasoy and Raby, in a long discussion on the group, write that the potters of Iznik were faithful to the aesthetic of their Chinese forerunners but indifferent to their 'niceties' as is evidenced by their irregular treatment of the design which was allowed more freedom of interpretation than the original (Nurhan Atasoy and Julian Raby, Iznik, The Pottery of Ottoman Turkey, London, 1989, pp.121-124). This dish is quite faithful to many of the original Chinese designs. In particular the rim with its fine swirling lines with strong cusping is unusually fine. The design of the rim relates closely to a grape dish, formerly in the Homayzi collection, which Julian Raby dates to circa 1525-30 (Atasoy and Raby,op.cit., no.313). The Homayzi dish has a very closely related arrangement and outline of the grapes. Our dish however uses turquoise glaze to a much greater extent and with much more confidence - highlighting elements in both the designs of the cavetto and the rim. This abundant use of turquoise is paralleled on another grape dish in the Sadberk Hanim Museum which Hülya Bilgi dates to circa 1530-40 (Hülya Bilgi, Dance of Fire: Iznik tiles and Ceramics in the Sadberk Hanim Museum and Ömer M. Koç Collections, Istanbul, 2009, no.16, p.77).