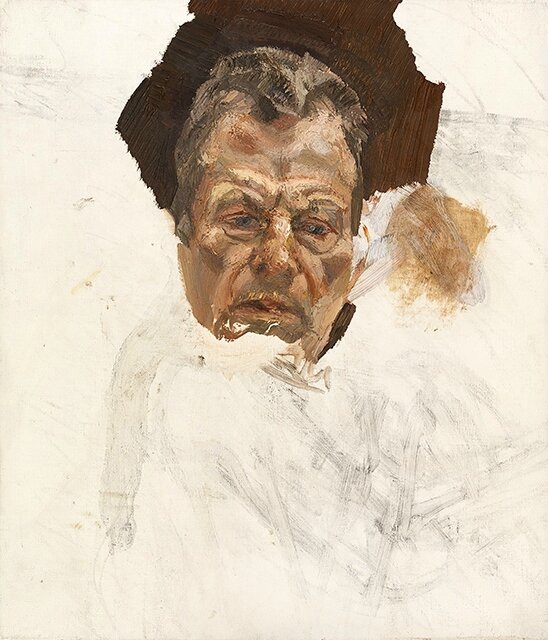 Lucian Freud, Self-Portrait (Fragment). Oil on canvas, 356 mm x 306 mm.
LONDON.- A recently discovered unfinished self-portrait of Lucian Freud (1922-2011) has been accepted in lieu of inheritance tax from the estate of the artist and allocated to the National Portrait Gallery.

The self-portrait, thought to date from the mid-1980s, will join the archive of Freud's sketchbooks, drawings and letters which were allocated to the Gallery under the scheme in 2015. A selection of these, together with the self-portrait, will go on show at the National Portrait Gallery from 11 June, as part of a small display that includes other portraits by the artist from its Collection together with important loans.

The portrait fragment is a rare example of an unfinished painting by the late artist and bears a close resemblance to 'Reflection (Self-Portrait)', 1985, in its direct pose and composition, which would suggest that it was painted around the same date.

The work reveals much about the working practice of Freud, one of the most important and influential painters of the twentieth and twenty-first centuries.

Self-portraits were a consistent thread running through the artist's work from his teenage years until the end of his life. They represent one of his greatest artistic achievements, yet there are very few examples in UK public collections.

In 2012 the National Portrait Gallery staged the acclaimed Lucian Freud Portraits, the Gallery's most visited ticketed exhibition, and the last exhibition of Freud's works to be developed in Freud's lifetime.

Sarah Howgate, Senior Curator, Contemporary Collections, National Portrait Gallery, and Curator of Lucian Freud Portraits, the last exhibition of his works exhibited at the gallery in 2012, says: 'This compelling self-portrait is one of the most intriguing of Freud's unfinished oil studies.'

This unfinished self-portrait is an important addition to the Gallery's collection of Lucian Freud portraits, and provides an interesting counterpoint to its earlier self-portrait, which dates from 1963. In addition to the recently acquired archive of sketchbooks, drawings and letters, the Gallery also has a charcoal drawing by Freud of Lord Goodman; and the artist is represented as a sitter by a sculpture by Sir Jacob Epstein, drawings by Frank Auerbach and David Hockney, and many photographs.

Culture Minister Ed Vaizey said: 'It's fantastic that this rare unfinished self-portrait will be joining Lucian Freud's extensive collection of drawings and letters at the National Gallery. Thanks to the Acceptance in Lieu Scheme, these fascinating pieces will now be enjoyed by the public for years to come.'

Dr Nicholas Cullinan, Director, National Portrait Gallery, said: 'Following the recent allocation of Freud's archive of sketchbooks, drawings and letters to the National Portrait Gallery, we are delighted to receive, on behalf of the nation, this unfinished self portrait. We look forward to displaying this important painting alongside selections from his sketchbooks and other works, offering visitors a unique insight into the practice of one of the greatest portrait painters.'

Edward Harley, Chairman of the Acceptance in Lieu Panel, which advises Ministers on offers in lieu said: 'The Acceptance in Lieu scheme enriches our public collections and we are delighted that Lucian Freud's estate has made this latest offer. Following the success of the National Portrait Gallery's Lucian Freud Portraits exhibition in 2012, it is wonderful to see this exceptional self-portrait join its collection.'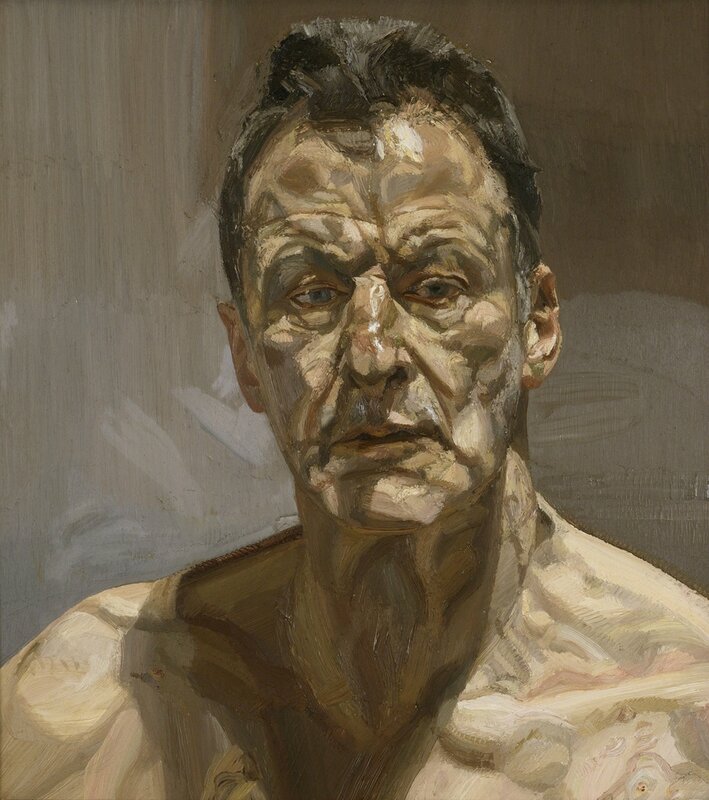 Lucian Freud, Reflection (Self-portrait), 1985. Private Collection, Ireland © The Lucian Freud Archive. Photo: Courtesy Lucian Freud Archive.