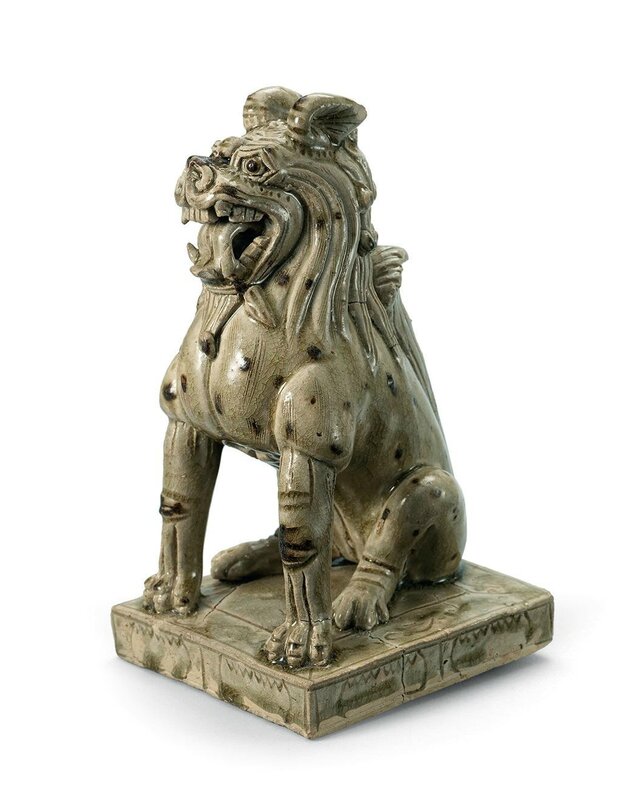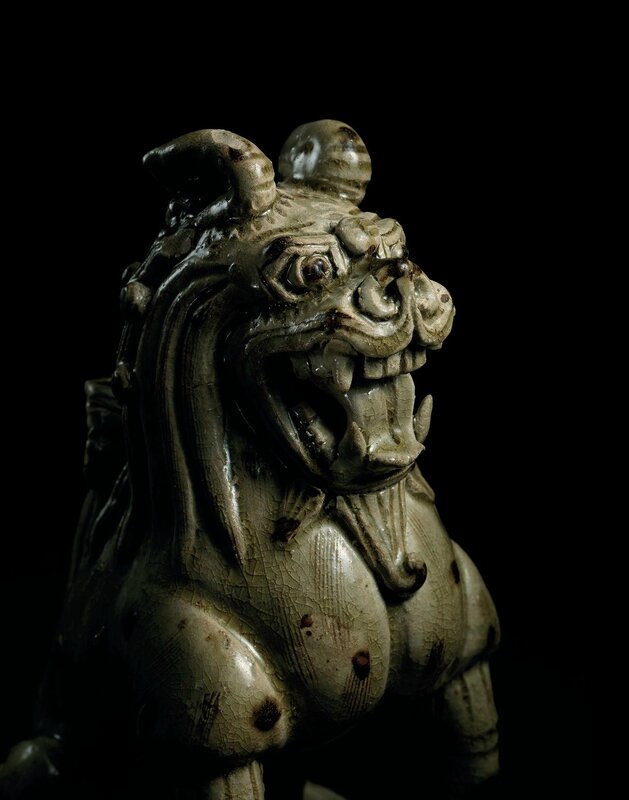 Lot 3101. An extremely rare iron-spot decorated celadon figure of a seated lion, Southern Dynasties-early Tang dynasty, 6th-7th century. Estimate HK$1,500,000 – HK$2,600,000 ($194,006 - $336,276). Price realised HKD 4,600,000. Photo Christie's Image Ltd 2016.
The lion is seated on a rectangular plinth on its haunches, with front legs braced below the strong muscular chest, the powerful head with bulging eyes, fangs exposed and ears pricked. Each side of the plinth is incised with two stylised lotus blooms within rectangular borders and the top of the plinth is further incised with floral scrolls. It is decorated overall with spots of underglaze iron-brown and covered with a crackle-suffused glaze of greyish-olive tone falling irregularly onto the base. 8 1/2 in. (21.6 cm.) high, box
Provenance: The Dexinshuwu Collection, Taiwain, acquired in 1991
Property from the Chinhuatang Collection
Notes: The present lion figure with iron-spot decoration appears to be unique with no other examples published. A closely related iron-spot decorated celadon guardian figure, found in Xianjiahu, Changsha, now housed in the Hunan Museum, is illustrated in Zhongguo chutu ciqi quanji (Complete Collection of Ceramic Art Unearthed in China), Beijing, 2008, vol. 13, p. 184. The museum attributes their guardian figure to the Yuezhou ware in Hunan province and dates it to the Tang dynasty (618-907). However, the museum also notes that the iron-spot decoration, first appeared in the Southern Dynasties (420-589), was a decorative feature rarely seen in the Sui/Tang period. Compare also a white-glazed Buddhist lion that is related to the present lot in style in a private collection in Taiwan, illustrated in Ching Wan Society Twentieth Anniversary Exhibition: Works of Art, Taipei, 2012, p. 8.
The present example and the Ching Wan Society lion share common features such as the long beard and upright tail. The Hunan museum example has a distinctive horn, which indicates it as a tomb guardian beast rather than a Buddhist lion as is the case with the cited Taiwan example and the present lion. In Buddhism the lion is revered as defender of the Law. The introduction of Buddhism into China was the main influence for the lion motif to became a popular image among bronze, stone and ceramic works of art.
The result of Oxford Authentication thermoluminescence test no. PH 004/546 is consistent with the dating of this lot.