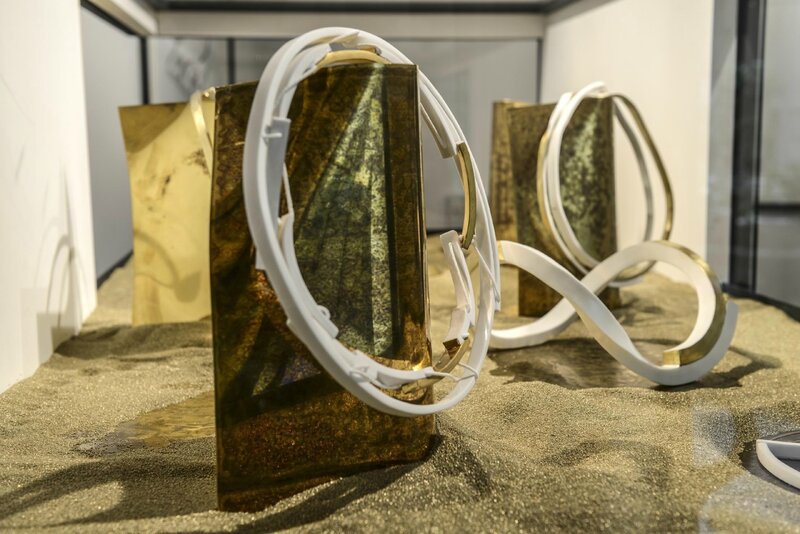 Zhou Yiyan, «Cercles». Scénographie et image de Yann Delacour. © Yann Delacour.
PARIS.- Originaire de la province de l'Anhui, à l'est de la Chine, Zhou Yiyan suit des études d'art et de design à l'université de Shanghai puis travaille comme graphiste pendant 7 ans. Elle s'installe ensuite à Paris en 2007 afin de poursuivre son cursus artistique en photographie et design. Elle développe à l'issue de ses études une collection d'objets d'art en porcelaine - inspirés de la fascination pour les cercles dans la culture chinoise - et qui sont portés comme des bijoux. Chaque pièce est unique et réalisée par l'artiste elle-même, dans un atelier de céramique contemporaine. Avec un émail brillant ou mat, dorée ou laissée brute, chaque pièce nécessite un long travail de conception et une maîtrise technique parfaite afin d'adapter les procédés artisanaux de la céramique à la forme souhaitée.
Cette année, Zhou Yiyan fait partie des lauréats du Prix de la Jeune Création Métiers d'Art, piloté par les Ateliers d'Art de France depuis 1960, qui révèle les nouveaux visages de l'avant-garde des métiers d'art en France.
Zhou Yiyan puise dans ce travail délicat de la porcelaine de nombreuses analogies liées aux relations humaines. La tension de la matière, sa résistance, les compromis à rechercher suite aux accidents de parcours, tout cela est pour elle une double invitation : renoncer à la perfection de la maîtrise de la matière et recomposer à partir des imprévus. À l'image de son rapport au monde.
Le collier « Demi-cercle » est ainsi une manière pour elle de renoncer au cercle parfait, à la perfection formelle qu'il représente, et de transformer cet échec à son avantage. Le demi-cercle manquant laisse alors la place à un autre matériau, la composition se poursuit, se modifie, s'enrichit. Dans un autre collier, la jeune artiste tisse des fils de coton à travers de la porcelaine. La tension est palpable - comme dans les cadres traditionnels de broderie chinoise en bambou maintenue par des fils de lin dont Yiyan tire son inspiration.
Zhou Yiyan, Collier demi-cercle en porcelaine mate et dorée, Pièce unique, 2015-2016. © Yann Delacour
PARIS.- Coming from the province of Anhui in the west of China, Zhou Yiyan studied art and design at the University of Shanghai, and then worked as a graphic artist for seven years before settling in Paris in 2007 to pursue her artistic studies in photography and design. she subsequently developed a collection of art objects in porcelain that are inspired by her fascination for circles in Chinese culture, and that are worn as jewellery. Each item is unique and created by the artist in a contemporary ceramics studio. Featuring glossy or matt enamel, gilded or left untreated, each piece requires a long period of design work and perfect technical mastery in order to adapt the artisanal processes of ceramics to suit the desired form.
This year, Zhou Yiyan was among the winners of the Young Creative Craftsworkers Award, which has been run by the Ateliers d'art de France since 1960 with a view to revealing new faces from the vanguard of crafts in France.
In this delicate work in porcelain, Zhou Yiyan draws many analogies with human relations. For her, the tension of the material, its resistance, and the compromises to be sought following unforeseen occurrences all amount to a double incitement: to renounce the perfect mastery of the material and recompose on the basis of the unanticipated – a reflection of her relationship to the world.
The "semi-circle" necklace is for her a way of renouncing the perfect circle, with the formal perfection it represents, while turning this failure into an asset. The missing semi-circle gives way to another material, and the composition is continued, modified and enriched. in another necklace, the young artist weaves cotton threads through the porcelain. The tension is palpable – as in the traditional chinese embroidery frames in bamboo held together by linen threads, the source of Yiyan's inspiration.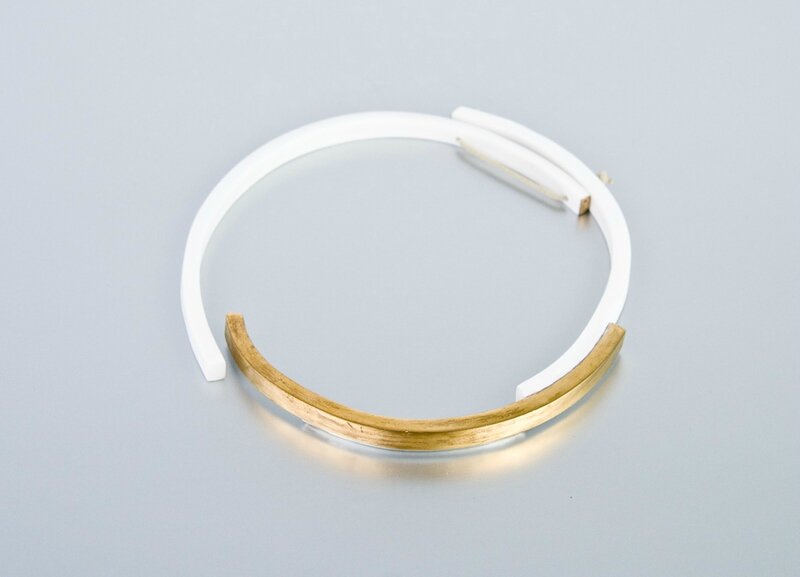 Zhou Yiyan, Necklace "3 bandes - ouvert". Porcelain and gold paint, 2016, unique © Yann Delacour.