Lot 8048. A fine archaistic very pale greenish-white jade vase, Qianlong period (1735-1795). Estimate US$ 80,000 - 120,000 (€72,000 - 110,000). Photo Bonhams.
Exceptionally carved from a single piece of very pale greenish-white stone, the flattened body swelling elegantly before narrowing to rest on a small stepped foot, the smooth sides minimally embellished with a band of shallow-carved taotie masks above the foot and another band of confronted chilong around the neck, flanked by a pair of chilong handles suspending loose rings, the lip and foot incised with a key fret band; carved wood stand and cover. 7 7/8in (19.8cm) high
Provenance: By repute, acquired in New York in the 1940s
Notes: The present lot is an exceptional example of the quality, tradition and innovation characteristic of Qianlong period jade workmanship. It is striking for the elegant balance achieved between the broadly swelling body and the narrow stepped foot. This playful yet sophisticated approach to proportion illustrates the craftsman's ability to respond to the natural qualities of each individual raw stone, and to create a unique form within the prevailing tradition of archaism.
While the proportions of the present lot are exceptionally rare and pleasing, the contrast between the restrained, smoothly polished body and the delicate low relief archaistic decorative bands is typical of Qianlong period design. The refined carving allows the purity and translucence of the natural stone to be appreciated fully, so taking full advantage of the highest quality stones from Khotan that became available following the subjugation of Xinjiang. The use of motifs such as the taotie mask, derived from archaic bronzes, embodies the preoccupation of the Qianlong Emperor himself to restore China's greatness through studying the strict moral principles of ancient times.
For related examples of fine archaistic jade vases, see a square form vase carved with taotie masks from the Qing Court Collection illustrated in The Complete Collection of Treasures of the Palace Museum: Jadeware (II), Hong Kong, 2006, no. 146, and a vase and cover from the Joanna Lau Sullivan Collection sold in our New York rooms, sale 23337, 14 March 2016, lot 8064.
Lot 8040. A large white and russet jade recumbent phoenix, 18th century. Estimate US$ 20,000 - 30,000 (€18,000 - 27,000). Photo Bonhams.
Exceptionally finely carved from an even white stone highlighted with attractive russet inclusions, the bird depicted crouching with its legs tucked neatly underneath the body, the proudly crested head turned to look backwards over the elaborately feathered body and wings, the long tail heavily plumaged with thick, curling feathers, all polished to a soft gleam. 6in (15cm) long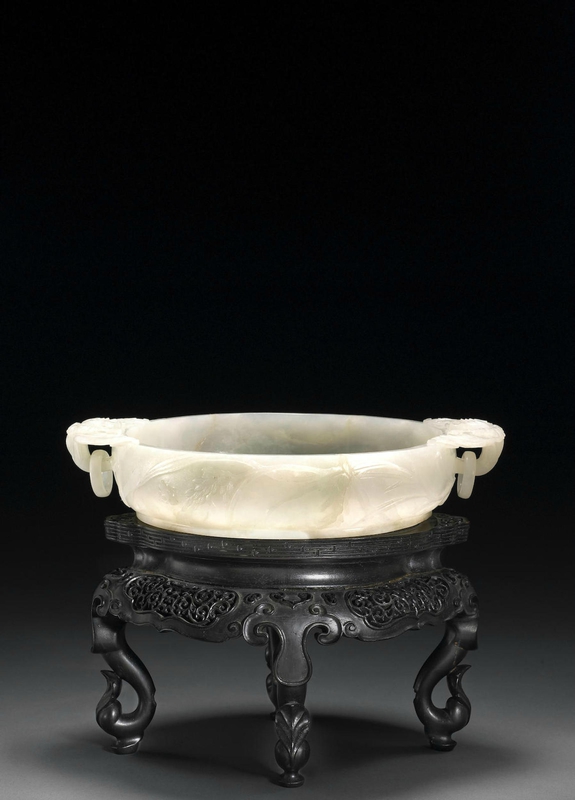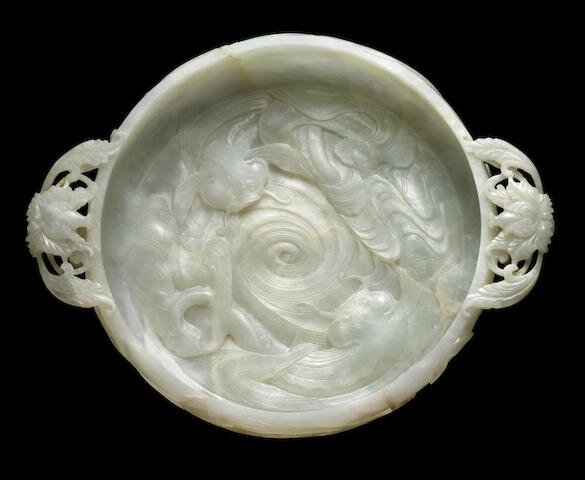 Lot 8037. A white jade marriage bowl, 18th-19th Century. Estimate US$ 20,000 - 30,000 (€18,000 - 27,000). Photo Bonhams.
Of compressed globular form, carved with carp swimming amid swirling waves across the floor of the well and with millet stalks surrounding the low exterior walls, reticulated plaques of flower and leaf scrolls topping the opposing loop handles suspending loose rings; the celadon-tinged matrix displaying icy white inclusions, some natural fissure line and faint russet staining; with elaborately carved wood stand. 9in (23cm) wide
Provenance: Christies New York sale, 27 November 1991, lot 187
Bonhams, San Francisco, sale 17541, 15 December 2009, lot 8089
Exhibited: Chinese Beauty & Elegance: Collecting and Connoisseurship in Scholarly Taste, Las Vegas Art Museum, 29 July to 23 September 2006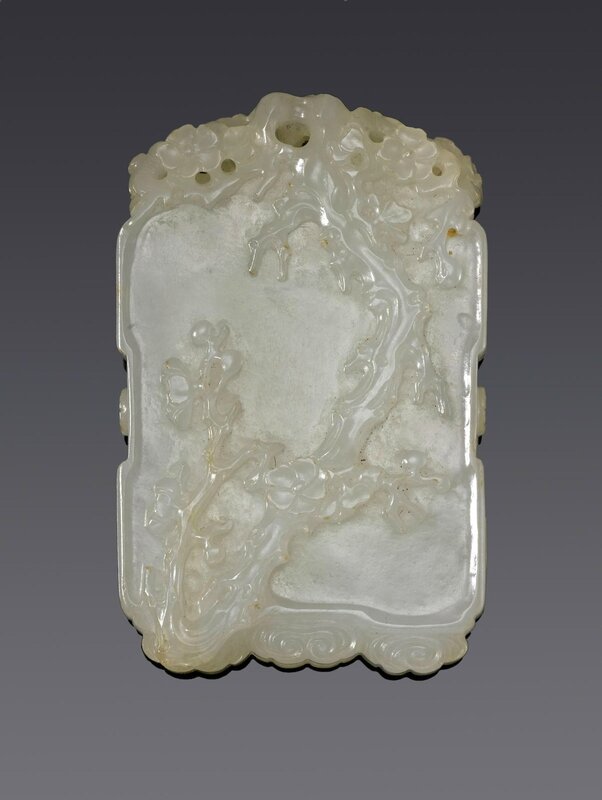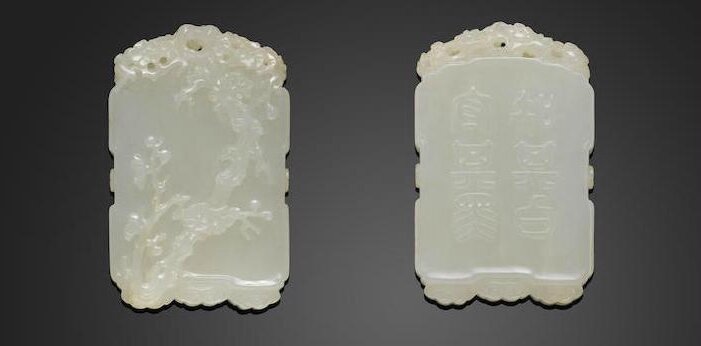 Lot 8043. A white jade plaque with plum blossom branch, Qing dynasty. Estimate US$ 20,000 - 30,000 (€18,000 - 27,000). Photo Bonhams.
The fine white stone crisply carved on one side with an intricately twisting prunus branch reaching from the stylized cloud scrolls at the base to cover the top with a profusion of blossoms, the reverse with six seal script characters reading zhi qi bai, shou qi hei. 2 7/8in (7.3cm) high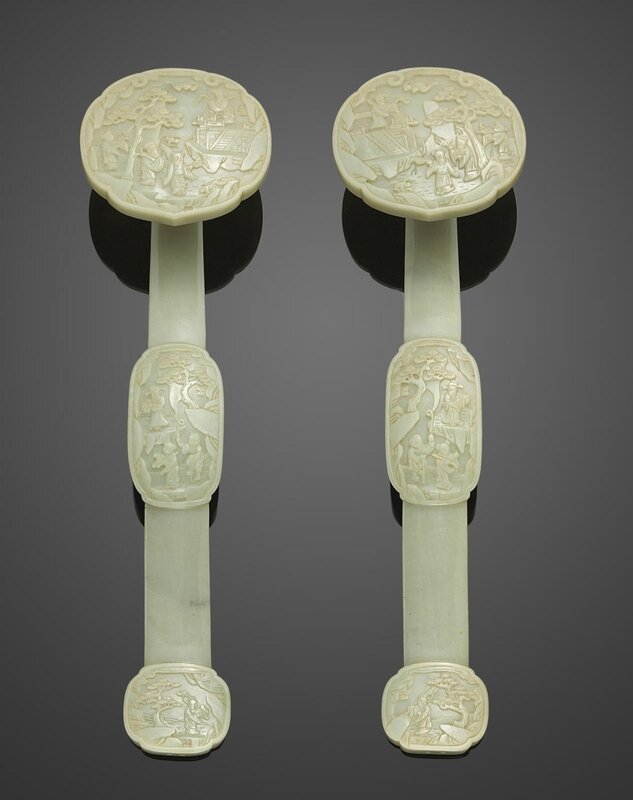 Lot 8051. A pair of Green Jade ruyi scepters, Late Qing-Republic period. Estimate US$ 20,000 - 30,000 (€18,000 - 27,000). Photo Bonhams.
Each carved as a mirror image of the other with images of the Eight Immortals in landscape setting: the scepter head showing Lan Caihe holding a basket, Zhang Guolao holding bamboo percussion instruments, and Han Zhongli holding a palm leaf fan and Lou Dongbin with a fly whisk standing at the top of a stairwell; the center reserve displaying Cao Guojiu holding jade clappers, Han Xiangzi with a flute and Li Tieguai leaning on his metal crutch; the base depicting He Xiangu holding a lotus; the reverse of the scepter head and curving handle recessed and the surfaces polished to a soft luster. 17 1/4in (44cm) long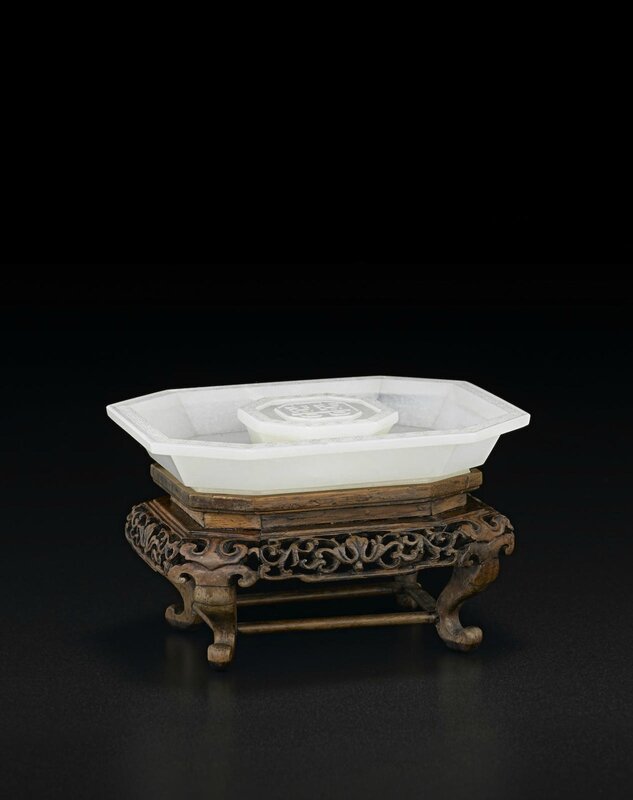 Lot 8055. A fine white jade 'shuangxi' tray, 18th century. Estimate US$ 15,000 - 25,000 (€14,000 - 23,000). Photo Bonhams.
he octagonal tray crisply carved from a single piece of fine milky white jade, the straight sides raised on a low slightly waisted foot and leading to a flat beveled rim incised with a band of key frets, the plain interior with an octagonal knob rising from the center, the surface carved in low relief with an octagonal cartouche containing the 'double happiness' characters surrounded by a key fret border; carved raised wood stand and glass display case.
5 1/4in (13.2cm) long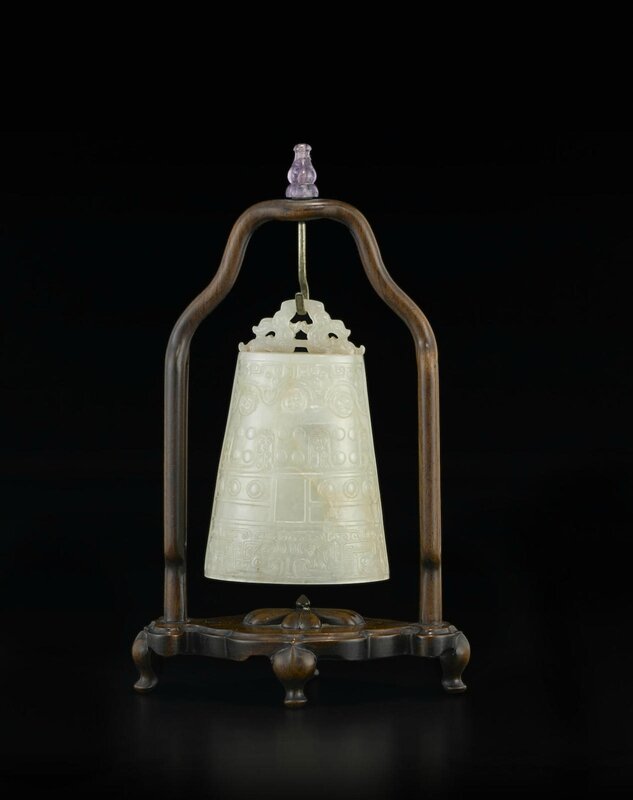 Lot 8039. A rare gray-green jade bell, 17th-18th century. Estimate US$ 12,000 - 18,000 (€11,000 - 16,000). Photo Bonhams.
The bell very thinly hollowed from grayish stone with scattered natural inclusions, the high straight sides carved with a band of stylized animal heads and scrolls at the bottom edge, below bands of archaistic raised bosses beneath a row of rope-edged medallions containing three whorls, all surmounted by a separately carved reticulated handle of stylized chilong heads and key frets; the wood frame for suspension with a shaped amethyst finial. The jade 5 1/2in (14cm) high
Notes: Jade bells such as the present lot are unusual: although carved jade can give a pleasing musical note when struck, and was frequently used for prestigious ritual musical chimes, it is rarer to find examples of bells carved in jade. It seems likely that such pieces were used more for decorative purposes, reflecting the Qing dynasty revival of interest in archaic traditions and the moral strength derived from them.
With its rows of bosses and dragon handles, the form of the present lot is based on that of Zhou dynasty ritual bronze bells. Compare a related but smaller jade bell dated to the 17th/18th century sold at Christie's, New York, sale 3767, 17-18 September 2015, lot 2383, and another example dated to the Qianlong period sold at Christie's, Paris, sale 4024, 9 June 2015, lot 48.
Lot 8038. A pale greenish-white jade double gourd pendant, 18th century. Estimate US$ 10,000 - 15,000 (€9,000 - 14,000). Photo Bonhams.
Thinly sectioned and carved on both sides in subtle relief with a raised edge and a leaf-scroll pattern framing the characters da ji (Great Good Fortune), the suspension drill hole at the top now covered by a modern yellow metal suspension mount. 2 5/8in (6.8cm) length of jade plaque; 3 3/8in (8.5cm) length including metal mount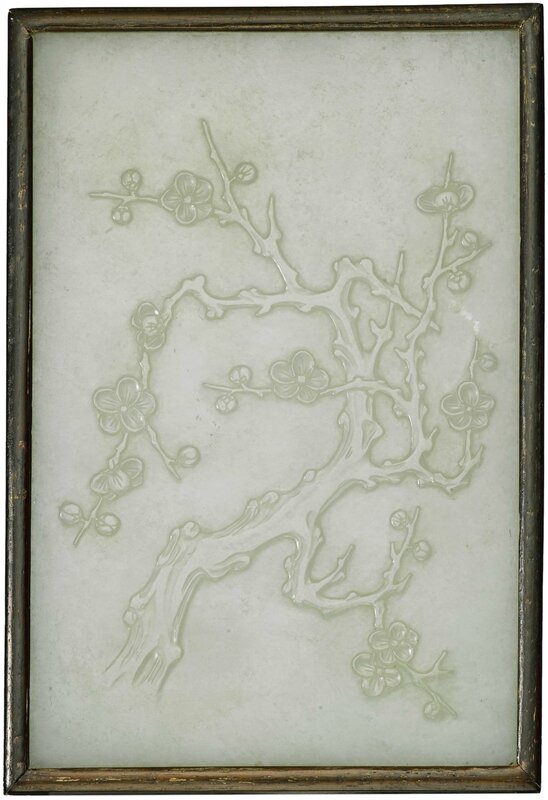 Lot 8044. A very pale green jade rectangular plaque, 18th-19th century, the inscription later. Estimate US$ 10,000 - 15,000 (€9,000 - 14,000). Photo Bonhams.
The slender plaque of pale and even stone delicately carved in shallow relief with a distinctive gnarled and spiky prunus branch issuing buds and five-petaled blossoms, all finished with a softly gleaming polish, the reverse with an incised inscription and seal embellished with traces of gilt reading Luofu xianpin. 6 1/2in x 4 3/8in (16.5cm x 11.2cm)
Note: The inscribed four-line poem can be translated as:
Spring has come to Luofu
On subtle sweet scents from these refined (plum trees)
Carrying a celestial elegance
Distilled over the course of many lifetimes.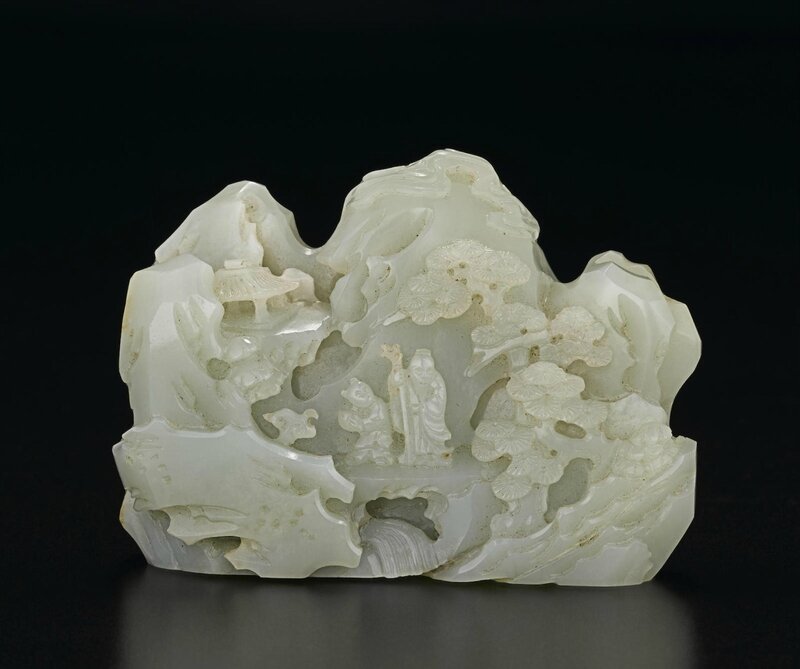 Lot 8054. A pale green jade carving of a mountain, 18th-19th century. Estimate US$ 10,000 - 15,000 (€9,000 - 14,000). Photo Bonhams.
Finely carved as a miniature mountain scene of a scholar and his boy attendant with a peach traversing a bridge spanning a rushing stream towards a remote pavilion, all amid pine and wutong, the reverse with deep rocky hollows and a crane in flight. 3 1/2in (9cm) wide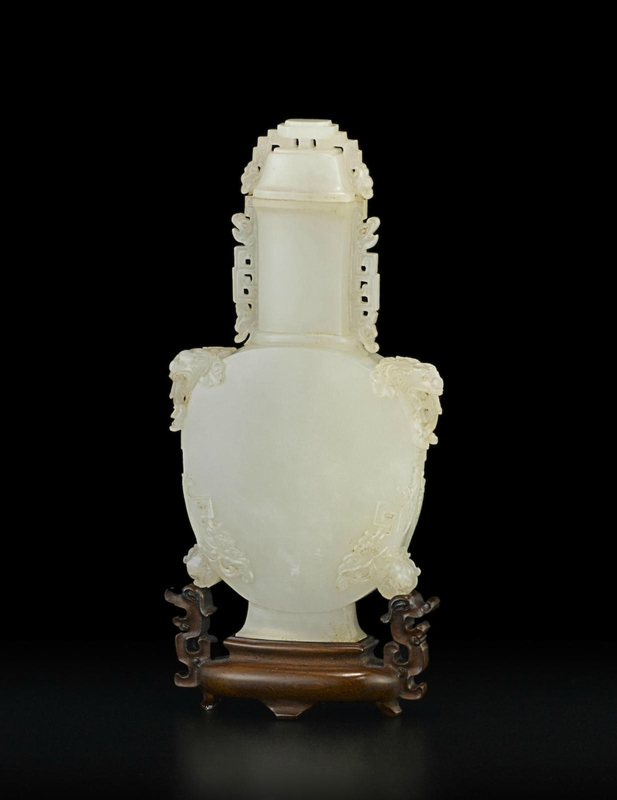 Lot 8045. A white jade flattened vase and cover, 19th century. Estimate US$ 10,000 - 15,000 (€9,000 - 14,000). Photo Bonhams.
Finely hollowed from even white stone, the very slender almost circular body raised on a flaring foot and delicately carved with a pair of animal heads at the shoulders and a further pair at the lower edges beside low relief carving of dragon heads and square scrolls, the long straight neck edged with chilong heads and reticulated square scrolls and the cover similarly carved; fixed wood stand. 5 3/8in (13.7cm) high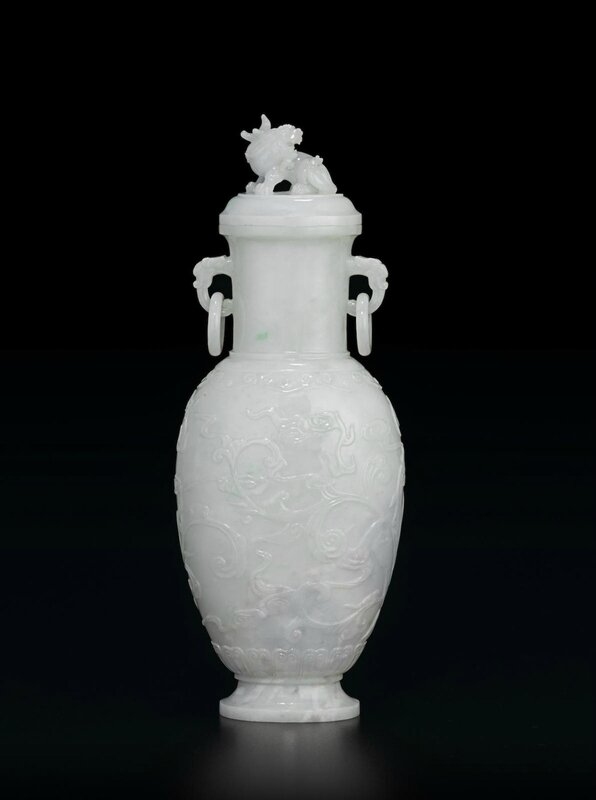 Lot 8063. A green and lavender jadeite vase and cover, Republic period. Estimate US$ 10,000 - 15,000 (€9,000 - 14,000). Photo Bonhams.
The pale stone with bright apple green and soft lavender inclusions, deeply hollowed as a baluster vase on a spreading foot, the body carved in shallow relief with two fierce chilong each with long sinuous tails and issuing scrolling foliate tendrils, both in pursuit of a single flaming pearl, the straight neck flanked by two mythical beast heads suspending loose ring handles, the cover with a horned and roaring lion forming the finial. 8 3/8in (21.3cm) high
Bonhams. CHINESE, INDIAN, HIMALAYAN AND SOUTHEAST ASIAN ART AND PAINTINGS, 2016-06-28, 12:00 PDT, SAN FRANCISCO