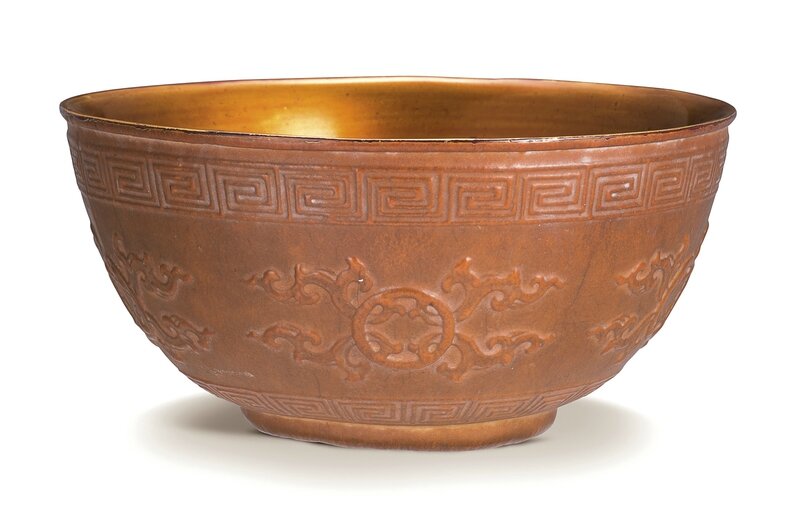 Lot49. An imperial moulded gourd bowl, Qianlong Shangwan mark and period; 14.3 cm, 5 5/8 in.. Estimate 250,000 — 300,000 HKD. Lot sold 687,500 HKD (88,495 USD). Photo Sotheby's
the rounded sides skilfully moulded on the exterior with a repeated pattern of five stylised floral roundels, the underside moulded with a four-character Qianlong shangwan mark in regular script
Provenance: Sotheby's Hong Kong, 15th May 1990, lot 326.
Notes: The humble origins of the gourd and its association with the Daoist paradise made gourd objects highly appreciated by Chinese rulers as well as the scholar literati. A major development in the moulding of gourds commenced when the Kangxi Emperor commissioned gourd vessels to be made in the Palace Workshop which transformed this folk craft into an imperial art form. For a detailed discussion of the early history of moulded imperial gourds see Wang Shixiang, 'Moulded Gourds', Gugong Bowuyuan Yuankan, 1979, no. 1, pp. 86-91, translated by Craig Clunas in the Oriental Ceramic Society Chinese Transactions, no. 10, London, 1981, pp. 16-30.
Three Qianlong period gourd bowls, from the collection of Sir John Addis and now in the Victoria and Albert Museum, London, are illustrated in Craig Clunas, Chinese Carving, Singapore, 1996; one bearing the mark Qianlong shangwan on the base, pl. 79; a bowl with an identical mark but with an everted rim, pl. 80; and an unmarked example attributed to the 18th century, pl. 82.
Another moulded gourd bowl of this form with similar Qianlong shangwan mark, illustrated by Wang Shixiang, The Charms of the Gourd, Hong Kong, 1993, p. 43, fig. 9, and p. 76, fig. 9, was sold in these rooms, 8th October 2009, lot 1815, from the Water, Pine and Stone Retreat collection.
Sotheby's. Water, Pine and Stone Retreat Collection – Playthings, Hong Kong, 02 Jun 2016