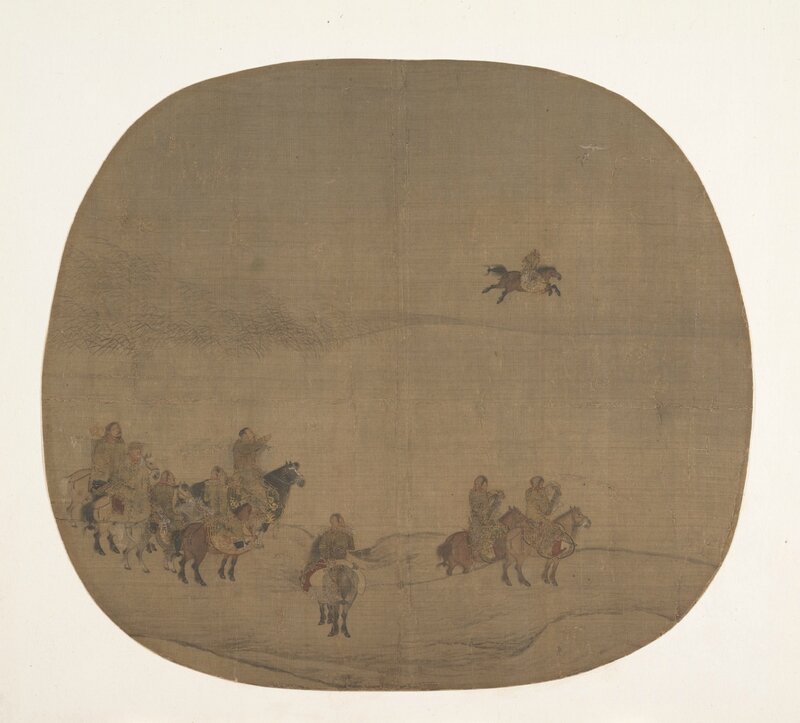 Attributed to Chen Juzhong (Chinese, active ca. 1200–30), Nomads hunting with falcons 南宋 傳陳居中 胡騎春獵圖 團扇, early 13th century, Song dynasty (960–1279). Fan mounted as an album leaf; ink and color on silk, 9 1/2 x 10 3/4 in. (24.1 x 27.3 cm). From the Collection of A. W. Bahr, Purchase, Fletcher Fund, 1947. The Metropolitan Museum of Art, 47.18.32 © 2000–2016 The Metropolitan Museum of Art.
Chen Zhuzhong specialized in depicting nomadic horsemen and their lives on the steppes. This exquisite fan painting, in which the hairstyles, costumes, and saddle trappings of the Khitan people are faithfully rendered, may be dated stylistically to Chen's period of activity or somewhat later. The horseman galloping away in pursuit of his quarry recalls a similar figure in Eighteen Songs of a Nomad Flute.
This work is exhibited in the "Masterpieces of Chinese Painting from the Metropolitan Collection" exhibition, on view through October 11th, 2016.